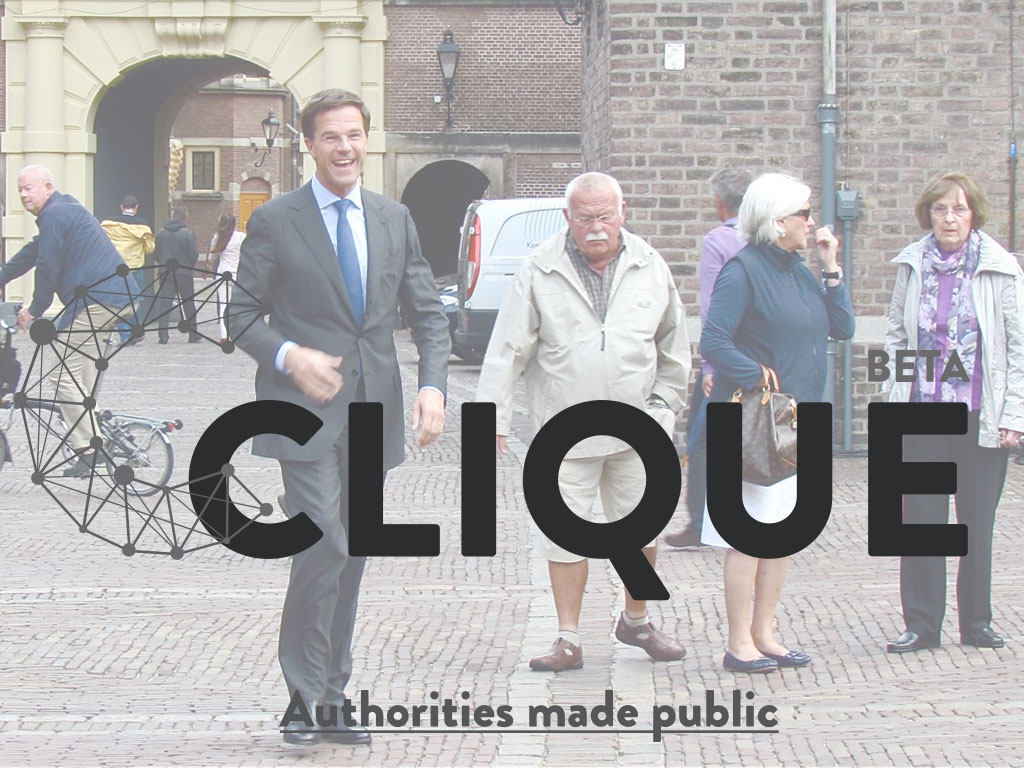 📷 Logo: Marieke van Kouwen 2016, beeld: Roel Wijnants (BY-NC)
How to enable journalists to gain insight in political influence networks by using open data? And how to allow journalists to research historical data on this subject?
Even with open data on political influence networks available, the information is hard to find, explore, and interpret. Waag presents journalists with a new research opportunity by developing the API Transparent Nederland which combines several open data sources. To assist journalists with the exploration and interpretation of the data, we developed Clique.
Clique visualizes the evolution of personal political influence networks through time. Clique starts by searching for a politician after which the answer to three journalistic questions are visualized in three separate visualizations; what, who and when:
What are the network changes?
Who do they concern?
When do which changes occur?
The personal approach ensures the reduction of the amount of data which makes it easier to gain insight in the data. This approach also fits the research methods of the target group. Tests show that Clique is considered useful, particularly during the initial phase of research while exploring and collecting data. Correcting and extending Transparant Nederland could further improve the use of Clique. This would bring the possibility of a more transparent political decision making process a little closer.
Do you want to check out the application? Clique here. The application is still online, but the database is not.
Short explanation
A user selects a politician to research the personal influence network. This is visualized as a career overview in timeline visualization. The user can select part of this timeline to review the personal network changes during the selected period in a second visualization, the change visualization. By selecting another actor in this visualization, the changes in the relationship between the two selected actors are displayed in the third visualization, the relational visualization.