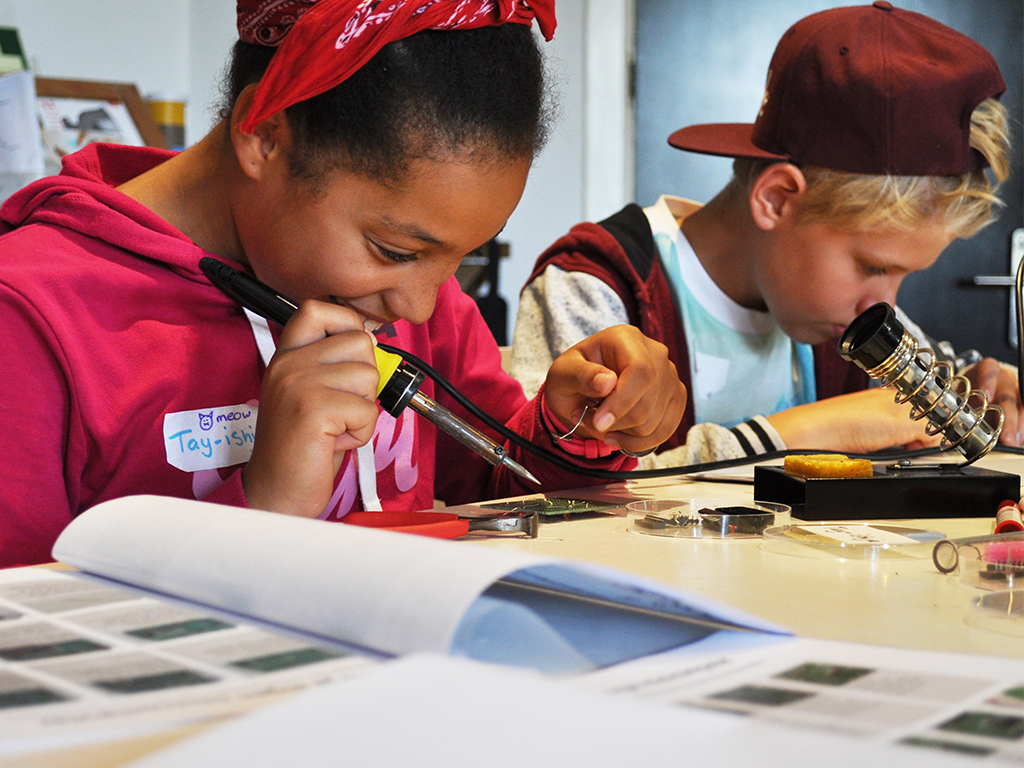 📷 Waag (BY-NC-SA)
We believe that everyone should have the opportunity to be a creative inventor. With that in mind, Waag is proud to present our new, do-it-yourself mini computer for young creators.
The Fabschoolino is an Arduino-based microcontroller. This specially designed kit is perfect for schools, maker spaces, and handy parents. Inside, you'll find everything you need to take the children in your life on a technical and creative adventure. It's an affordable tool for teaching skills like soldering, programming, designing, and building to a new generation. Once you get the hardware home, we provide instructions and inspiration at fabschoolino.waag.org.
With the production of the Fabschoolino, Waag hopes to give an extra boost to the Maker Education movement in the Netherlands. We hope this not only enables students to learn the techniques of the future, but also challenges them to use their imagination. Kids today grow up in a society where being both technologically savvy and creative is becoming increasingly important. But many standard school curriculums haven't caught up yet. With our FabSchool curriculum, Waag explores how children can be taught differently. Based on the experience we gained teaching through our Fabschool program, Waag decided to developed the Fabschoolino.
The 21st century is a time of rapid economic, social, and technological changes. Maker Education means learning through making. It's a creative way to help children become inventors. Maker Education stimulates the head, the hands, and the heart. The students of today are the workers and citizens of tomorrow, and educational tools like Fabschoolino can help develop their creativity. By connecting creativity with technology, children can better develop useful knowledge and expertise that can be applied to making things they enjoy.
The Fabschoolino is for avid makers, creators, and discoverers from 9 to 100 years old. Buy it for only € 20,- at Conrad.
The Fabschoolino was developed in the Waag FabLab by the creators Henk Buursen, Emma Pareschi, Cecilia Raspanti, Anne Vlaanderen, Marc Kunst, and the FabSchool students. The Fabschoolino was inspired by the Diavolino from Evil Mad Scientist.