31-1-22 00:00 - 8-4-22 23:59
De Waag, Amsterdam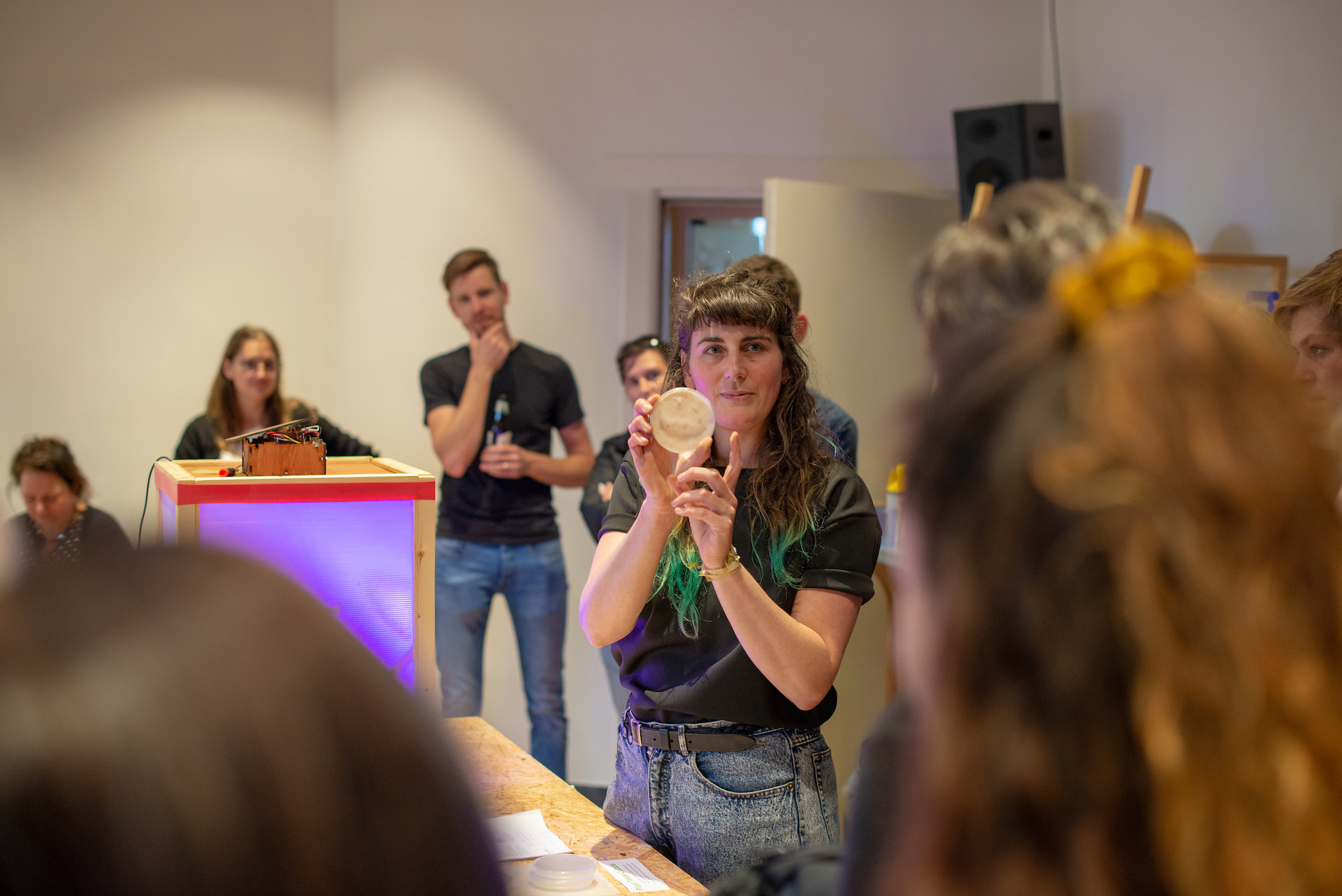 📷 Waag (BY-NC-SA)
The early bird deadline is extended! Apply before October 15 to get the reduced fee.
---
After a two-year absence, Waag's BioHack Academy returns!
Let's make biotechnology public! Biology is step by step turning into a creative discipline and it's now up to us to shape its applications and the nature-based solutions it can support.
After completing the BioHack Academy you can grow your own fuel, food, filaments, pharmaceuticals, fragrances and fungi. We'll teach you how to build your own biolab, how to culture living factories and how to code your experiments, all guided by the appropriate biosafety standards. We have our Open Wet Lab, our Fab Lab and coding class at your disposal.
Learn how to design, grow and extract your own biomaterials using only Open Source hardware you fabricate yourself. Whether it's a new type of bio-ink, biopolymer or biofuel, we'll show you how to grow it yourself and share the results with others. For starters, you may choose a product from our collection, such as violacein (purple dye) or cellulose (biopolymer), and/or tell us about your own living material of choice.
When & where
Dates: 31 January 2022 - 8 April, 2022
Location: Waag's Open Wetlab, Nieuwmarkt 4, Amsterdam, The Netherlands
Apply now!
Send an email to Job Spierings at job@waag.org and include your full name and residential address. We register your application and send an invoice for the first installment. Any questions are welcome as well.
How we get it done
In 2.5 months we will build up our own biofactories together
Every week a lecture will be given and recorded
You will have access to Waag's Open Wetlab and Fab Lab during two days a week to build equipment, conduct experiments and get the support you need
The BioHack Academy lectures will give you insight into what kind of tool we are building and its usefulness in the lab. Whether you choose to either replicate the design of the tutor, improve it or build your own device from scratch. It's up to you how sophisticated things may get.
The program is a hands-on bootcamp. All students are required to keep track of their progress on the BioHack Academy wiki, allowing them to learn from each other. Two weeks in advance of each lecture students will receive a recommended materials list and access to the tutor's design, allowing for enough time to purchase items or to seek alternatives. By the end of the course, you and your fellow classmates will be turned into fully equipped biohackers, capable of growing a broad range of biomaterials, ready to continue production independently at home.
The curriculum and activities in short
Week 1 - Introducing the BioHack Academy 
Week 2 & 3 - (un)Making the Lab (hardware) 
Week 4 & 5 - Operating the Lab 
Week 6 & 7 - Designing Lab experiments in Bio Engineering 
Week 8 & 9 - Individual Experiment 
Week 10 - Final presentations 
You will learn from academic, hacker, biodesign and bioart laboratory practices, with lectures from practitioners from all those fields. From hackers making their own laboratory hardware, artists working with CRISPR protocol to academic researchers advocating Open Source experimentation.
What's next
After the Academy has been completed, you will receive a BioHack Academy Biofactory certificate. The project Github and video channel are open to the public to share the results with the Open Source biotech community at large. In possession of your own biofactory, you may continue to advance your production skills, engage in directed evolution experiments, produce biogas, purify water, bioremediate polluted soil, just to give a few. Bio has no limits!
Costs and Scholarship
Sign up and get the early bird fee until October 15 for € 3.570,= 
Sign up until December 1st for € 4.175,=
There is one (1) scholarship available for a discounted fee of € 1.755,= 
All fees include course materials, disposables and 21% VAT. For entrepreneurs who are established outside the Netherlands different tax regulations may be applicable.
The maximum of participants in BioHack Academy 2022 is eight, applications are accepted on a first-come / first-serve basis upon receipt of the first installment. Since we're only able to offer one scholarship, please include your motivation in case you apply for the scholarship.
Payment Schedule
20% is due upon registration
80% before Day 1 of BHA
You must secure 100% of the fees before the program starts
Remote participation with a partner Lab
Do you have a Fab Lab or alike at your disposal and want to join BHA classes with a group remotely / online? All lectures are available as livestream and as recorded sessions. Your group will have access to all course materials, mentoring and coaching sessions and are able to track progress on the BioHack Academy wiki. 
Sign up as a Partner of BioHack Academy 2022 before December 12 at € 3.630,= (VAT incl.). Returning labs receive an additional discount.
For partner labs, it is advised to join the BHA boot camp in Amsterdam in December. This is a full-day workshop at €1,210 per participant. Details and dates TBA.
Examples of numerous labs that participated over the past years are Prof Andrea Polli at the University of New Mexico and Georg Tremmel at BioClub Tokyo.
---
A minimum number of participants is needed for the BHA. In case minimum group size is not met, Waag reserves the right to postpone or cancel BHA until 30 days before the starting date. In that case we endeavour to offer you a choice between participating in a later edition or receive a full refund. All other claims are barred.
This project has received funding from the European Union's Erasmus+ programme under grant agreement no. 341166.