30-9-20 09:00 - 2-10-20 23:59
Allard Pierson Museum, Amsterdam Museum & online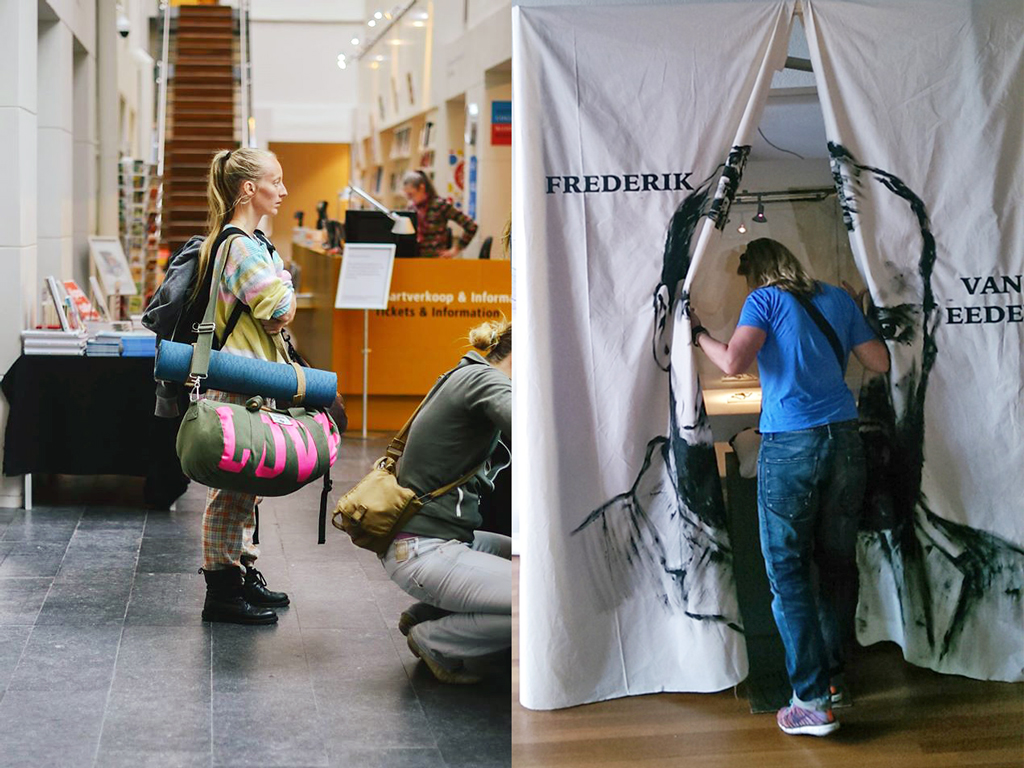 📷 Inge Kalle-den Oudsten (BY-NC-SA)
From Wednesday 30 September to Friday 2 October, Waag, Allard Pierson and Amsterdam Museum are organising the fourth edition of MuseumCamp. Our theme for this year is Contested Histories: telling stories from various perspectives and shining light on inequality and power imbalances is an important point on the agenda of current museums and heritage institutions. MuseumCamp is a three-day pressure cooker which allows you to explore your creativity and get a grip on the theme, while working together with colleagues from museum and heritage fields. Corona-safe measures will be taken.
---
Van woensdag 30 september tot en met vrijdag 2 oktober organiseren het Allard Pierson en Waag in samenwerking met het Amsterdam Museum de vierde editie van MuseumCamp in Nederland. Het thema is dit jaar: Betwist erfgoed in musea, ofwel Contested Histories. Het vertellen van beladen of schurende verhalen vanuit verschillende perspectieven, samen met het belichten van ongelijke verhoudingen, is een belangrijk agendapunt van veel hedendaagse musea en erfgoedinstellingen. MuseumCamp is een meerdaagse snelkookpan waarin je met collega's uit het museum- en erfgoedveld je creativiteit verkent en grip krijgt op het thema. 
Anders dan vorige jaren slaan we geen tenten op in de tuin, maar hebben we een actief dagprogramma bij het Allard Pierson en Amsterdam Museum in Amsterdam en een avondprogramma met inspiratiesessies dat thuis te volgen is via een livestream. Woensdagavond 30 september trappen we via de livestream af in Spui 25 met Wim Hupperetz (Allard Pierson) en Margriet Schavemaker (Amsterdam Museum). We onderzoeken twee actuele cases van Betwist Erfgoed bij publieke instellingen in Nederland en gaan daarover in gesprek. 
Op donderdag en vrijdag staan er verschillende workshops op de planning. Vanessa Vroon Najem (Amsterdam Museum) vertelt bijvoorbeeld over woordgebruik in museumteksten, Ruben Pater (Untold Stories) vertelt over beeldtaal en Hester Dibbits (Reinwardt Academie) geeft een workshop over emotienetwerken. Het programma wordt de komende tijd regelmatig geüpdate.
MuseumCamp is bedoeld voor tentoonstellingsmakers, ontwerpers, educatoren en conservatoren. Iedereen die werkt met erfgoed en/of collecties, materieel of immaterieel, is welkom. Tijdens MuseumCamp ga je (in kleinere groepjes) aan de slag in workshops, afgewisseld met inspiratiesessies. In reflectiesessies gaan we na hoe je deze nieuwe en praktische ideeën kunt implementeren in de praktijk. Om die vertaalslag naar je eigen praktijk zo effectief mogelijk te maken, kun je je eigen casus inbrengen: wat is het beladen erfgoed waar jij je tijdens MuseumCamp mee bezig wilt houden? 
De voertaal is Nederlands, tenzij we veel Engelstalige deelnemers krijgen, in dat geval schakelen we over op Engels.  We hebben ons programma aangepast aan de corona-maatregelen, en zorgen voor een prettige en veilige omgeving.
MuseumCamp wordt mede mogelijk gemaakt door het Allard Pierson, Waag, het Amsterdam Museum en het MondriaanFonds.