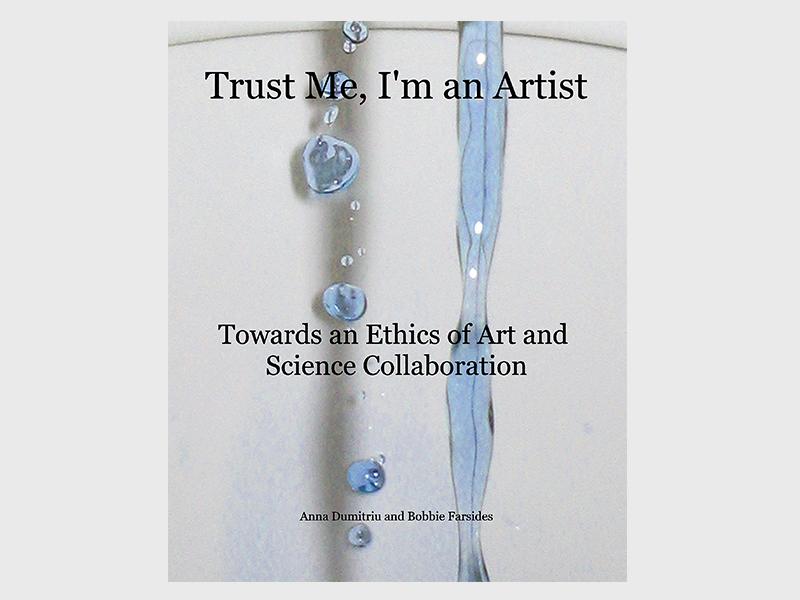 Book Trust me, I'm an artist
Trust Me, I'm an Artist – 2014
by Anna Dumitriu and Bobbie Farsides
This book investigates new ethical issues arising through art and science collaboration and considers the roles and responsibilities of the artists, scientists and institutions involved. The projects decribed raise interesting questions for science ethics committees and help to reveal the mechanisms that drive this usually hidden process, enabling readers to understand the driving forces behind ethical decisions and the role of artists working in scientific settings more deeply. The project "Trust Me I'm an Artist: Towards an Ethics of Art/Science Collaboration" was created by artist Anna Dumitriu and Professor Bobbie Farsides (Chair of Ethics, Brighton and Sussex Medical School) in collaboration with Waag and The University of Leiden. The book features projects by Adam Zaretsky, Neal White, Anna Dumitriu and Art Orienté objet.
About Anna Dumitriu
Anna Dumitriu is an artist and writer working at the forefront of art and science collaborative practice, she has a strong interest in the ethical issues raised by emerging technologies and the ways in which artists engage with those technologies through collaboration with scientists.
Her installations, interventions and performances use a range of biological, digital, and traditional media including live bacteria, robotics, interactive media, and textiles. She has a strong international exhibition profile, having exhibited at The Picasso Museum in Barcelona, The Science Gallery in Dublin, The Museum of Contemporary Art (MOCA) Taipei, and The V & A Museum in London. Her work is held in several major public collections, including the Science Museum in London. Dumitriu is known for her work as founder and director of "The Institute of Unnecessary Research", a group of artists and scientists whose work crosses disciplinary boundaries and critiques contemporary research practice.
She is currently collaborating as a Visiting Research Fellow: Artist in Residence with the Adaptive Systems Research Group at The University of Hertfordshire (focussing on social robotics) and as Artist in Residence on the Modernising Medical Microbiology Project at The University of Oxford. Her major international project "Trust me I'm an artist, towards an ethics of art/science collaboration" (in collaboration with the Waag in Amsterdam (where she is also a Research Fellow), Brighton and Sussex Medical School and The University of Leiden) investigates the novel ethical problems that arise when artists create artwork in laboratory settings. She was winner of the 2012 Society for Applied Microbiology Communication Award and is currently working on "The Romantic Disease: An Artistic Investigation of Tuberculosis" funded by the Wellcome Trust which is now touring internationally, and "Sequence" which investigates the technologies behind whole genome sequencing of bacteria, funded by Arts Council England.
"Dumitriu is at the vanguard of a new wave of collaboration between artists and scientists." - Laura Barnett, The Guardian
"By engaging emotions, as well as intellect, her work raises public awareness and understanding of a disease [tuberculosis] that remains a major global health burden. But ultimately, it is her imaginative response to tuberculosis that is so absorbing, and the way her work illuminates humanity's continuing creative response to this disease." - Colin Martin, The Lancet