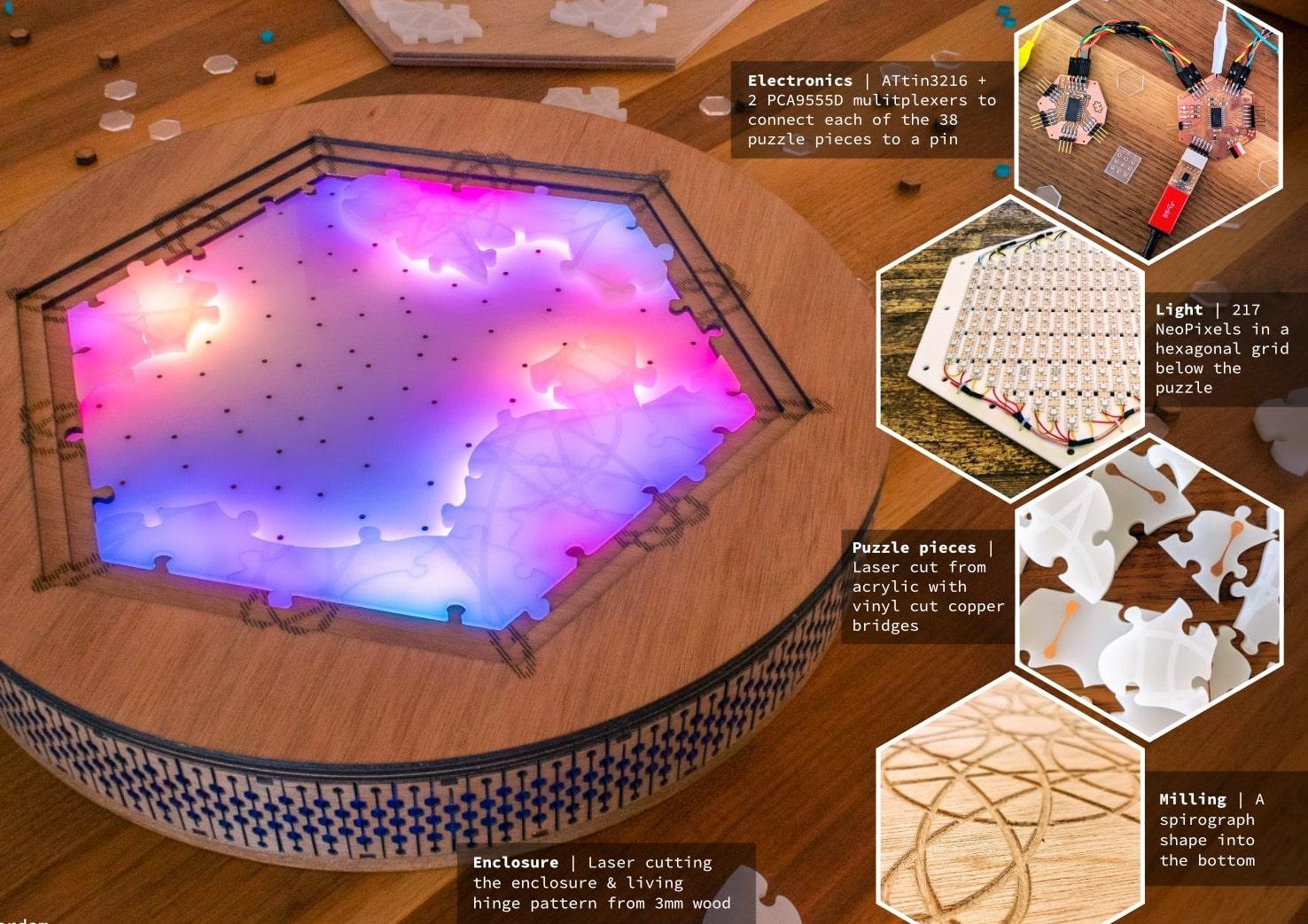 Fab Academy 2021 - it's a wrap!
Fab Academy 2021 zit erop! Vanaf januari tot mei maakten studenten nieuw werk tijdens Fab Academy Amsterdam in Waag, onder de bezielde leiding van docent Henk Buursen. Met trots presenteren we hun werk. Op fablab.waag.org vind je meer info over Fab Academy en het FabLab van Waag.
Fab Academy wordt gehost in meer dan 70 Fabricatie Labs over de hele wereld en heeft meer dan 250 studenten per jaar. Tijdens de vijfmaandelijkse cursus, die simultaan over de hele wereld wordt geopend met een welkomstwoord door oprichter Neil Gershenfeld (onderzoeker bij Massachusetts Institute of Technology), leren studenten om prototypes te maken en met digitale apparaten en methodes te werken door elk week een nieuw project uit te voeren. Dit leidt tot een persoonlijke portfolio met technische resultaten. Ga naar fabacademy.org voor meer achtergrondinfo over deze internationale beweging.  
Het vervolg van het artikel is in Engels.
Douwe Schmidt
Douwe created Miss Ferry, a device that helps you decide which ferry to take when you leave the house. When you live in an area invested with ferries, this is a welcome utility.
Want to learn more about Douwe Schmidt and Miss Ferry? Visit his personal page.
Nadieh Bremer
For her final project, Data Visualization Designer Nadieh Bremer created Nova, a jigsaw puzzle with light. 

Want to learn more about Nadieh and Nova? Visit her personal page.
Loes Schakenbos
Light designer Loes Schakenbos made the Smart Pillbox that helps to remind you to take your meds. 
Want to learn more about Loes and the Smart Pillbox? Visit her personal page.
Erwin Kooi
During the lockdown, it wasn't possible to go to escape rooms with friends. But don't worry - Electrical Engineer Erwin Kooi created an interactive puzzle box that creates narratives for you to play all together. 

Want to learn more about Erwin Kooi and the interactive puzzle box? Visit his personal page.
Nicole Bakker
Beautiful wearable technology to keep you safe from harmful carbon dioxide levels? Made from bio materials? Yes please! Have a look at Airable from Strategy Consultant Nicole Bakker.
Want to learn more about Nicole and Airable? Visit her personal page.
Paula Alonso Palomar
There aren't much things more romantic than having a van with a kitchenette in it. Paula designed Fab-Van, a kitchen for the lucky ones that own a van. Check it out!
Want to learn more about Paula and the Fab-Van? Visit her personal page
Philip Hozier
A therapeutic tool, rehabilitation aid or artistic expression: the colorful Mood Bracelet by Audio-visual Specialist Philip Hozier can be used in multiple ways. It reacts to movement. 
Want to learn more about Philip and the Mood Bracelet? Visit his personal page.
Lucia Jonkhoff
Lucia owns a worm station, but she noticed how the worms would sometimes die or be unhappy. So in order to tackle the problem, she came up with the Worm-mood-station. It tracks how the worms are feeling!
Want to learn more about Lucia and the Worm-mood-station? Visit her personal page.
More info
Visit fabacademy.org/2021 to learn more about Waag's Fab Academy 2021 student projects and documentation.