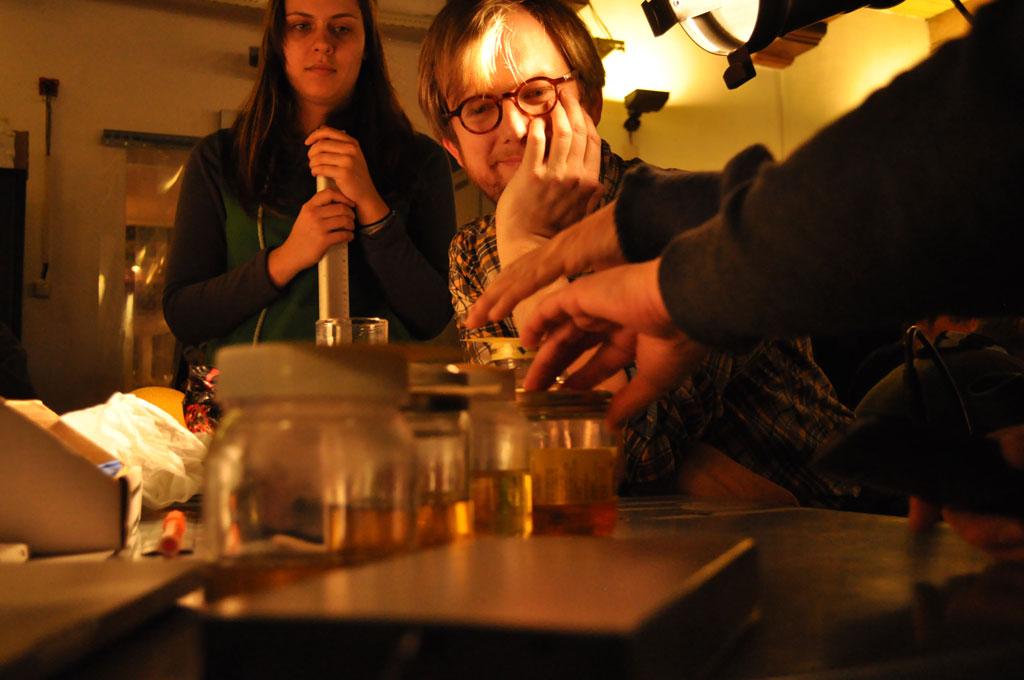 2013-06-21T16:00:00+02:00
2013-06-21T22:00:00+02:00
Opening the Open Wetlab
As part of the Makers Guild at the Waag, we are starting the Open Wetlab, Waag's Life Sciences Community Lab.
All around the world tech savvy pioneers gather to unlock the full potential of biotechnology. These so called DIY Biologists are making biotechnology accessible, affordable, creative and open.
Waag believes that Life Sciences technology can and must be democratized and demystified. This is why we're starting the Open Wetlab, a Life Sciences Community Lab for makers, designers, artists, DIY biologists, scientists and citizen scientists. On June 21st the Lab will be officially opened with the exhibition of the 3-day workshop Do It Together Bio, the International premiere of BioARTCAMP: A Rocky Mountain Adventure in Art and Biology and a party with GMO beer. Come and join us!
After number of years and projects propagating art, science and biotechnology, Waag is proud to announce the start of their Open Wetlab: the 'open and wet' laboratory facility in proximity of Waag's Fablab Amsterdam. Open as in Open Source hardware and Open Source protocols; Wet as in laboratories where living biological matter is handled and as in OpenWetware.
What can you expect?
The Open Wetlab is there for education, outreach, community building, creativity, arts, entrepreneurship and for fun. The Open Wetlab will organise workshops, have resident artists, scientists entrepreneurs and makers of other kinds. It will offer space to work on a variety of biology, life sciences, bio information projects. The Open Wetlab will host a platform for Open Source hardware and protocols of wetlab practice.
Program
17:00 - 18:00 hrs
Opening ceremony by Pieter Hilhorst, Alderman of the city of Amsterdam. Coinciding with the launch of the Makers Guild at the Waag
18.00 - 20:30
Toast with home brew GMO lager, soup & bread
20.30 - 21:30
International premiere of BioARTCAMP: A Rocky Mountain Adventure in Art and Biology. A three channel video documentary of a legendary Bio Art field trip by artists, scientists and philosophers into the Canadian Rockies. Made by Jeanette Groenendaal, Zoot Derks and Jennifer Willet. Co-produced by G-Netwerk & INCUBATOR.
21.30 - 23:00
Opening Party with more GMO beer
Oedipus Brewing made a beer of genetically modified chicken food in collaboration with Waag. Watch the making of in the video below:
Do It Together Bio
Prior to the opening, a three-day workshop Do It Together Bio takes place with Dr. Jennifer Willet. Here you will learn how to cultivate samples of yeast from your local environment. The exhibition takes place at the official opening of our Open Wetblab. The workshop is hosted at Amstel Park and at the Open Wetlab at the Waag on 19, 20 and 21 June.
When?
Friday 21 June 2013
17:00 – 23:00 hrs
Where?
Open Wetlab (first floor)
Waag
Nieuwmarkt 4
1012 CR Amsterdam
Costs
Participation is free of charge.
Note: Anyone interested in performing wetlab experiments is obliged to complete a bio-safety course.
The Open Wetlab is in part made possible by the generous support of the Mondriaan Fund, the SNS Reaal Fund and the Creative Industries Fund.