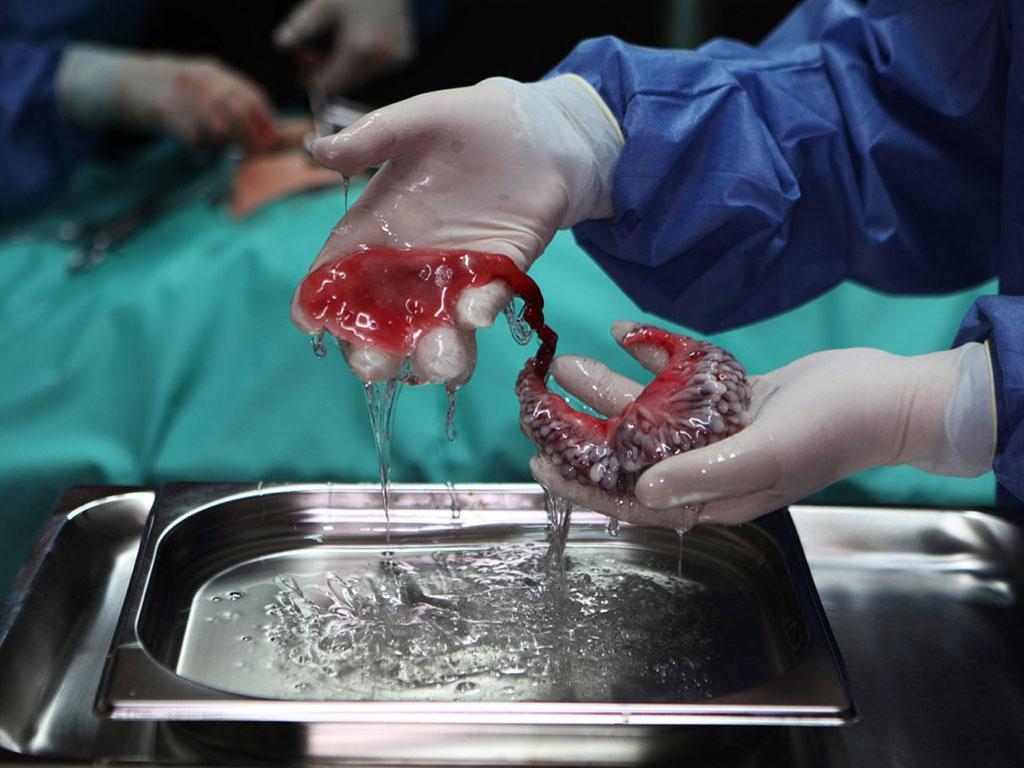 The future anatomical lesson with Agi Haines
An interactive exhibition in which historical anatomical lessons are linked to 3D printing and human modification will open this month at Waag. In the weekend of 24 - 25 September 'The anatomical lesson: dissecting medical futures' by Agi Haines takes place in the Theatrum Anatomicum. In her work Agi Haines duplicates human organs through bioprinting, 3D printing with living cells. She explores what these technologies could one day mean for us and if production of newly designed and improved organs is possible. In the preparations of her exhibition I got the chance to talk to her about her experience as artist-in-residence at Waag, her work and the exhibition.
You started your artist-in-residency a year ago, what did you find at Waag? 
So much has happened and it flew by. I was able to do a lot of my research at Waag because of the inspiration and people I found. In the beginning Sabine and Lucas inspired me a lot and the conversations with them gave me direction. I was inspired by their research in where medicine is going. Because of the opportunity of working with Waag I had the strong feeling of doing something with anatomy. Eventually this has all come together in this exhibition
Why is your exhibition taking place at the Theatrum Anatomicum?
My first visit to the Theatrum Anatomicum I was amazed by the place. It must be the history cause the room has this energy that was very inspiring for me. The history of the Theatrum Anatomicum is based on innovation. It was one of the first places in the world in which it was allowed to cut the human body open and explore it. This is amazing, it all started here. The way modern MRI scans are designed are based on methods and the anatomical lessons that took place here hundreds of years ago. It is amazing that Waag is still working at this same location and carrying this innovative practice on. For me this makes it extra special that the exhibition is taking place in the Theatrum Anatomicum as I'm trying to link what was happening there in the past, dissecting and exploring the human body, to what is happening now in medicine. It is a nice segue between looking at the future and looking at the past in the same event.
This linking the past and the future, how does this come back in your work?
My work expands over quit different fields. One is biomedical and healthcare sciences. The other main thing is speculation and the future. And a lot of my practice is based on more traditional, sculpture and medical methods. For example, I look at how people have been making face casts in the past and how these techniques are being reused now. All research and understanding of the human body comes from this historical methods of taking things apart before you put them back together. My work is based on taking the historical information and trying to formulate how we might deal with the human body in the future, based on the uncertainty and possibilities of new technologies. So really my work is an combination of different fields and practices.
And you are also working on a PhD research, how do you combine that with your work as an artist?
In my PhD I'm looking at how we can use speculative design to reflect on how we do medical practices and how we represent them. The design of medical tools, medicine or applications has a massive effect on patients for example. For me it is about how this representation is changing and how people react on it. I think that in art a lot of people are doing the same. You make something to see if it can have a effect, weather or not people can reflect on how we do things. In speculative design some projects can be quit ironic and grounded in society at the same time. This is probably why the combination art and science works nicely, cause there is a logical standpoint to it while things are being explored in a slightly different way.
Is this what sets your work apart?
What set my work apart is probably that I use traditional sculpture techniques. Right now it is quit difficult to represent things from the future, as we don't know how they are gonna look like yet. For example with bio-printing, on which a lot of my work is about, they have been able to print stuff but nothing has quit worked. So no one really knows how the result is going to look like. While with these traditional sculptures techniques modeling can give you quit a good representation of how something could look like. With 3D printing it is still more difficult. Plus I think it is nice to have something real and scueezy infront of you. Also Im quit a fan of horror films in which fake slime is being used, another reason why this work is fun for me. 
So in your work you are sculpting and modeling organs. Is this what will be on view in the exhibition and did you make work specially for 'the anatomical lesson'?
Yes, I'm working on it right now and actually making sculptures for this exhibition has been quit challenging. The idea is to make objects that people will be allowed to touch and explore, and view from very up close. To make this realistic, attractive and possible was very challenging. Every layer of the body is different and to make the sculptures look realistic, on the outside and on the inside, is really hard. And something you don't often think about, cause normally in an exhibition you cannot always interact with the work.
The exhibition 'The anatomical lesson: dissecting medical futures' takes place in the weekend of 24 - 25 September. On Saturday 24th of September a special artist talk will place in which Agi Haines will debate on the worth of speculation medical futures together with Waag's director Marleen Stikker and other inspiring speakers. The entrance to the weekend long exhibition and artist talk is free. Please register for the artist talk via the registration form on this page.
More information about the work of Agi Haines can also be found at the 'Dream out loud' exhibition at the Stedelijk Museum.