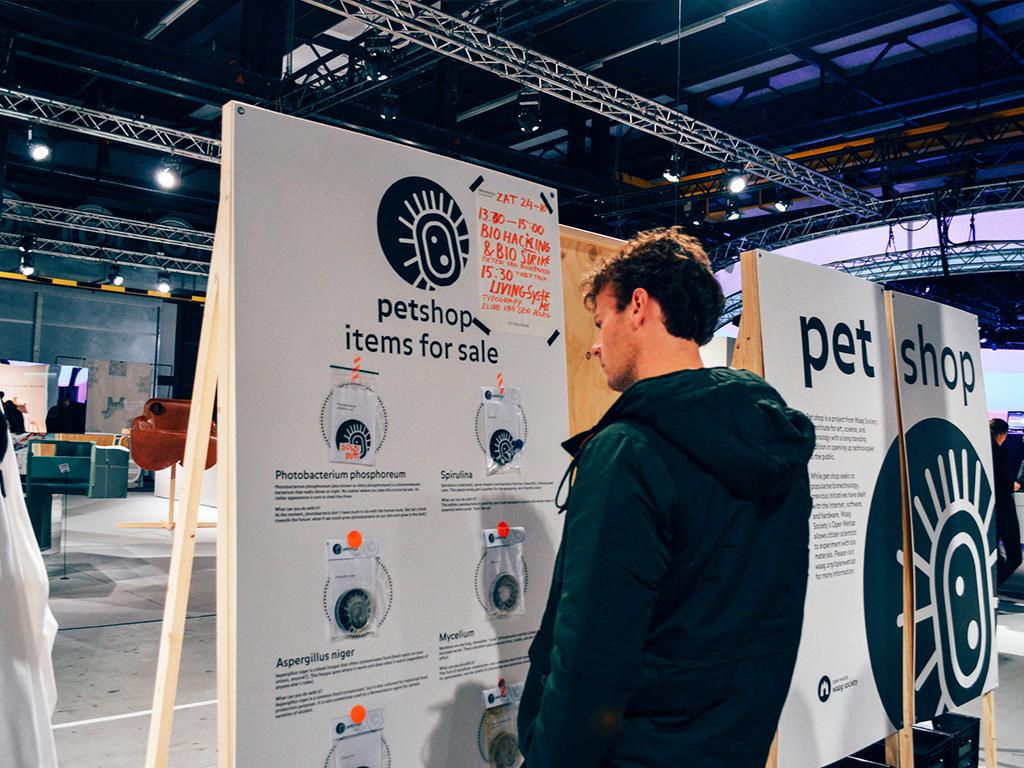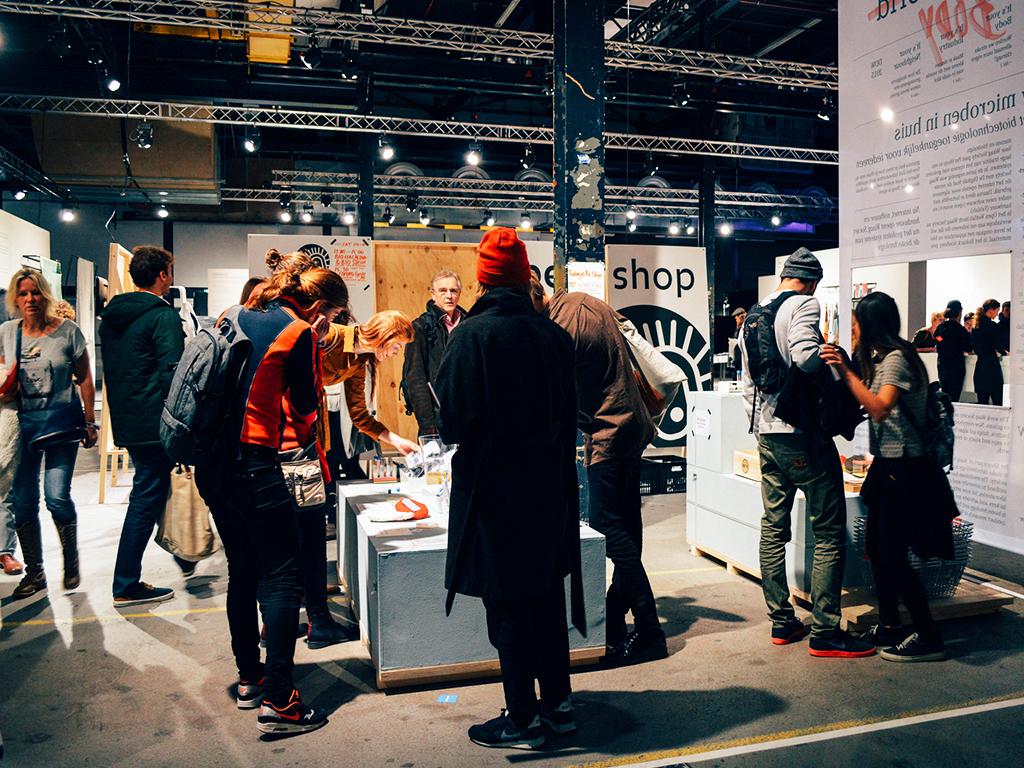 Ons programma tijdens Dutch Design Week
In 2015 waren we opnieuw vertegenwoordigd op de Dutch Design Week in Eindhoven. En voor de gelegenheid verplaatsten we tijdelijk ook een deel van ons publieksprogramma naar onze Pet shop in het Klokgebouw, dat het centrum van alle activiteiten was tijdens het evenement.
Je kon niet alleen je microben kopen in onze stand, maar we boden daarnaast ook een veelzijdig programma bio-activiteiten.
Bekijk hier alle foto's van de Pet shop op ons Flickr-account.
Eline van der Ploeg / Living Systems (in het Nederlands)
"Living Systems" is een onderzoek naar hoe de vorm van letters kan worden veranderd, en of ze tot leven kunnen komen. Van Janthiobacterium lividum, slime molds en vele andere microscopische wezens werd het typografisch talent door Eline op de proef gesteld. Ook is in haar werk duidelijk de cross-over tussen biodesign en digitale fabricage te zien. Een (Engelstalige) uitleg van het werk is hier te vinden.
In 2015 won Eline van der Ploeg de Academieprijs voor beste student van de Bacheloropleidingen met dit sterk typografisch werk getiteld "Living Systems". Zij ontwikkelde haar project binnen de BioHack Academy van Waag.
Emma Conly / Bio Privacy (in the Engels)
The Microbiome Security Agency (The MSA) investigates the future of microbiome privacy issues and prepares citizens for a future where our personal information is at risk through our biological datasets.
Your microbiome is a unique composition of bacteria, forever in flux. It changes based on the environments you come in contact with, and has the potential to function as a record, revealing information about the people and places you've encountered. In a future where our privacy is threatened by the traces of bacteria we pick up or leave behind, how do we insure the security of our personal information?
Empowering citizens to secure their own data, The MSA researches and prototypes future scenarios, systems, products and processes for choosing your own microbiological privacy settings.
Emma Dorothy Conley is an American​​ artist​,​ designer​, and producer​​. Working internationally, and with a focus on imagined futures, she creates practical and speculative work that aims to identify issues, present possibilities and expand realities. ​In addition to independent projects, Emma is currently a producer ​for the Center For Genomic Gastronomy​ and CoClimate​.
Lucas Evers/ Catch your pet in the wild!
Alright, cowboy. You're not into this whole, sanitized "pet shop" thing. Pre-packed pets? That's just too easy. You'd rather pull on your boots and go outside exploring to find the perfect micro-companion. For you, adventurous explorer, we've put together a kit to help you catch your own pets out in the wild.
Go out in search of the perfect patch of soil, the most inviting door knobs, or even your own laptop keyboard to harvest a sample of your future friends with the cotton swab included in the kit (moistening the tip of the swab will help). Once you've loaded your cotton swab with microorganisms, you then swab the prepared medium in your petri dish to transfer your pets to their new home. To ensure that your new pets are not contaminated, you might want to seal your petri dish with parafilm after you've swabbed the medium with your sample. Store your container overnight in a warm area.
Over the next few days, you'll be greeted by your new, wild pet.
Pieter van Boheemen/ Bio hacking & BioStrike
Antibiotic resistance arose from urbanization, industrialized farming, large water treatment facilities, and lack of compliance among patients. As a result, we now need new antibiotics to fight new microbes. But this vital task cannot be left in the hands of large pharmaceutical companies. Because new antibiotics are only effective for a short period and because the high developmental costs outweigh their short usage, these drugs are simply not worth pharmaceutical companies' time. Despite the warnings from WHO that the current antibiotic-resistance crisis could bring about "the end of modern medicine as we know it," market-approved antibiotics have dropped from 16 in 1985 to 0 since 2010. Looking at those numbers, it appears it is up to "citizen" scientists operating outside the restraints of capitalism to secure sustainable health for future generations.
The biohackers at the Open Wetlab believe that antibiotics must be an open technology—that they belong to the commons and to the community. They seek new and creative ways to bring attention to the search for new antibiotics, which can mean working in multidisciplinary teams and learning from artists, designers, DIY biologists, and scientists. They also hope to bring attention to the larger issues—the overarching, industrial systems that caused the resistance in the first place. But what they hope for most of all are actual, tangible results.
BioStrike is an initiative by Waag's Open Wetlab. The project brings together Do-It-Yourself biotechnologists who are working to solve the modern crisis of antibiotic resistance.
Pieter van Boheemen/ Build your own bio lab
Learn how to design, grow and extract your own biomaterials using only Open Source hardware you fabricate yourself.
The age of personal biotechnology is upon us! Engineers have turned biology in a design discipline and it's now up to us to shape it's applications. We'll show you  how you can grow your own fuel, food, filaments, farmaceuticals, fragances, fungi and much more funky bio stuff at home.
We'll teach you how to join the bio revolution and build your own biofactory using a Fablab, Maker/Hackspace or other shared machine shop.