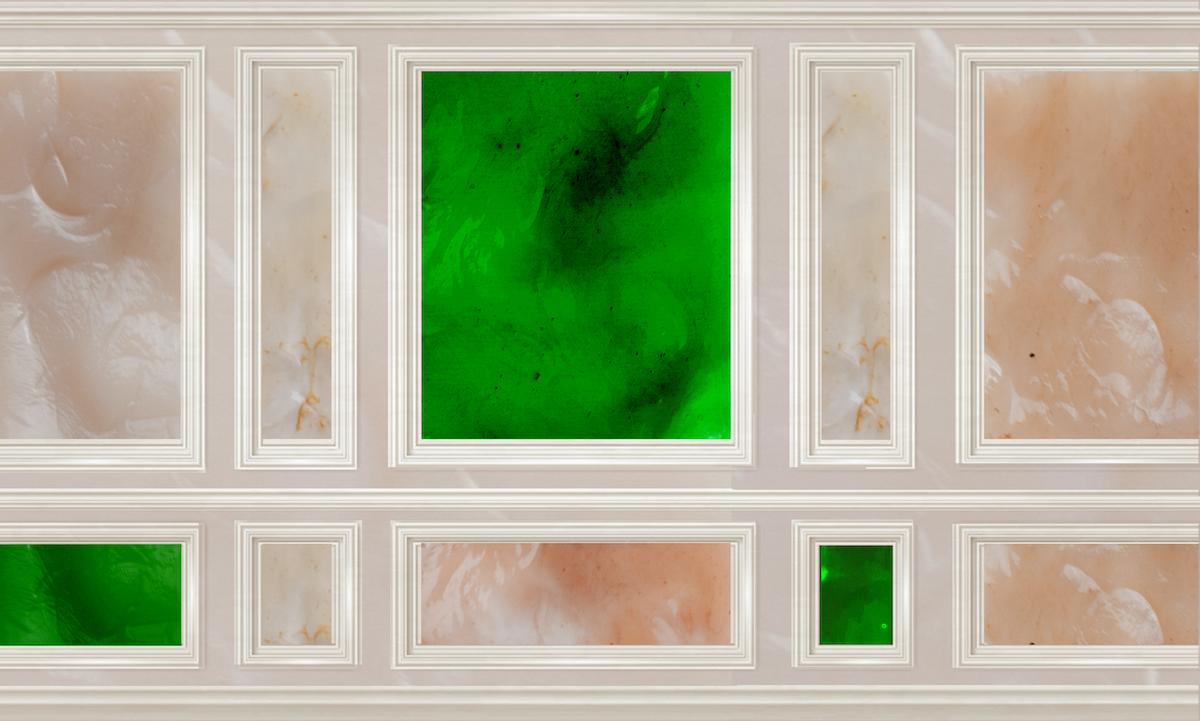 2020-09-10T20:00:00+02:00
2020-09-10T21:00:00+02:00
LABS: Future Interiors meetup #2
This event will be held online. Details for attending the meetup will follow after registration.
Attendance is free.
After registration, join the meetup at 8pm through the button down below.
Password: 1234
---
Together with Studio Samira Boon, Waag's TextileLab is organising the second meetup for LABS: Future Interiors. The speakers for our second symposium within the series of three will be announced soon. Make sure to register for this event through the button at the top of the page.
How to pave the road from a small scale, lab-grown, living material towards a user accepted, trendsetting, competitive interior applicable product? In the pursuit of implementing a circular city vision, there is a need for more sustainable and energy-efficient materials, based on natural production. To get to this future of bio-design, cross-linking science, nature, and creativity comes into play.
The project LABS: Future Interiors conducts research on bacteria grown textiles as 100 percent biodegradable interior elements and as substrate for vegetation, interacting with airborne bacteria while altering and directing the airflow within public spaces. Currently, we are living in a 'new world' where we get to experience the dramatic influence that the smallest, unseen particles can have on our lives, economy and context. Following today's news and virus trends we discover micro as the new macro. Interaction with the micro worlds becomes a part of our consciousness, demanding for new behaviours and ethics.
The material we're developing, KOMBUTEX, deals with those topics as future symbiotic interior species. It is a culture of bacteria and yeast. During this second symposium in a series of three, we will explore the strategies on how to best tell stories of new alive materials and how to evolve and adapt them to the current and future needs. The invited trendsetting, product psychology and innovation experts will start a productive conversation on the following questions:
How can new kinds of interactive and alive materials contribute to inclusivity, safety and sustainability of the public interior?
How to develop towards market implementation of lab-grown, alive and ever evolving materials such as KOMBUTEX?
How can the current crisis become a catalyst for sustainable innovation in bio-design?
Programme 
20.00 hrs - Welcome by Margherita Soldati & Samira Boon
20.10 hrs - Presentations by the guest speakers:
20.10 hrs - Iza Awad, chemistry research student at VU Amsterdam, on cross pollination between scientific and design experiments at the lab 
20.20 hrs - Anna Sitnikova from Studio Samira Boon gives LABS: Future interiors introduction & virtual tour
20.30 hrs - Eva van den Broek, behavioural economist, on future behaviour: strategies to stimulate acceptance and preference for new and unfamiliar sustainable biomaterials
20.40 hrs - Els Zijlstra (MaterialDistrict) on the road from a petri dish to a public space, material evolution and growth: what are the steps between the first samples and real implementations in architecture and design of new innovative bio materials?
20.50 hrs - Q&A
21.00 hrs - End
Moderator: Jeroen Junte (Design Digger) 
Speakers
Eva van den Broek is behavioural economist and founder of the Behavioural Insights Foundation. The foundation helps organizations design better behavioural incentives so that consumers can make more sustainable choices. Its ambition is to test policy measures 'in the wild' just as thoroughly as a new chip flavour. Eva studied artificial intelligence, obtained her PhD in behavioural economics and worked at Wageningen University & Research and the Behavioural Insights Team of the Ministry of Economic Affairs. Eva was initiator of the Pakhuis de Zwijger programme 'Sustainable Behaviour: How can we let the average Dutch person (unconsciously) make more sustainable choices?'
Studio Samira Boon is a textile architecture studio based in Amsterdam and Tokyo with a strong focus on creating flexible and dynamic environments. As an expert in the material properties of textiles, Studio Samira Boon advises and collaborates with architects to formulate site-specific solutions. The studio was founded in Japan and combines the adaptive and sensory qualities of materials with research into state-of-the-art computerized production techniques. Recent works include the 3D woven SUPERFOLDS and ARCHI FOLDS: two innovative series of textile structures, which bring together technique, science and art. For ARCHI FOLDS the studio collaborated with Tokyo University and the Dutch TextielLab to combine traditional origami techniques with computerized textile folding possibilities.
Els Zijlstra was the pioneer, founder and creative director of the internationally renowned materials platform Materia (now MaterialDistrict). As an architect, she focuses on innovative materials in the building industry, but her expertise has expanded to material innovation in other industries. She curates material exhibitions, writes articles and books, gives lectures, workshops and consultancy and adds value to professionals and students. To stay constantly informed and update the network she is closely following material developments, in contact with material stakeholders like R&D departments, research institutes, universities attending international material events and fairs. It is her strength to inspire with lots of knowledge, asking the right questions, to add value and to provide insight into the complex material challenges today and the future. The demand and need for specific sustainable material solutions is increasing. MaterialMatchMaker is able to speed up the process and make it a successful one.
Jeroen Junte is a freelance journalist/curator/moderator in design and architecture. He is the initiator of DesignDigger, an on- and offline platform for Dutch design with a website, podcasts and regular talkshows. He writes for the national newspaper de Volkskrant and international magazines such as Frame and DAMn. He also writes books; his most recent publication is Do It Ourselves. A New Mentality in Dutch design (nai 010 publishers), the first overview of a post-crisis generation of designers. In addition, he curates exhibitions, such as LUXE? in the Cube designmuseum. As a much sought-after speaker, moderator and chairman of the day, he was a guest at prestigious events such as the See Conference (Germany) and What Design Can Do in Amsterdam.
About LABS
The research project 'Living Aero Bacterial Systems' (LABS) by Studio Samira Boon, i.c.w. Hybrid Forms Lab by Raoul Frese, the Vrije Universiteit Amsterdam (VU) and Waag, develops a new material to improve our interiors with natural processes: a kombucha-based textile that enhances the air quality by integrating mosses and green plants. The resulting material can be applied in acoustic and wall panels.
With LABS, we take a step towards living interiors of the future. We envision that our future ecosystems will be a fruitful interaction between users, technology and microorganisms. This is a paradigm shift in the traditional design process. Through the development of innovative materials and applications, LABS aims to demonstrate the opportunities of this paradigm shift to potential clients, policymakers, and fellow researchers/designers. LABS is a collaboration between Studio Samira Boon and the Frese Lab for applied Photosynthesis, the Hybrid Forms Lab of the VU Amsterdam and the TextileLab and Wetlab of Waag. The project is funded by the Grant Programme Architecture of the Creative Industries Fund NL.