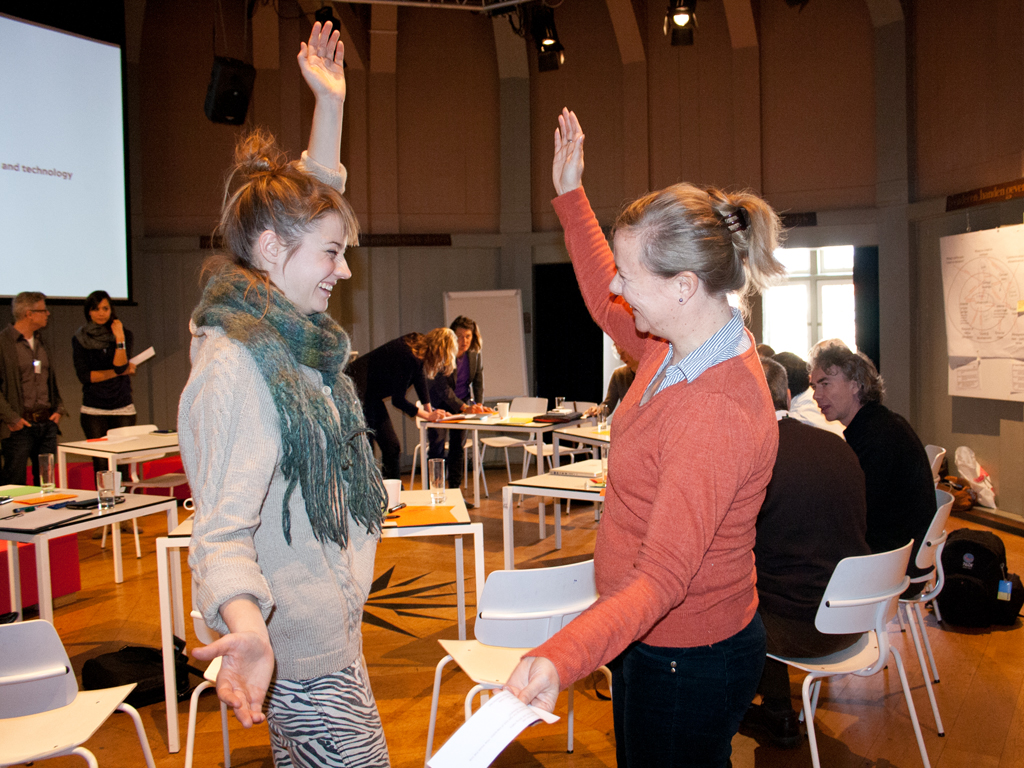 📷 Waag (BY)
By Remco Top, intern
Brainstorming, mind mapping and creative sessions; the Theatrum Anatomicum of the Waag was for two days transformed in a "Risk free space to explore". After an earlier session in Barcelona, partners from nine international companies gathered on 29 November in Amsterdam for the European research project Collage. The goal is to develop a creative application that helps learning, gaining ideas and inspiration in a working environment.
Day 1: Short sharp creative sessions
"We are here to discover and invent!", Neil Maiden of City University London opens the workshop session. A lot of thought about creativity doesn't work, according to Neil. He believes in short sharp sessions. So everyone gets 45 minutes to write down as many thoughts as they can. "There is no excuse for not being creative", says Neil, because all ideas are welcome and "mistakes are fun".
It results in attractive boards full of colourful Post-its. The outcome leads to new insights, for creativity is a continuous process in which you use old ideas for even better and bigger ideas. Because of this step-by-step approach the progress isn't immediately visible. It is like mountain climbing. Only on top you realize how high you actually are.
Day 2: Playing with Lego
In the morning Marleen Stikker starts a Socratic dialogue that brings the project in a broader context. During lunch this is the input for a conversation about which path the project will take. Kam Star (PlayGen) ) hopes that the project gets a more specific aim. Otherwise it's like throwing a spear into the ocean hoping to catch a fish. "The challenge is not to create a new brainstorming method, but to develop and combine these theories. Let's not reinvent the wheel, but look at what we can do with the wheels we already have."
In the afternoon, the directors and scientists play with Lego. From a distance this may look funny, but it also has a purpose. Ideas are made tangible and provoke a reaction from everyone. A more natural discussion emerges about what can be done better or differently.
Intense collaboration
Besides discovering creative methods, everyone got to know each other better. According to Astrid Lubsen (Waag) this is one of the key factors for a successful process: "You must have a team where everyone feels safe and completely free. Because we worked intensively together, you get to know more about each other's background." How the ultimate tool will look like no one knows yet, but there has been progress in the right direction.