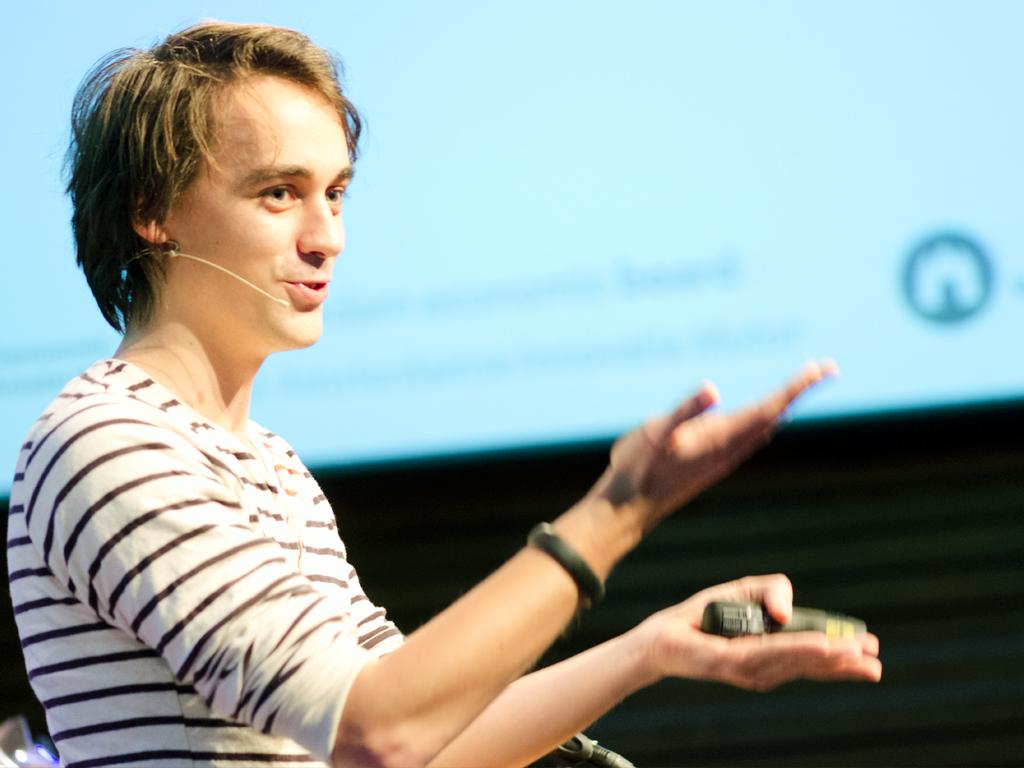 Apps for Amsterdam: ode to the nerd, dinosaurs and meat-flies
Pakhuis de Zwijger turned purple for a night. App developers and officials shook hands and the comment "All those bike apps make me hungry!" was heard. We organized the ceremony of Apps for Amsterdam, the competition in which the municipality is looking for smart apps from which the city benefits. Ten apps received prizes and advice (read: critical tips) by the expert jury. The evening was a great tribute to the developer, the "nerd" and civil disobedience. It became clear that Apps for Amsterdam is an initiative that really suits the needs of the city.
Tech for a better society
Martijn van Vliet (City of Amsterdam, EZ) indicated that Amsterdam needs developers to remain a "global hub". After a round of applause for Obama Joel Mahoney spoke from his personal experience about how technology can change the government. In his position at Code for America, he makes many applications that really help governments to be open: Textizen (text the government and get immediate response) and accessible websites that revolve around services. Citizens own the city! Keep hackers and citizens in the open data movement process.
Nerd vs Dinosaur
Then it was time for Alexander Klöpping who addressed the audience directly with a humorous story: "you are creating a trend and you're pioneers". Then he analyzed what consumers experience from the developments around data. Not everything is desirable; computers that keep track of everything and algorithms that take control over prices. Large companies often block new developments such as WhatsApp or continue distributing paper telephone guides; the Chamber of Commerce and the Land Registry would like to turn the Internet off if there was a switch ... Their way of working becomes more difficult because the pioneers show alternatives that are valuable to society. Alexander thanked the "nerds" for continuing their programming.
Tips from the entrepreneur
Lucas Tieleman of Repudo shook the audience awake with hilarious statements like "good ideas are dead" (dirty pigs and angry feathered creatures a success? Instagram, Photoshop for losers, worth money?), you need strange people who use their own strength, behave like a meat-fly (= chaotic) and do it together - if you want to build a boat, find people who are longing for the sea and not boat builders. This way, you'll get there as a start-up with your App. Apps for Amsterdam could use a little craziness.
And then: the prices
We don't want to keep the following tips and exhortations of the jury and theme owners from you:
About Bike like a local, the app for the cycling tourist in Amsterdam:
"Make a game of it and make sure bicycle rental companies give out the app straight away."
About MakkieKlauwe, an app that combines public data, so that thieves see the location where it's easiest to steal specific property:
"A good combination of 3 data sources results in a creative idea that we want to see more of."
About ParkShark, the parking API - find the cheapest parking:
"The API is free and available for everyone - that is the right message!"
About Fijnvuil, the app with the trash disposal rules for your district:
"Make sure the app is going to work!"
About Mijn nieuwe pand, shows the empty buildings in the Amsterdam area:
"Good combinations of datasets"
About Appening, an app that shows where it happens according to Twitter posts:
"Must show some more local relevance."
All in all an enjoyable and inspiring evening full of smart people and applications.