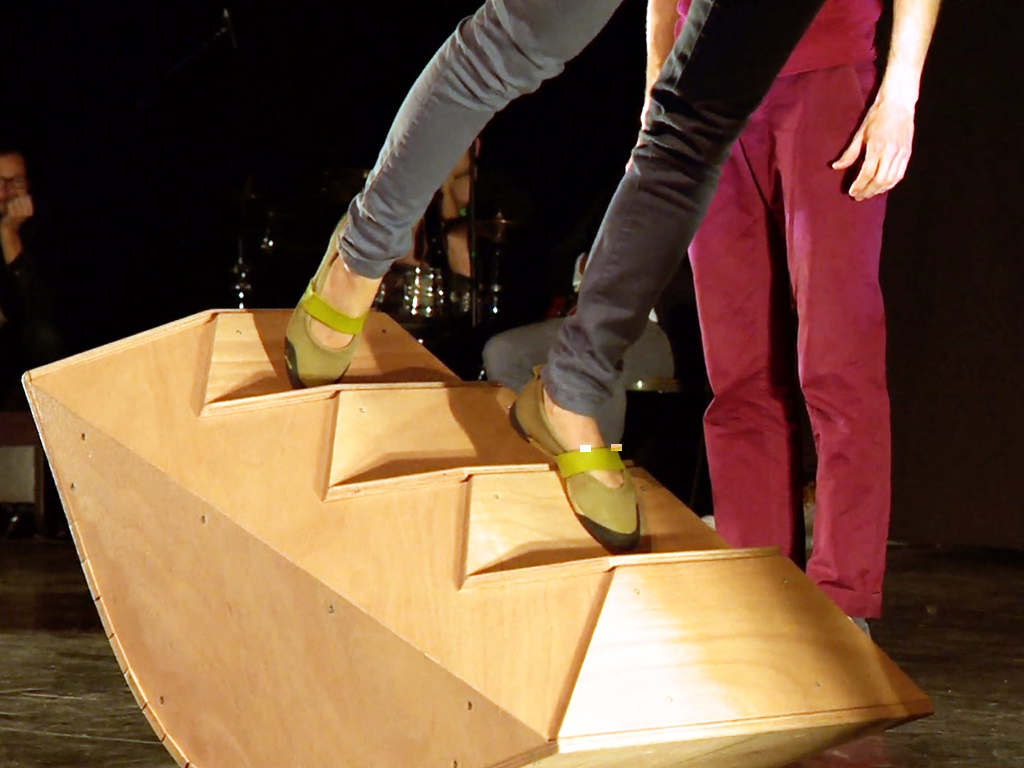 📷 Tek Tok (BY-NC-SA)
Part of the 'embodied learning' installation that I developed as artist-in-residence at Waag, was placed at a public space during De Onderwijsdagen 2013, to be used by visitors of the event. It stood out for its performative quality.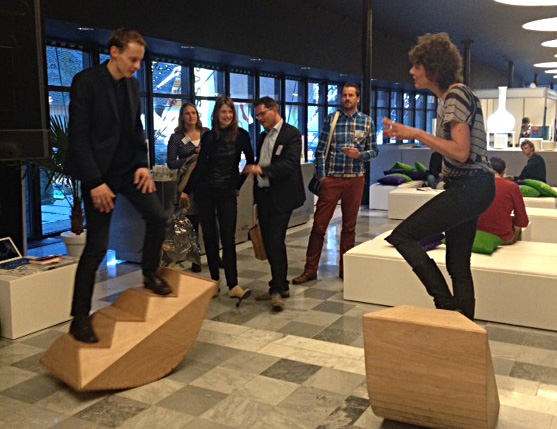 Marloeke van der Vlugt (right) and Daan Roosegaarde (left) at 'De Onderwijsdagen'
At this event, the innovations that are presented are mostly screen-based, so this installation was quite special in this context. People watched the 'performers' and encouraged the users of the installation. It's attractive to be physically active on such occasions, especially when a game element is included.
Most of the audience easily picked up the aim of the two modules, being collaboration and finding a balance together. By moving the steps, different samples are audible. The challenge is to find equal sounds and synchronize them. If the couple succeeds in doing so, they are rewarded with silence.
Because of their performative qualities, Kennisnet offered to create a performance with the installation for Tek Tok, which gave me the opportunity to zoom in further on that just that aspect. What kind of movements are attractive to watch? What could be the game element? Could a musical composition be the final goal?
To research this, I asked singer/performer Esther Mugambi and three dancers, Jasper Dzuki Jelen, Niels Weijer and Miri Lee. With them, I searched for new movements by working with themes like solo, duo and group, static and dynamic balance, horizontal and vertical lines, action and reaction.
To involve a sitting audience in the performance, I found it more obvious to use words and projections rather than abstract sounds. I received about thirty key words on the theme 'embodied learning' that Esther used to sing in different ways; as a robot, as a small girl, in incremental pitches and as opera singer. These sung words were connected to the positions of the installation, to create the possibility to form sentences. These words were also screened, for the audience to make the puzzle between movement – word  - sound.
The performance focused of several ways of collaboration and play with as aim to make a word with letters (interaction), a sentence by two people (focus on school, by interacting with sensors) or with four people (personal learning by movement).
The performers were very enthusiastic about the capabilities and qualities incorporated in the installation. Song and projection proved an effective addition to prompt new movements, to illustrate or to challenge. The audience reacted with enthusiasm too and wanted to try the steps themselves afterwards. 
In a word, the first steps towards a dance performance 'Rolling_Stairs' have been made!