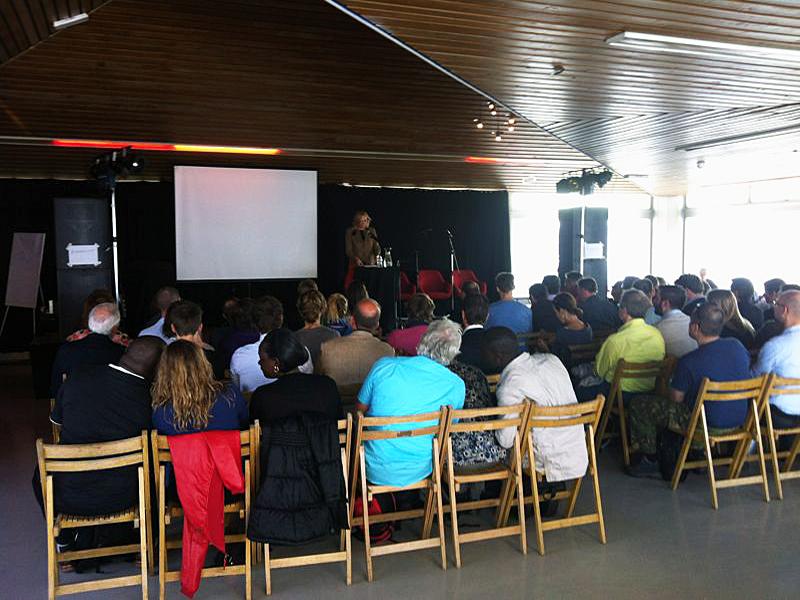 Crowdsourcing the constitution
The Dutch constitution needs an update. It is clearly outdated on a number of items (anyone still using the telegraph?). This is not astonishing: the contents is decades behind the developments in society, and it is, to speak with professor in human rights Barbara Oomen, incomplete, unknown and - above all - unimportant because judges cannot validate laws against the constitution. The state's powers are not sufficiently limited and citizens cannot depend on it. 
Therefore, Netwerk Democratie, ISOC and Waag organized the event Crowdsourcing the Constitution at the Day for Democracy (15 September). Barbara Oomen introduced the event, after which Katrín Oddsdóttir, member of the Constitutional Council of Iceland presented the developments in the her country. In Iceland, a proposal for a new constitution has been written. In October 2012, the citizens of Iceland can vote for it in a referendum. Its secret lies in crowdsourcing.
After this, the eighty participants from diverse backgrounds worked at themes that touch the very foundations of our democracy, like privacy, freedom of speech and the administrative classification of our country. As a layman, I do have enough knowledge in this field, but as a citizen I do have ideas. It feels good to collaboratively discuss the foundations of democracy and the sharpen the thoughts by sharing them. This directly led to amendments to articles 7, freedom of speech, and 13, on the confidentiality of the mail (mail? exactly!).
The constitution can become a source of inspiration; a new social contract dat better suits the needs and (im)possibilities of our time, on the condition that the document has a wide support and that laws can be validated against the contitution. Netwerk Democratie and Waag are planning an (online) discussion about this in the coming months, leading to the recommendations for a constitution in 2014, when our constitution celebrates its 200th anniversary.