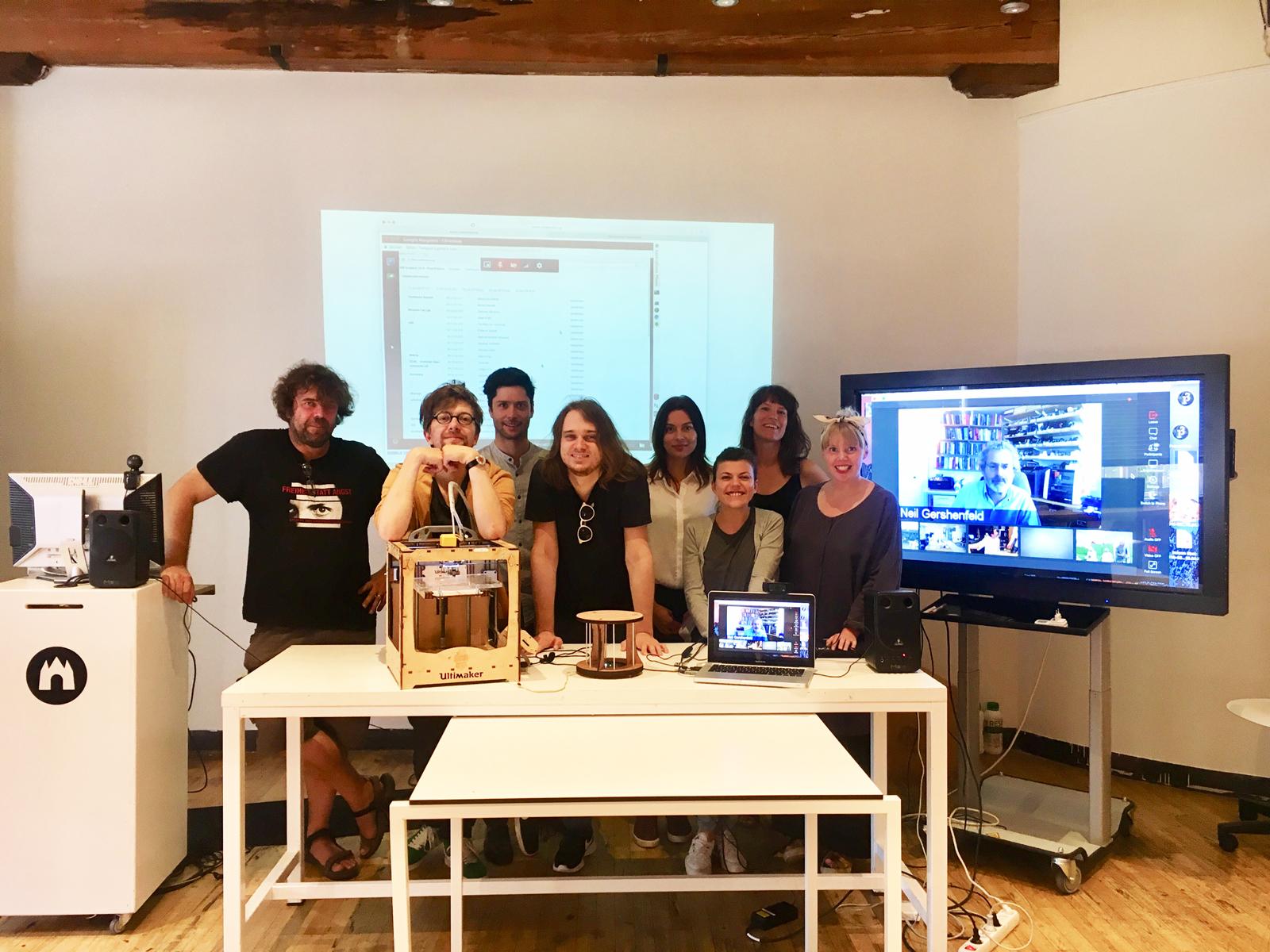 Fab Academy final presentations 2018
This month, the Fab Academy students of 2018 graduate from their six-month intense course. During the Fab Academy the students learned all about digital fabrication tools and machines, and developed their own projects at Fablab Amsterdam. To finish the programme, they presented their work through a live video session with other participating (international) Fab Labs.
The Fab Academy is a six month educational programme and provides instruction and supervises investigation of mechanisms, applications and implications of digital fabrication. Fablab Amsterdam has been part of the international Fab Academy programme since 2009.
Projects Fab Academy Amsterdam
Six students joined the Fab Academy Amsterdam this year and presented their final projects. Henk Buursen developed a Mobile Ice measuring Thickness Device (MITD). As an icemaster responsible for measuring the thickness of natural ice, his aim was to develop a measuring device that is light to carry and doesn't have to destroy parts of the ice to measure thickness.
Inspired by her work as a biology and technology teacher, Jelka Lustenhouwer created a physical model of an auditory sensory hair cell that can make it easier for students to imagine life on the cellular and molecular level.
For his project Performing the machine, David McCallum, worked on creating an interface to control the digital fabrication machines live so that they can be performed like instruments.
Johanna Nordin worked on the idea of interactive cubes that can be used by as toys by children. She developed cardboard cubes that have LED lights blinking in different ways depending on how the cubes are put together.
To combine the physical and electronic fields of the Fablab with the field of AI, Dimitri Paley worked on the idea of a device that can move based on movements registered by its camera. The necessary movement to activate the device is measured using a Neural Network, which can be trained by the device.
Finally, Xavier Klein worked with a gyroscope to create the Gyroguitar. This device triggers effects based on guitar hero-like moves by the guitar player.
FAB14 and Fab Academy 2019
This year's Fab Academy students will officially graduate during FAB14 conference in France. The next Fab Academy starts in January 2019. Are you interested in learning how to make use of the tools and machines while broadening your (mechanical) knowledge? More information on next year's Fab Academy program will be available on the international Fab Academy website.