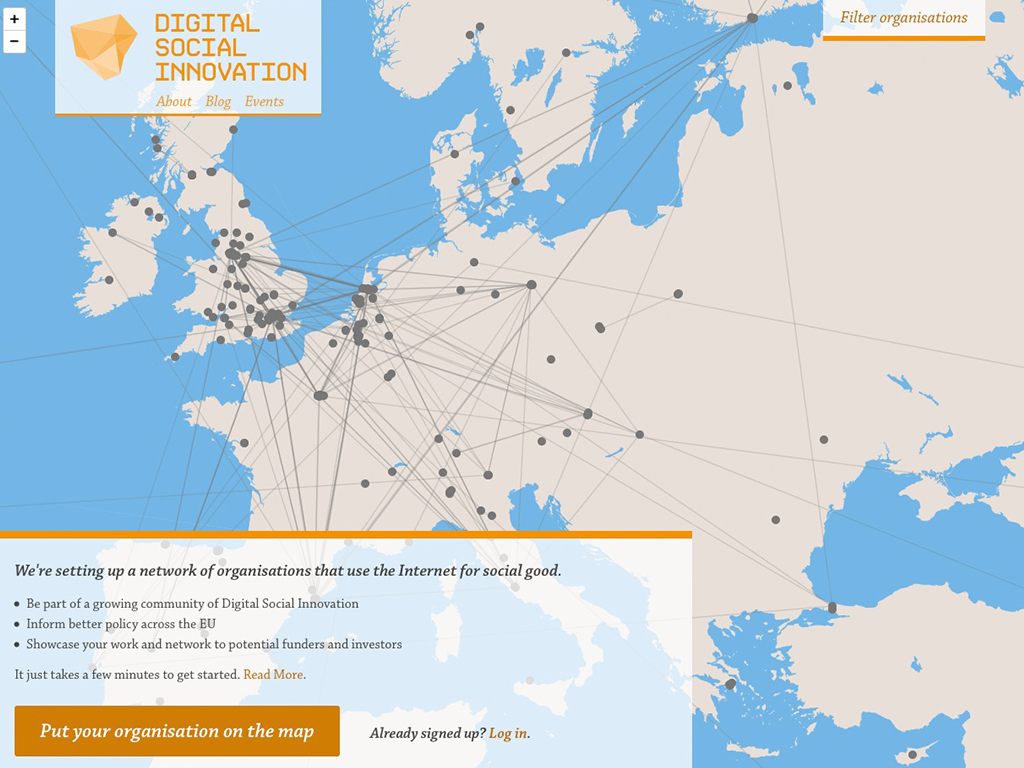 📷 Waag (BY-NC-SA)
On 3 February 2014, at the European Commission in Brussels, a one-day policy workshop for Digital Social Innovation (DSI) was organised to share knowledge among policy makers, government agents, and DSI practitioners, and to jointly explore a range of tools that might encourage and accelerate digital social innovation. A group of 70 people attended the workshop. Waag is part of the EU DSI study and I participated in this workshop.
The workshop started with DSI practitioners Arduino, Smart Citizen, Provenance, Confine, Goteo and Your Priorities showcasing their work, challenges, and ideas. DSI work is often enabled by open data, open hardware, open networks, and open knowledge, as well as technical systems, platforms, services and diverse groups of people. 
From the presentations, I understood that from a range of bottom-up practices there are several challenges that they face to grow or scale. For example, new products and services could often not be envisaged at the time that these open tools are developed. This means it's a relatively a long journey to actually turn a potential great DSI idea into meaningful actions. For policy makers, it was important to hear from a range of bottom-up practices and understand the challenges that they face to grow or scale. For example, many present at the workshop asked for public funding of innovation to be used in a more open way, so that certain technology can be unlocked and others can build useful services and networks based on it.
For me, the presentation at the workshop provided a direct channel for 'top-down' policy makers to understand the 'bottom-up' activities and practitioners. Another important part of the workshop is to help 'bottom-up' people understand the 'top-down' policy making. Esteve Almirall of Esade Business School spent a few minutes to give a presentation about policy framing, in which he talked about the development of innovation policy, the implementations of these and the communities that are supporting it. 
Geoff Mulgan of Nesta then led workshop participants to think about several big DSI questions such as "who will implement it" and "who will benefit from or will be against it". He inspired participants to think how policy could help make it easier to generate and spread ideas, as well as to increase the potential social and economical value of DSI. These two presenters did a great job to break down the complicated policy making topic into several direct questions, which participants were able to analyze and think of answers, from their perspectives.
During the workshop, policy ideas were harvested from the groups. The outcomes fell in the following clusters:
Funding models for DSI projects
Impact & impact measurement, about the value that DSI is creating
Digital human rights, privacy, and freedom
Intellectual property rights & patents
Participatory Budgeting, to empower social responsibility
Network models, like an EU lab for DSI, to share knowledge on all levels
Regional & local policies
Infrastructure – like open networks
Policy tools for specific sectors such as education and healthcare
In the afternoon, participants were divided into five groups to discuss about these clusters and to refine concrete policy ideas per domain. I participated in the group discussion of 'Participatory Budgeting' and 'Network models', because I see actions in these two areas have the potential of creating direct impact on grass roots DSI projects. During my case studies with an Amsterdam based DSI start-up, they mentioned that it would be very useful if there is guide or support to help them shape a business based on DSI, which they believe would save them time and effort in purely experimenting by themselves.
I was very curious to hear what other people think in the workshop, and it was indeed very interesting sitting with people from all kinds of background but all focusing on DSI. In the discussion I heard different opinions from such as local and regional governments, technical research institutes. An interesting discussion was about the idea of having a new network model, like an EU-lab for DSI, some believed that this could help share knowledge on all levels and thus create certain support for different parties, but others believed that this will create even more layers of working, which is also a fact that needs to be considered. We had only half an hour to discuss and we brainstormed a real innovative format, where there will be no office or new layer of organizations, but in stead experts will go to local activities to provide knowledge and bridge the knowledge sharing. These areas of policy were further worked on, with European Commission officials providing their responses.
Developing good policy can be rather boring and is usually considered as 'far away' from bottom-up groups. The workshop was therefore also an innovative experiment. In one day, the workshop brought very diverse people together to discuss the policy making, and inspired people to be part of it. It successfully bridged different parties from top-down and bottom-up in Europe to work together in order to better nurture and scale digital social innovation.
Are you working on DSI projects? Interested in or even having policy ideas for DSI? Please take part in shaping ideas. Take a look at the bespoke DSI Your Priorities platform. Here you can debate and vote on ideas from the workshop or upload your own idea.
If you are interested in learning more about the research, you can find more than 30 case studies on digital social innovation in our interim study report and you may want to join the DSI network.