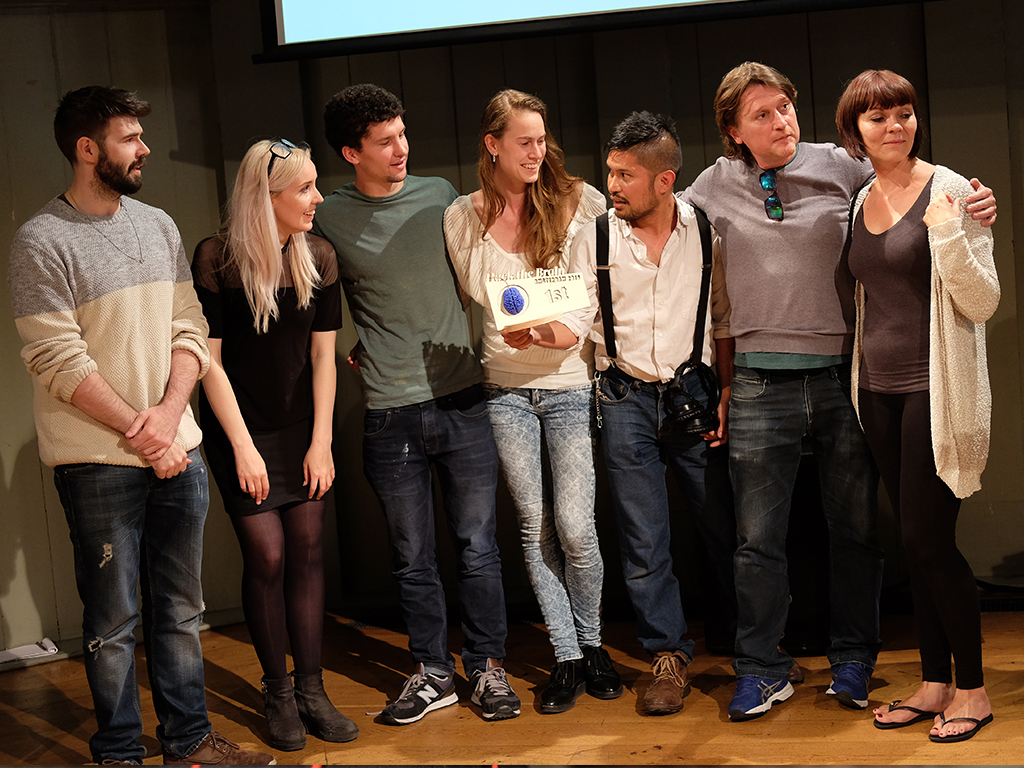 📷 Waag (BY-NC-SA)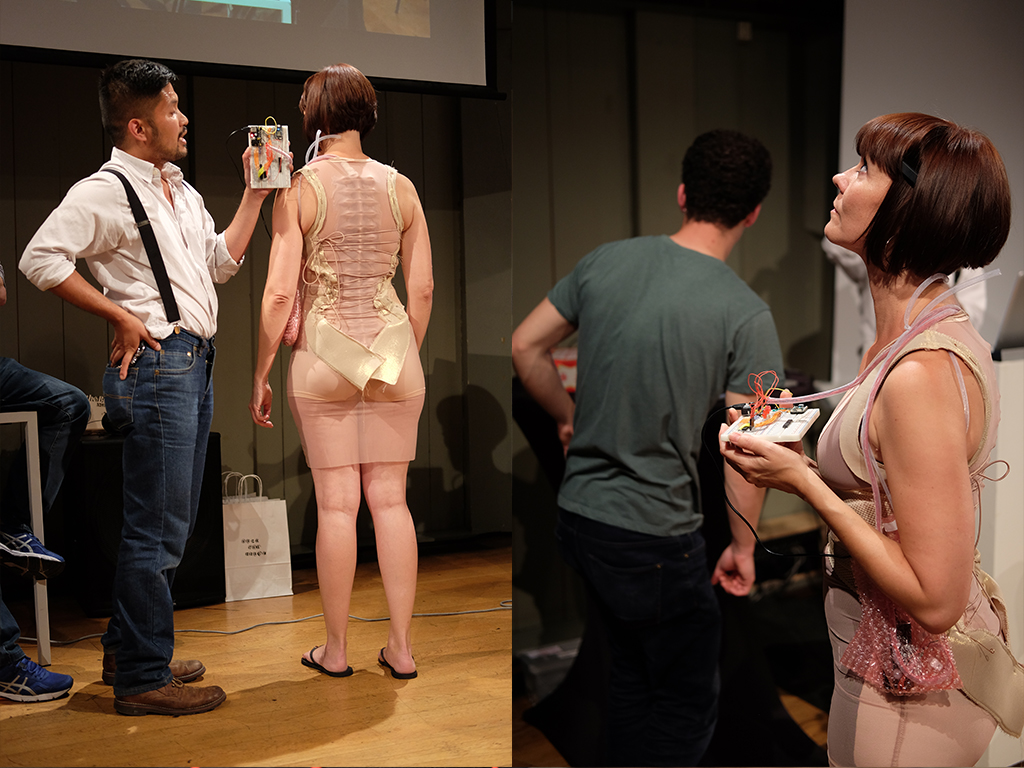 📷 Waag (BY-NC-SA)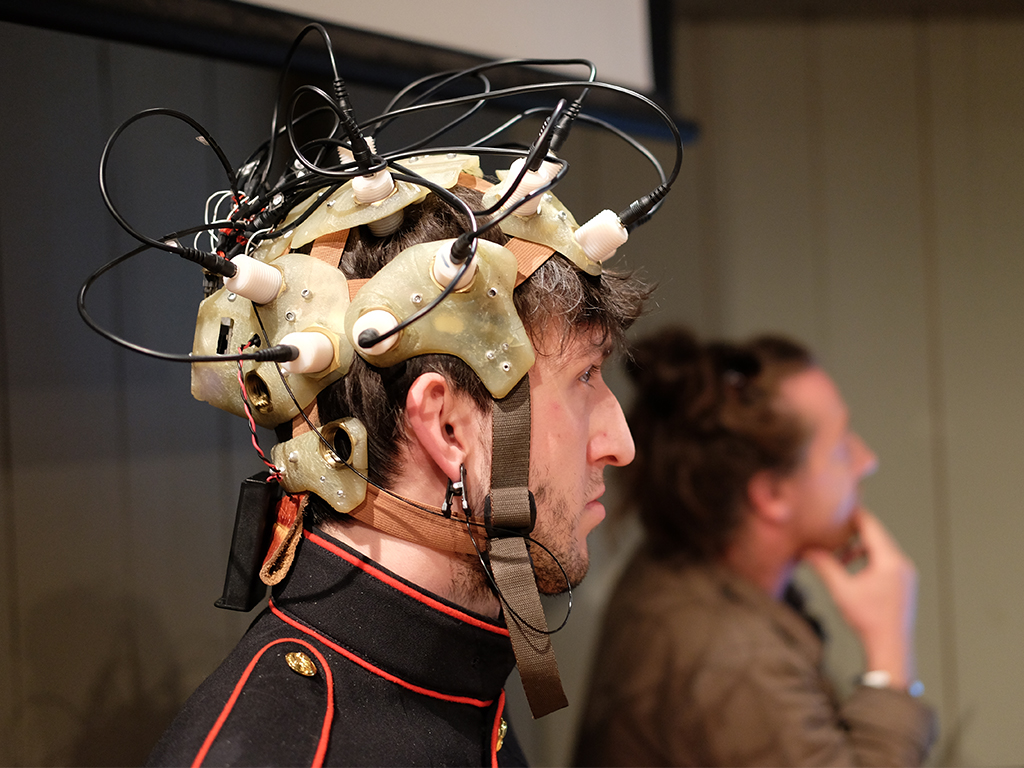 📷 Waag (BY-NC-SA)
Hack yourself better (or worse): this year's edition of Hack the Brain was all about health. What happens when you bring together a group of 54 artists, (neuro)scientists and coders for 72 hours? Questions about our brains with ideas on health, care and quality of life were raised and brain activity was measured, visualized and interpreted live. This resulted in equally innovative as insane installation, such as 'Second Brain' in which the possibility of our gut-feeling becoming the dominant cognitive sites in our body was explored. 
The inspiring Hack the Brain event, a three-day hackathon with the theme Hack yourself better (or worse), took place last weekend at Waag. Scientists, hackers and artists joined forces in multidisciplinairy teams to do just that. With the support of the Donders institute and the University of Twente these teams used EEG biosensor hardware to create novel and impressive working prototypes. The cooperation of different people from different backgrounds led to the creation of projects that led to amazement, discussion and inspiration.
The first day of the three day hackaton was about raising questions and ideas. During the public evening, Bert Otten concluded with the wise words: "Science doesn't cover it all. Art should be part of the process. – Art doesn't cover it all. Science should be part of the process." On Saturday, the teams planned and selected their brain measurements tools. Additionally experts explored ground with their own brain hack projects while connected to simultaneous hackathons in Montreal, Toronto and London. The big finally was on Sunday, resulting in 11 pitches that were judged on the level of maturity of the prototypes, the scientific value, novelty and artistic value.
The following teams were awarded:
1st price: Team Bisensorial
This team developed a wearable technology that induces calmness by using sound and haptic vibration stimulation.
2nd price: 100% Engaged 
This team explored social situations and group dynamics by measuring the engagement levels of individuals within a group, as well as that of the group as a whole. 
3rd price: The BAT project
The BAT project explored the use of a digital 'Brain Assistant' that could help with preventing epileptic and narcoleptic events by measuring abnormal brain activity that matches an event. 
Special award: "Insane-but-might-be-possible-in-the-near-future-award" 
The project "Second Brain" received this special award. Second Brain is an interactive installation through which the interaction between brain (first brain) and gut (second brain) was explored through biosensor hardware. The installation makes the invisible more visible and by doing so sparks discussion about the relationship between the brain and the gut. Stephan Reschke also elaborated on the interplay between brain and gut during his inspiring lecture on friday.
Partners in Hack the Brain are Total Active Media, Donders Institute and University Twente. Waag organized Hack de Brain 2016 within the framework of the EU programme 'BrainHack - Bringing the arts and sciences of brain and neural computer interface together', part of Horizon 2020.