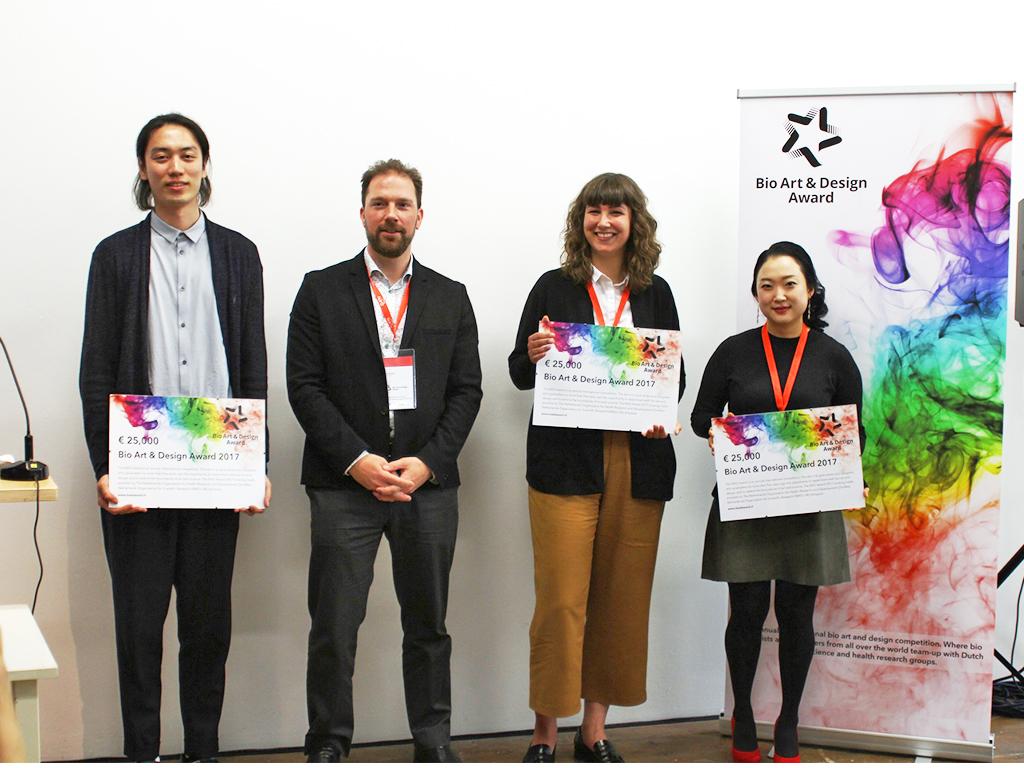 Winners Bio Art & Design Award 2017
Bioartists Xandra van der Eijk with 'Seasynthesis', Cheng Guo with 'Anon. - An intervention in the Anthropocene' and Jiwon Woo (USA) with 'Mother's Hand Taste (Son-mat)' were announced on Friday 19 May 2017 as the winners of the Bio Art & Design Award 2017. The jury chose these bio artists and designers from twelve teams of collaborating international artists, designers and scientists. With the prize money of 25,000 euro each, the winners will now realise their art projects in close collaboration with a Dutch research organisation.
The winning artworks will be exhibited from 1 December 2017 at MU art centre in Eindhoven.
Laudations winners Bio Art & Design Award 2017
Xandra van der Eijk (NL) 'Seasynthesis'
In collaboration with: Wageningen Marine Research - Wageningen University & Research
First, the jury was impressed with the quality of this collaboration, in which it was clear that understanding, mutual respect had formed. Xandra demonstrated an unwavering passion for her topic, which is in line with its urgency, that of our collective impact on the seas. To this she adds an inspirational willingness to bring to an audience the world of unknown or under-appreciated sounds of the sea. We hope, as she does, that the sensorial experience this project delivers might help us develop better inter-species empathy.
Cheng Guo (China) 'Anon. - An intervention in the Anthropocene'
A collaboration with: Institute for Environmental Studies - VU University Amsterdam
The jury found this project to be a compelling and poetic means to question human impact on the land, and the potential futility of attempting that impact's erasure. In recursive layers, human effort washes away human effort in a performance, involving the transformation of land that was never land even to begin with. The jury was impressed by the artist's planning and investment in both the practical and conceptual aspects of his proposal.
Jiwon Woo (USA) 'Mother's Hand Taste (Son-mat)'
In collaboration with: Institute of Environmental Biology, Microbiology group - Utrecht University
The jury was impressed by how this project combines intangible cultural heritage, microbiology, and immigration. By isolating and identifying the biological traces of the fungi found on the hands of different generations, the project will undoubtedly strengthen ties between those generations, as it goes on to discover what is maintain, lost, and added over vast spaces and time.