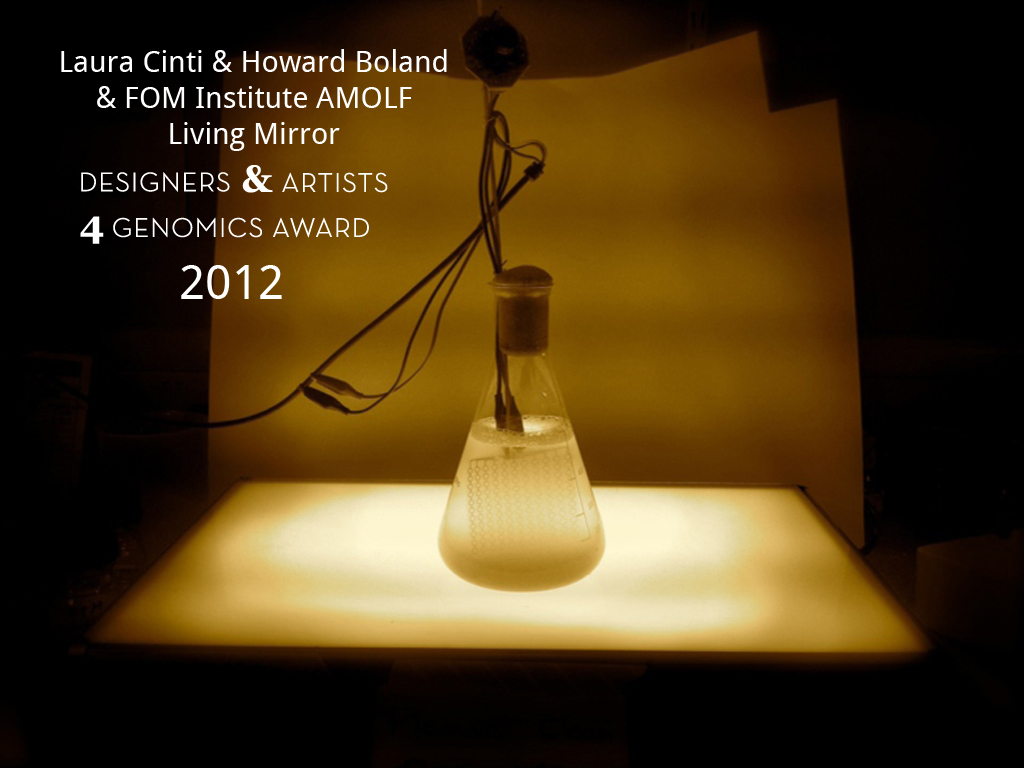 📷 Laura Cinti & Howard Boland (BY)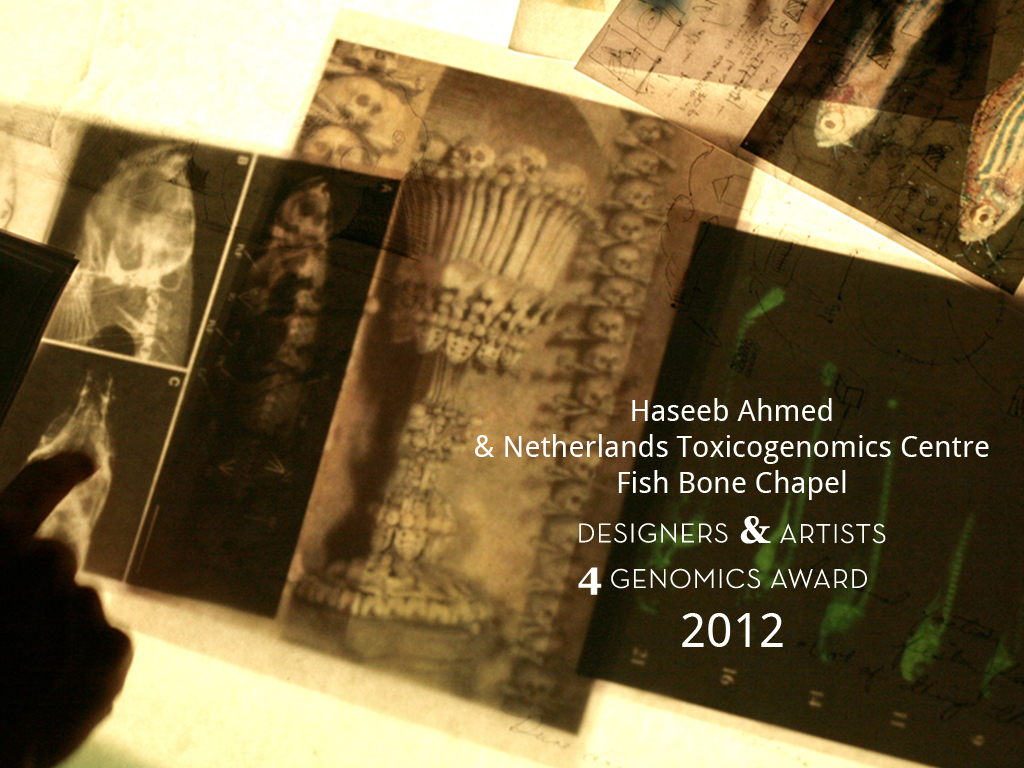 📷 Haseeb Ahmed (BY)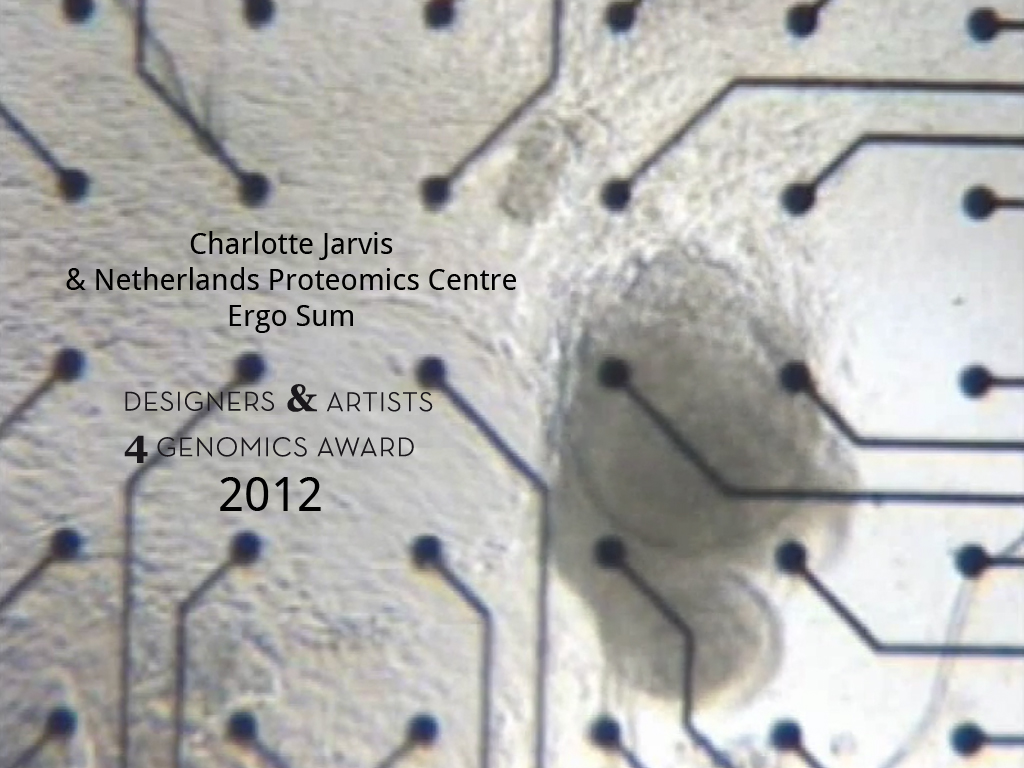 📷 Charlotte Jarvis (BY)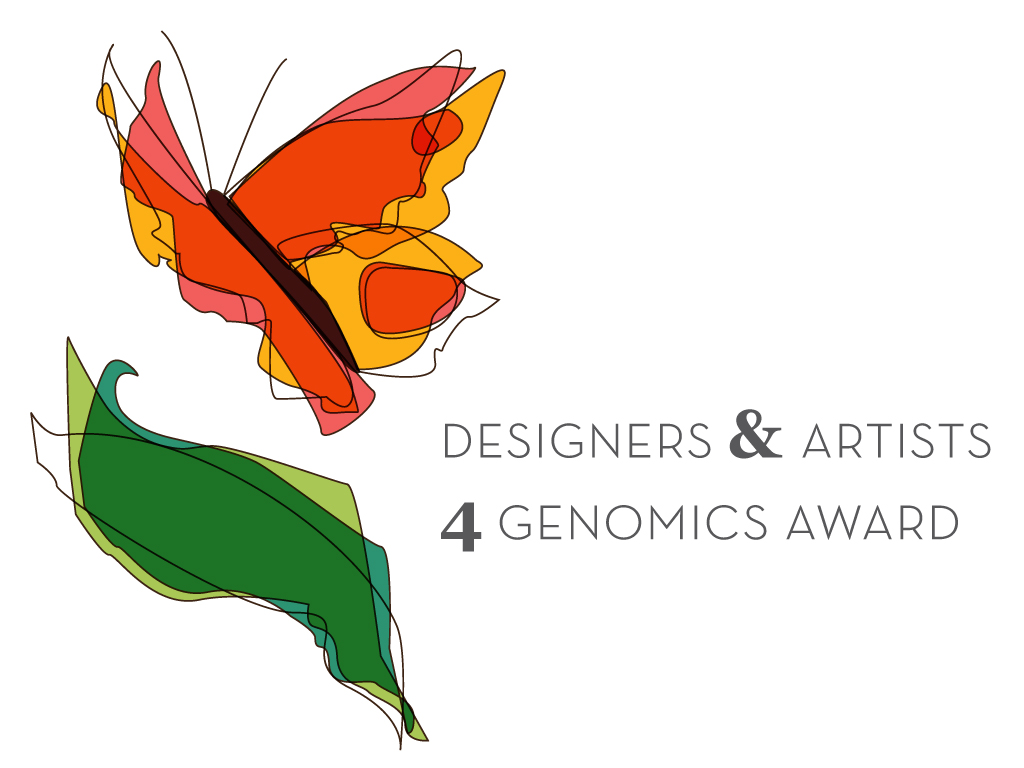 📷 Waag (BY)
A Living Mirror, a Fish Bone Chapel and Ergo Sum – winners bio-art contest DA4GA announced
On 6 December 2012, the Designers & Artists 4 Genomics Awards were handed out. This unique Dutch contest brings art, design and life sciences together. Teams of scientists and artists are working with living material in their projects that evoke surprise and questions. This year, three projects were awarded: Living Mirror, Fish Bone Chapel and Ergo Sum.
The bio-art contest DA4GA, known for the project Bulletproof skin, is in its third year. This Thursday afternoon, thirteen finalists presented their proposals in Naturalis. Hans Clevers (president, KNAW) awarded the prizes: "The quality of the entries this year was very high. We chose the most artistic, scientific and technologically challenging projects with a strong social impact that invite the public to wonder about the position of life sciences." The three winners receive 25,000 euro's each to realize their proposal and work towards an exhibition in Naturalis.
Living Mirror
Laura Cinti & Howard Boland with the FOM-Institute AMOLF
A liquid image of magnetic bacteria. That is the Living Mirror: an interactive bio-installation in which cells are combined with electronics and photo manipulation. Individuals are captured and translated in a live, 3D-portrait. This image reintroduces the 'fleshiness' absent in digital media. Living Mirror connects the history of the mirror in literature and arts.
Fish Bone Chapel
Haseeb Ahmed with the Netherlands Toxigenomics Centre
The Fish Bone Chapel is a hybrid building, existing of fish bones. The vertebrae vaults, scaled walls and beating circulation systems of this architecture are derived from enlarged 3D prints and the skeletal structure of fish exposed to mutagenic toxins. Playfully, the Fish Bone Chapel makes a historical connection with the morbid architecture of the Capuchin Monks who decorated the bones of their brothers to symbolize the transience of life and death.
Ergo Sum
Charlotte Jarvis with the Netherlands Proteomics Centre
The artist Charlotte Jarvis is donating parts of her body to stem cell research. These specimens will be transformed - medically metamorphosed - into induced pluripotent stem cells and then into a range of completely different substances. A second self will be created - a self-portrait, a doppelgänger - made from a collage of synthesised body parts: brain, heart and blood vessels, biologically 'Charlotte' yet distinctly alien to her.
Designers & Artists for Genomics is an initiative of the Netherlands Genomics Initiative and Waag, sponsored by CSG Centre for Society and the Life Sciences and presented by Naturalis Biodiversity Centre.
This project was made possible by a subsidy from the Creative Industries Fund NL. This KiiCS project was supported by the European Commission within the Seventh Framework Programme.