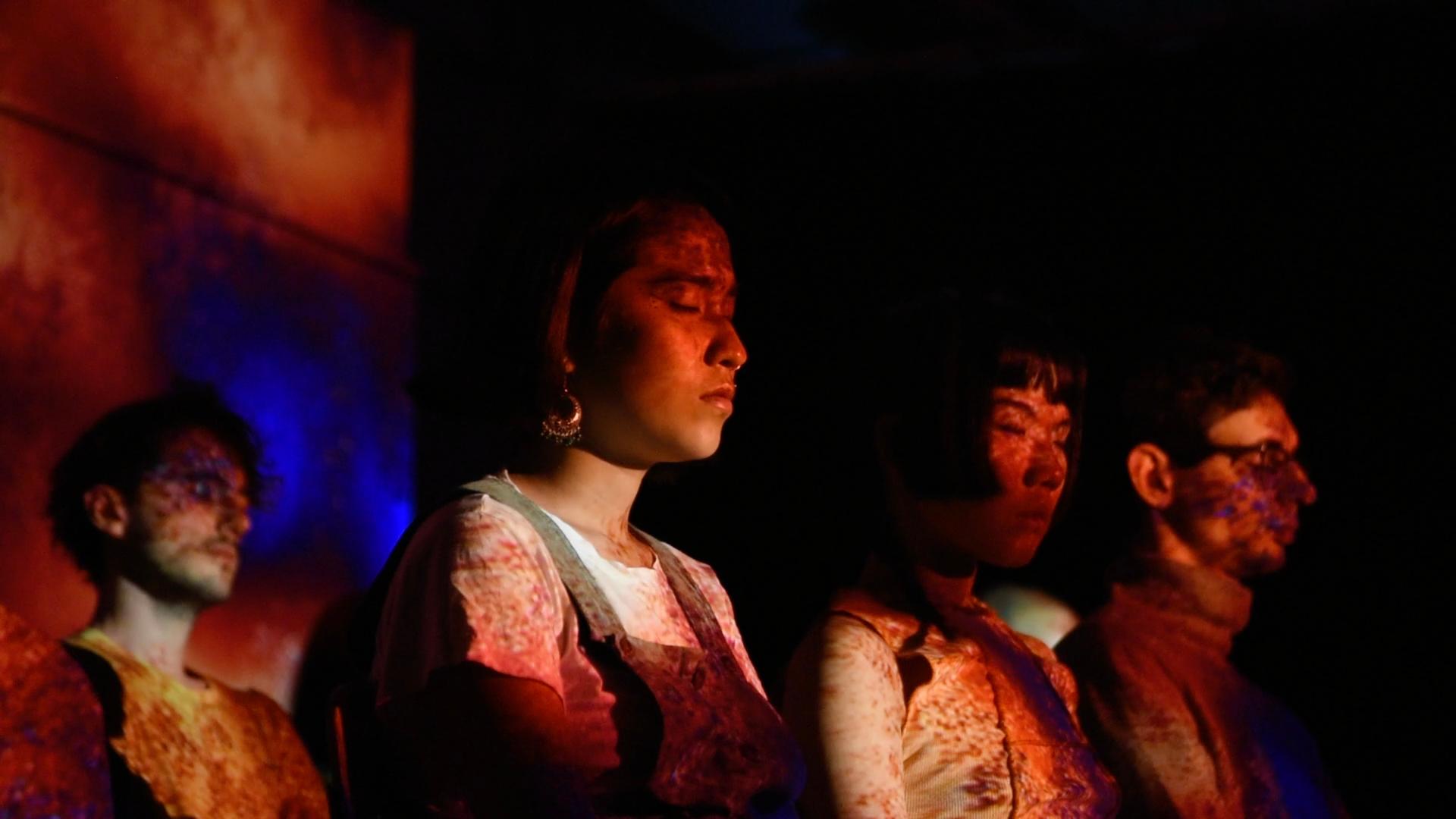 2023-07-06T19:30:03+02:00
2023-07-06T22:00:00+02:00
Waag Open: KABK performances
During this performance evening, we will present two exciting works that both won the KABK Waag Award in 2022. This is a yearly encouragement award that recognises the most promising Bachelor and Master students from the Royal Academy of Art in The Hague. In 2022, the winners were Armand Lesecq (MA Art-Science) and Ange Neveu (BA Art-Science).
Armand Lesecq – Phosphene 
Lesecq will present his audio-visual immersive experience work Phosphene (2022). In a world wherein more and more consumer media screens and applications push their endless audio-visual streams towards us, Phosphene represents a media work that does the opposite.
Phosphene is a 30 minutes film for closed eyes and spatial sound. Inspired by dreams, neurosciences and hypnosis, the project aims to explore varieties of inner spaces. It is an attempt to reach those territories we might tend to forget or deny, between the surface of the senses and our interpretation of reality, in the depths of imagination, illusions and doubts.
Ange Neveu – May Your Eyes Never Look Away – May Your Genitals Always Be Lubricated 
Neveu invesigates the practice of zoo's to stimulate the reproduction of captive pandas by showing them pornographic moving images and training their muscular capacity to mate. 
The work is another example of artistic research into the ever further instrumentalisation and industrialisation of animal life for the benefit of humans. One however can ask the question in this case to what purpose. To that of the entertainment industry, that of panda-diplomacy?
The lecture-performance by Neveu is based on their research in which the artist follows the media based economy of desire in the captive giant panda and its links to queerness, reproductive technologies and eco-surveillance. The work follows the first moments of stardom of the giant panda called Lin Ping through a multiprojection of found footage and storytelling that hovers between reality and fiction.
Programme: 
19:30-19:35 introduction by Zoénie Liwen Deng
19:35-20:05 Performance Phosphene
20:05-20:15 short break // change of setting
20:15-20:45 Performance May Your Eyes Never Look Away – May Your Genitals Always Be Lubricated
20:45-21:05 discussion + Q&A moderated by Zoénie Liwen Deng
21:05-22:00 drinks
Waag Open
Waag Open is a monthly public programme focused on today's themes. We organise various workshops and present collaborations between scientists, designers and artists. Once a month, Waag opens her doors for programmes that can be attended by anyone and everyone.