Brandon: epic web narrative restored
Shu Lea Cheang's Brandon, the Guggenheim Museum's first-ever online commission, was a year-long web narrative and performance that explored what Cheang called the "digi gender social body"—the online, socially constructed body, such as an avatar—as a site of potential violence, control, and liberation. During the project, Cheang resided at Waag (then named De Waag for Old and New Media) for most of the time.
The project began with two articles that Cheang read in the Village Voice. One told the story of Brandon Teena (December 12, 1972–December 31, 1993), a Nebraska trans teenager who was brutalized and murdered. The other described a rape spree that took place in a text-only chat room, and nevertheless left its victims feeling violated and bereft. Drawing a connection between these very different episodes of violence, Cheang began a years-long research process to consider the expression and repression of gender in an online context.
This ultimately came together in an epic web narrative that involved numerous institutions and collaborators, taking the form of installations, discussion forums, networked performances, and web narratives. Through Brandon, Cheang convened an important dialogue about the affordances and limits of the bodies that users construct online, and highlighted the persistence of gender-based oppression in the seemingly liberatory context of the net.
"No one (including myself) can claim to have viewed the entirety of this work." —Shu Lea Cheang
A new restoration of this landmark work, undertaken by the Guggenheim Museum, has been unveiled to coincide with its inclusion in Net Art Anthology.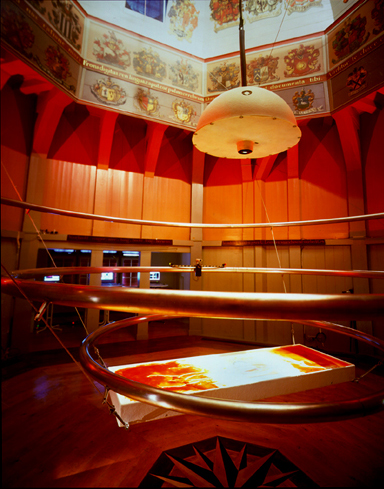 The Theatrum Anatomicum of the Waag played an important role in this project. The installation by Atelier Lieshout, which featured a revolving webcam, was used during Brandon's launch event on June 30, 1998 to upload live images to Brandon from the Theatrum Anatomicum in Amsterdam.
The Theatricum Anatomicum interface links to three events that took place as part of Brandon: a launch event, a "netlinked forum" called Digi Gender Social Body: Under the Knife, Under the Spell of Anesthesia, and a virtual trial, titled Would the Jurors Please Stand Up? Crime and Punishment as Net Spectacle. Linking Guggenheim Soho with Waag in Amsterdam, these events took place both online and off, involving webcast and chat. Part of the jury sessions can still be found at our servers.
Digi Gender Social Body: Under the Knife, Under the Spell of Anesthesia took place in the Theatrum Anatomicum of De Waag—a space that was used for public anatomical dissections in the seventeenth and eighteenth centuries—and was broadcast in NYC at the Guggenheim Soho and online. The event brought together critics, medical professionals, and technologists to explore the binary coding of gender and of the digital.
To access the Theatricum Anatomicum interface, click on the webcam icon (which looks like a pulsing circle) from the roadtrip interface.
Design: Mieke Gerritzen and Janine Huizenga
MorF title animation: Yariv Alterfin
Software engineer: Roos Eisma
Forum programming: Bram Boskamp
Theatrum Installation: Joep van Lieshout
Construction: Atelier van Lieshout
Documentation: Derk Jan Wooldrik