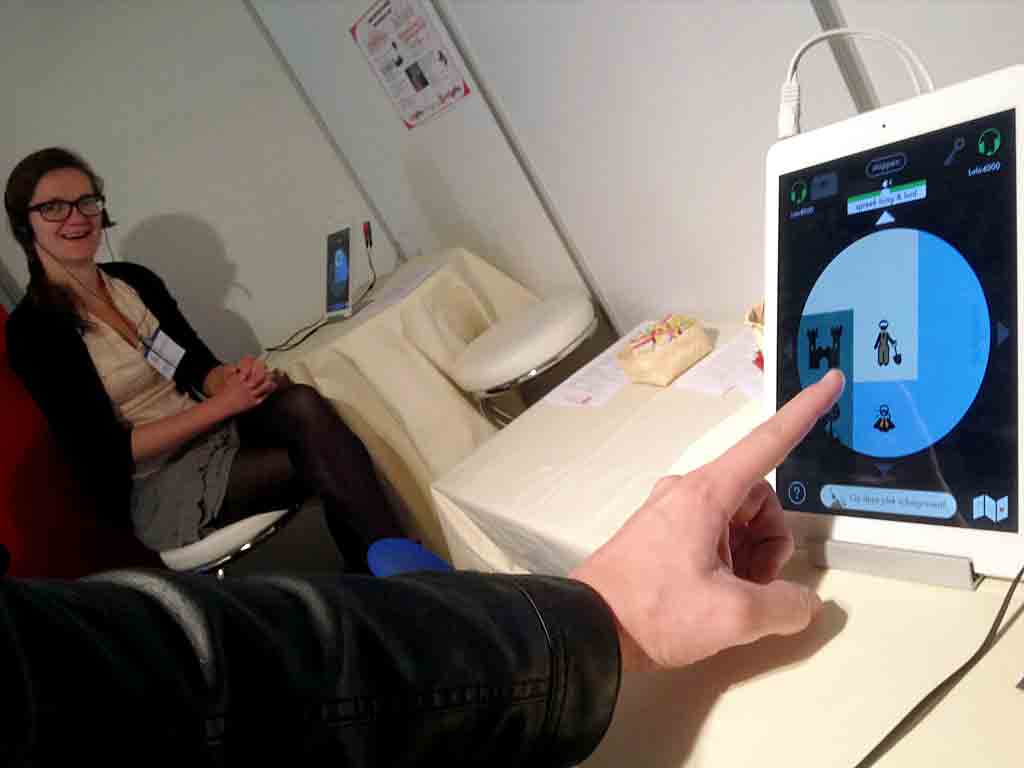 📷 Waag (BY-NC-SA)
Within the CHASING project, our Creative Care Lab develops a 'serious game' with Radboud University of Nijmegen and the Sint Maartenskliniek. CHASING stands for: CHAllenging Speech training In Neurological patients by interactive Gaming. The game aims to provide fun and effective training support for patients who are facing speech problems due to a chronic neurological illness.
About the game
The game itself is played by two players. Each player participates through his or her iPad. Together the players explore a virtual world of streets and rivers. One player is a digger and must find a treasure chest. The other is a diver that is looking for the key. Only when both players have found their goal, the found treasure can be opened with the found key. When this happens the players continue to the next level.
In finding their target, the players have to depend on one another. They help each other by sharing instructions via a headset. In doing so they actually hear each other live as in a Skype conversation. As they speak to each other, the software evaluates loudness and pitch of voice. The players will get a signal if they have to adjust this. In a later version, the software will even help to improve articulation.
Testing as a compass
Involving the user is something we strive for as much as possible. That's why we have this game thoroughly tested with our main user. This led to good suggestions for improvement.
We then tested the latest version at the DRONGO language festival. This time our project colleagues from Radboud University presented the game to a wider audience. They talked to a lot of people and also let many people play and experience the game themselves. The reactions were very positive. Through these through this kind of test sessions we don't only involve patients but also other people from various relevant disciplines. They too share valuable insights. 
Testing helps us to determine direction within our project. Yet we remain aware of the fact that the patient is and should remain our main user. Fortunately, the Radboud University will carry on to do testing with our main users next month. Through testing we continue to mold this game into a wonderful tool that will provide valuable support for the end user: the patient.