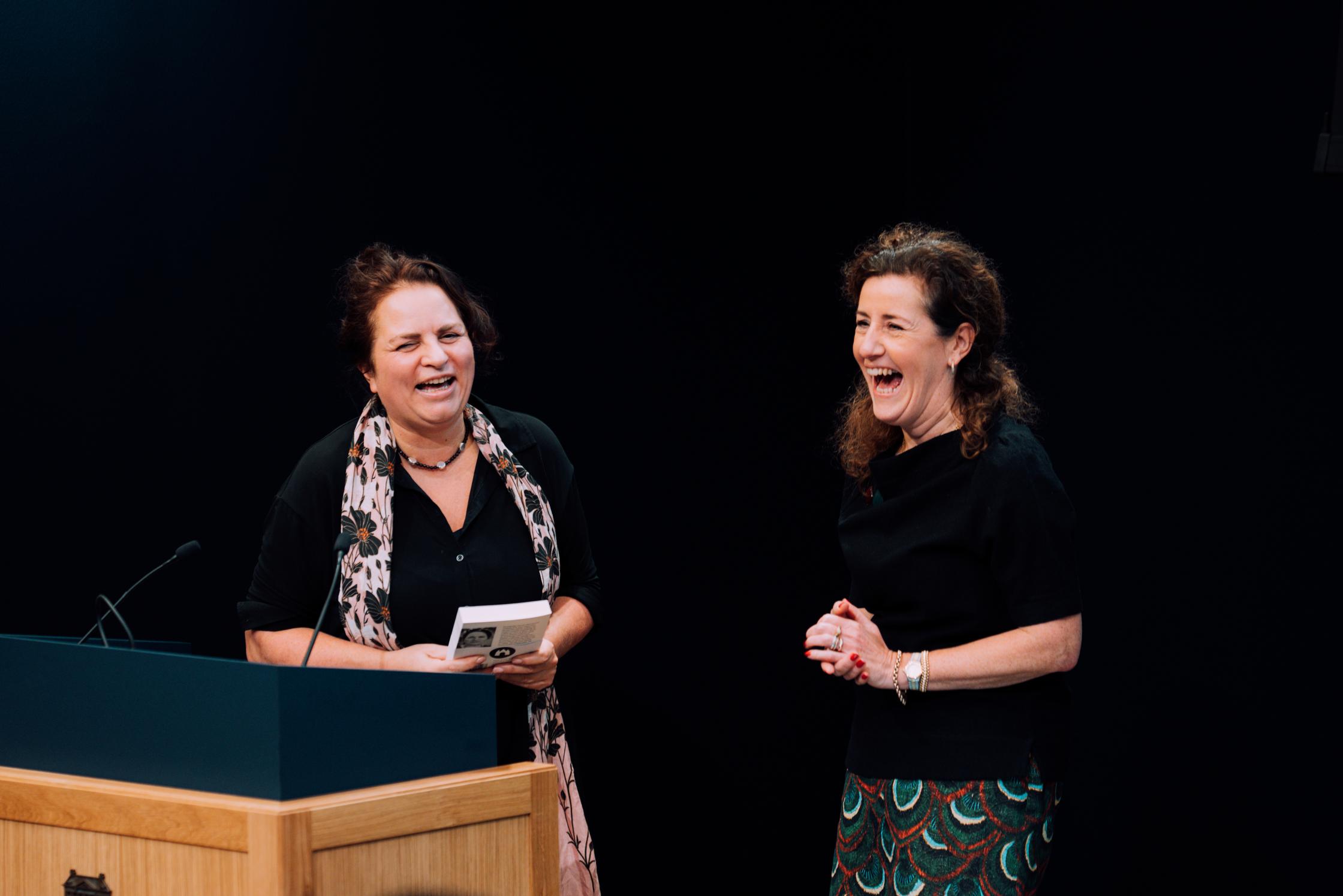 2019. Waag celebrated it's 25th anniversary, our director Marleen Stikker presented her book, Fabricademy, Fab Academy, Planet B and two pilots within Hollandse Luchten got started, new Maakplaatsen were opened, prizes were won, many new designs were made for schools, citizens and patients, and in the Waag building we organised many events, open afternoons and open evenings. Our goal: to dissect and design technology and work towards an open, honest and inclusive society. 
These were our highlights in 2019:
Waag celebrates 25 years of impact
On November 30th, we celebrated our 25th anniversary. Not only did we open up the Waag building to the public to show 25 years of projects intersecting in technology, arts and sciences - Marleen Stikker also presented her new book 'Het internet is stuk' ('The internet is broken'). Afterwards, we celebrated in Sexyland. To top it all off, Marleen Stikker got rewarded the Felipe Rodriguez Award 2019 by Bits of Freedom. 
Start of Hollandse Luchten
Each year, up to 12.000 Dutchmen die early from air pollution. In Hollandse Luchten ('Dutch skies') Waag, together with the Province of North Holland, researches how citizens can measure the quality of air in their neighbourhoods. By learning how to use the custom made HoLu sensorkit and attending information meetings, citizens learn how to develop their own strategy for measuring air quality. They also learn when data are reliable and how to interpret them. Through Hollandse Luchten, citizens are able to have informed conversations with their governments. This leads to smarter and more constructive solutions for air pollution. In 2019, two out of three pilots for Hollandse Luchten got started: in the IJmond region and in Buiksloterham. This map shows live results of air pollution measurements by Hollandse Luchten.
Waag at Dutch Design Week
Waag was proud to be at Dutch Design Week in Eindhoven again this year. With the Embassy of Health, we presented Chronic Health: It's only Human?, an exposition in which designers from, amongst others, Waag's Commons Lab and MakeHealth Lab searched for solutions in healthcare now and for the future. The TextileLab did an exposition all week, where they showed their selfmade, sustainable alternatives  for materials and production processes within the fashion industry. 
AI AI Barbie
If smart toys are going to play a significantly bigger role in the upbringing of our children, what kind of values do we want these toys to teach them? During the AI AI Barbie hackathon, we worked on smart toys ourselves. We designed Socratessa: a smart doll that asks critical questions with everything you say to him or her. MoodyMonster: a doll that begs you to take him on an adventure, but halfway through changes it's mind and starts acting grumpy. Best Fake Friend: a playmate that listens to you attentively, but in his answers directs you towards commercial services or products. What happens when we program kids' toys with artificial intelligence? And how well do kids listen to their artificially intelligent friends? Hello Barbie, a doll that contains AI that is owned by Google, and the work of MIT's Stefania Druga formed the starting point for our hackathon AI AI Barbie. 
Agenda for the Digital City
Last March, councilor Touria Meliani of the municipality of Amsterdam presented her agenda for technology: the Agenda for the Digital City. Waag actively contributed to the creation of the agenda and feels recognized for all that Waag has been fighting for in the past 25 years. Marleen Stikker: 'The local government explicitly included our core values, like openness and inclusiveness, in her policies.' Read more (in Dutch).
Waag launches planet B at the Amsterdam Science Park
On June 21st, 2019, Waag launched it's first outpost: planet B. What if humanity was to colonize a new planet: what should it look like? What could we do better, to work towards a more inclusive and sustainable planet B? And what do we see if we take this vision and look back at our own earth? With the opening of our outpost at the Amsterdam Science Park, we also launched our first expedition: the AI Culture Lab, in which artists got the chance to work with artificial intelligence. This lead to our exposition 'Waag & Kunstfort bij Vijfhuizen present: Surpre:organism.' We also showed planet B to the public during Museumnacht at Waag.