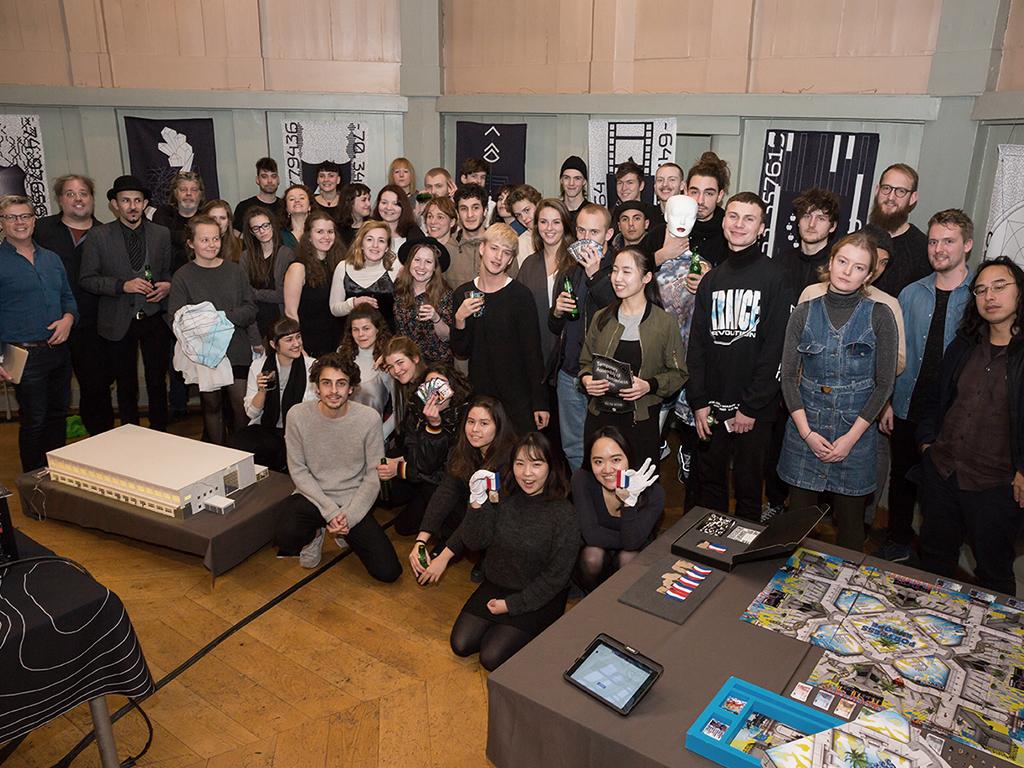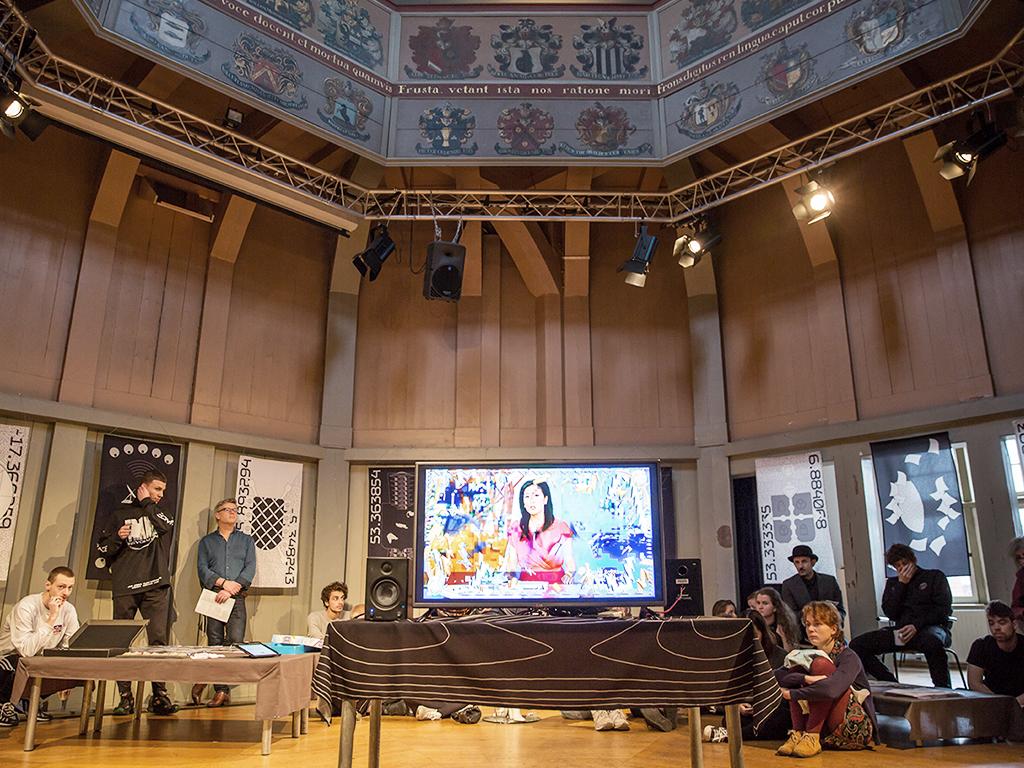 What do borders mean in an interconnected society?
The Royal Academy of Arts and Waag organized a one-off Temporary Assembly of Borderless States in the Waag. In times of aggressive nationalism, economic protectionism and mass migrant movements, third year Graphic Design student teams researched contemporary connections between societies and individuals and proposed alternative ways of looking at borders and real time connectivity. We are continuously faced with rapid globalization and the rise of the Internet allowing or international accessibility and exchange and at the same time politicians and citizens desperately want to seal borders for fear of foreigners. What do borders mean in a society that is interconnected at so many levels?
The intentional ambiguity of the term borderless states aimed to trigger new approaches towards personal, regional, national or global states of being – what does it mean for a small local community to be connected to the world at large? What does it mean to be a refugee in Fortress Europe? How are global colonial power structures influencing local architecture? What do we think of local tax havens and the resulting global financial flows that maximize company revenue in one end of the world but have negative impacts in other parts of the world?
GPS coordinates
Starting from a predefined GPS coordinate, the student teams identified questions typical for that specific location, they analyzed the local situation, identified stakeholders and came up with their interventions. The resulting projects were critical, speculative, sometimes hopeful and sometimes cynical. Eight student projects were selected as of particularly high quality, these are presented below.
Selected results of the 'Borderless States' assignment are shown in detail below. Participants were tutored by Niels Schrader and Lauren Alexander from the Royal Academy of Arts, with support by Willem van Weelden and Dick van Dijk (Waag). A set of all visuals (video stills) is available in this pdf (14 MB).
Best Visuals
Rudi van Delden and Michiel Heemskerk
Capital Complex
GPS 30.719500, 76.764792
Chandigarh, India
Rudi van Delden and Michiel Heemskerk investigated the post-colonial city and capital complex of Chandigarh in India, which was originally designed by French architect Le Corbusier and completed in 1960. Rudi and Michiel disclosed imperialistic agendas of colonial architecture being appropriated globally throughout federal capital cities as endless representations of power and nationalism. Their virtual journey through a 3D landscape highlights similarities across a vast landscape of different cultures.
projectlink: https://vimeo.com/197107037
Best Research
Asya Sukhorukova, Dóra Kerekes and Jan Egbers
Wadden Cohabitat
GPS 53.363854, 5.612542  
Waddenzee, The Netherlands
Asya Sukhorukova, Dóra Kerekes and Jan Egbers explore the fringes of future habitation possibilities on the islands off the Dutch coasts. The group propose three different lifestyle scenarios based on the unique geography and conditions of three selected islands. Their research is based on the principles of arcology, an established field which seamlessly facilitates cohabitation of environment and architecture. It tinkers with the idea of the Wadden Islands becoming a viable escape once the Netherlands is overcrowded and inhabitable.
Best Narrative
Amélie Vancoppenolle, Niels van der Donk and Daan Kars
Taliyoon
GPS 14.766458, -17.366259
Dakar, Senegal
Amélie Vancoppenolle, Niels van der Donk and Daan Kars developed a fictional geographic landscape called Taliyoon (meaning Trade Route Gone) which visualises Senegal as it is connected to contemporary trade dependencies in Europe and the United States. Its shape and topology equals frighteningly similar locations of historical trade routes of the 18th century. Taliyoon shows that since then not much progress has been achieved, and the only logical next step is for the group develop a cynical manual that reveals the seemingly impossible task of gaining autonomy from imperialism.
projectlink: https://vimeo.com/198470642
Best Interactive Project
Kay Pisarowitz and Daniel Hernández Chacón
0,005%
GPS 53.357619, -6.296560
Dublin, Ireland
Kay Pisarowitz and Daniel Hernández Chacón delved into the complex world of tax evasion to discover that the amount of taxes which Apple is currently paying over their earnings is a minuscule 0,005% of their earnings. Their analysis follows the dubious flow of money between various tax havens including the Netherlands, and contributes to the debate on whether governments should take a firmer control on tax flows. In order to effectively engage the viewer, this team has developed an interactive game, which role-plays both the position of the European Union and big corporations like Apple.
Best Game
Kiki Coster
Fortress Europe
GPS 35.893294, -5.348243
Ceuta, Spanish territory
Kiki Coster developed a customised board game based on the situation at the Ceuta borders, illustrating the struggles of refugees escaping from Morocco, and other African countries into Europe. The game allows players to analyse the situation from various perspectives, allowing role playing of various characters such as the border police, the refugee, or the European citizen. The objective of the game, for example, gaining asylum, vary according to the character adopted.
Best Performance
Kylièn Bergh and Wannes Vrijs
Schokkend Groningen
GPS 53.333335, 6.884068
Delfzijl, near Groningen, the Netherlands
Kylièn Bergh and Wannes Vrijs survey the Groningen region in the northern part of the Netherlands in order to examine the antagonistic forces in the context of gas extraction. They've developed a map which contrasts the region's fracking stations and gas enterprises with the worst hit areas of earth tremors and property damage. The team presents their findings as a war map, concluding that corporations are causing major damage to property and historical sites. Schokkend Nederland proposes a radical action plan for resistance and an alternative to the protest and petitions which have been taking place in this region for years.
Best Presentation
Jungeun Lee and Marika Seo
Are You a Global Citizen?
GPS 17.283439, -62.695910
Basseterre, Saint Kitts and Nevis
Jungeun Lee and Marika Seo have developed a bold visual language to represent country shapes, relative to their passport strength and thereby allowing viewers to measure the size of national territories by comparing accessibility through country agreement. The team used their visual language and applied it to the purchasing of citizenship, known as the Citizenship by Investment Programme (CIP). Through their research and design proposals Jungeun and Marika reveal that the filthy rich can easily gain access to many participating countries, and gain access to benefits that come along with this recent phenomenon of capitalistic imperialism.
Best Animation
Elizaveta Glukhova and Natalia Vishnevskaia
Dialogues of the Greek Islands
GPS 37.660818, 25.165621
Aegean Sea, near Tinos
In their map of the Mediterranean Sea, Elizaveta Glukhova and Natalia Vishnevskaia illustrate a landscape of media 'voices', related to the refugee crisis which has played out across the Greek islands from 2015 until 2016. The team collate opinions and statements from online Western media, tourist comments as well as refugee interviews, to show how different people subjectively experience the consequences of the same global events and how Greek Mythology connects to current events.
Participating students
Hilde Barwegen, Nóra Békés, Kylièn Bergh, Leith Benkhedda, Paul Bille, Thijmen van Brunschot, Carmen Dusmet Carrasco, Jonathan Cho, Kiki Coster, Rudi van Delden, Niels van der Donk, Jan Egbers, Lukas Engelhardt, Elizaveta Glukhova, Michiel Heemskerk, Daniel Hernández Chacón, Céline Hurka, Saber Javanmard, Rebecca Joly, Ies de Jong, Daan Kars, Dóra Kerekes, Rik Laging, Iris Lam, Jungeun Lee, Zuzanna Loch, Anna Lenczewska, Raphael Maman, Andréas van der Mast, Kay Pisarowitz, Taya Reshetnik, Guillaume Roux, Rebecca Rui, Theresa Scherrer, Josephine van Schendel, Marika Seo, Asya Sukhorukova, Lou Top, Amélie Vancoppenolle, Natalia Vishnevskaia, Wannes Vrijs, Yasheng Zhang.