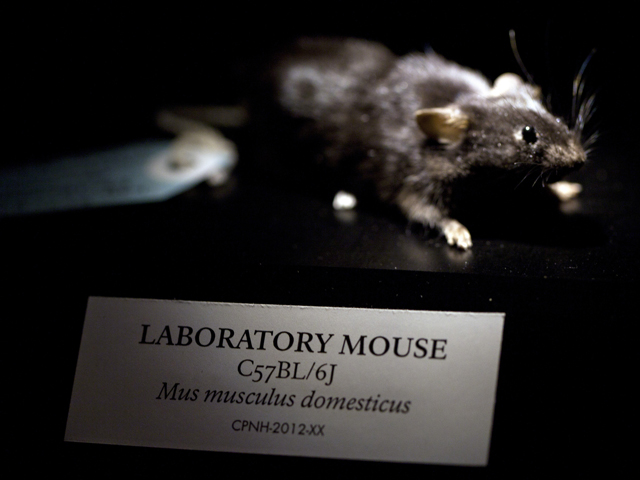 📷 Luca di Tommaso (BY)
Last Friday the premiere of 'PostNatural Organisms of the European Union' took place in Amsterdam at Waag. This exhibit is a project by bio-art artist Rich Pell of the Pittsburgh based Centre for Post Natural History (CPNH).
PostNatural Organisms of the European Union is a collection of organisms that were deliberately altered by humans, varying between domesticated pets, agricultural seeds from the Norwegian Svalbard global seed vault, alcoholic rats, mice with Hox gene alterations, the red canary (the first genetically engineered species) and transgenic mosquito's meant to fight malaria.
Postnatural species
The installation presented at the Anatomical Theatre of the Waag Building seeks to inform the audience about the growing pace with which man alters the organisms around him. Domestication of animals is known for millennia, but our growing dependence on those species has led to more knowledge about how to surpass natural genetic barriers by bringing genetic information from one species to another using vectors like bacteria and viruses.
Rich Pell looks at the often young histories of postnatural species, not only at the technological innovation involved, but also at the way we look at those organisms from a cultural perspective in terms of what kind of society they represent and our reaction to the aesthetics of those species.
Next nature?
During the opening program Koert van Mensvoort of the Next Nature network and writer and essayist Tijs Goldschmidt were invited to reflect on the EU work of CPNH. The panel discussed similarities between species radiation (Goldschmidt's research field as biologist at Lake Victoria in Uganda) and the sudden evolutionary occurrence of GMO's. Also the differences between post, next and second as a human relation to nature of which he is both part and distinct were addressed.
In the end, the dialogue centered around all the good and bad aspects of GMO's. Rich Pell does not take a stand in this and leaves it to the audience, but the collections offer a critical look at the industrial stories and the cultural, economical and ecological consequences they might have. Koert van Mensvoort expressed his enthusiasm for all the possibilities biotech offers society. According to him there is a specific breed of organisms we have to alter, namely that of the big corporations.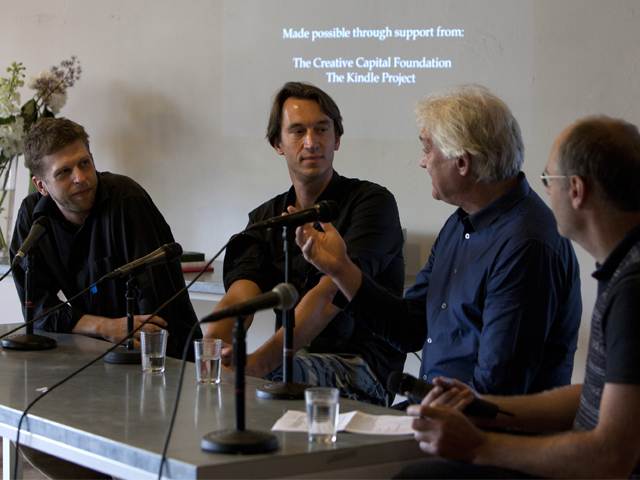 Opening hours exhibition
Open from August 24th until September 17th, 2012 on these days and times:
Thursday & Friday 14.00 - 20.00 hrs
Saturdays & Sunday 12.00 – 18.00 hrs
Extra opening hours on Monday February 17th 14.00 - 20.00 hrs, because of PICNIC. 
Waag, Nieuwmarkt 4, 1012 CR Amsterdam
On September 16th the finissage will take place. This time, Rich Pell starts a discussion with Paul van Krimpenfort of the Netherlands Cancer Institute and lead scientist that 'made' transgenic bull Herman. Want to join this event?