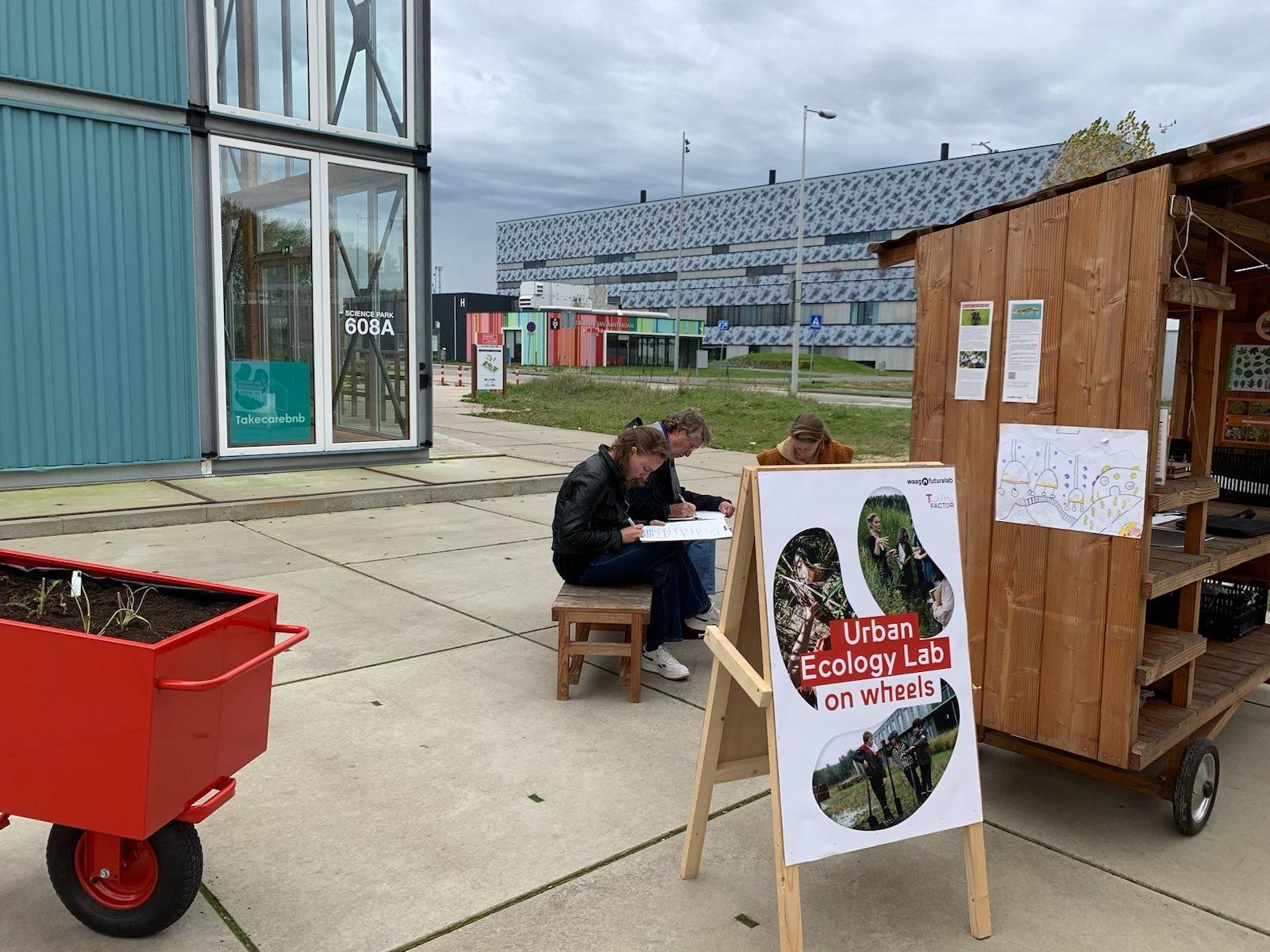 2023-03-16T17:00:00+01:00
2023-03-16T19:00:00+01:00
Artistic Fieldwork: Mud, Myths and Swamps
This event is in English.

What does the landscape want to become? How can imagination, experiment, mystique and fiction contribute to form a different vision of the living city? Ecosystem futurists from the artist collective De Onkruidenier, and artistic researcher Esmee Geerken, are investigating the city landscape of the Amsterdam Science Park. Come and see how they - through design research - work towards a shared green space. A space where humans and other life can live and play together.
During this event, you will get to know the artists, their methods and artistic fieldwork. They will tell you 'swampy' and earthly stories of the park. Did you know that this area used to be a sea? And that, if you just dig deep enough, you will bump into a layer of peat?
The artists are inspired by the relations between humans and other life forms at this spot. They work towards temporary interventions in the landscape, that make us more aware of the relations between humans and other life forms. Their design research can take the shape of growing prototypes that invite you to take a rest, to go for a walk or start to do worldbuilding. 
What will we do?
We will gather at LAB42. Then, we will walk past the two locations where the artists are creating their artistic interventions. At both locations, we will learn more about their methods, they will share their first results, and we will do a small field experiment.
To conclude, we will get warm with a soup and some drinks.
We will venture out, so make sure to wear your coat and sturdy walking shoes. The terrain is plane; part of the walk will be on sand and gras. If you're coming by wheelchair or need other forms of assistance, please send us an e-mail: rosalie [at] waag [dot] org.
Programme
•    17:00 – 17:05 hrs: Word of welcome, Rosalie Bak (Urban Ecology Lab, Waag) 
•    17:05 – 17:20 hrs: Presentation Esmee Geerken 
•    17:20 – 18:00 hrs: Walk to location Esmee and exercise 
•    18:00 – 19:00 hrs: Walk to location De Onkruidenier, presentation and exercise 
•    19:00 hrs: Eat soup at the Urban Ecology Lab on Wheels, Startup Village
This will also be a sneak peek for the upcoming Stadslandschapsfestival that Waag's Urban Ecology Lab is organising at Amsterdam Science Park, this spring! During this festival, the installations of the artists will be revealed. Keep an eye on our channels for updates.
More about the work of the artists
Multispecies Living Room - De Onkruidenier
How did the landscape of Amsterdam Science Park used to look like, and what does it want to become? A long time ago, this landscape used to stand in direct contact with the sea. How does the land relate to the sea now, and in the future? With the Multispecies Living Room, the Onkruidenier researches potential metamorphoses of an ecosystem on a triangular plot. Like many other urban spaces, the urban area of Science Park faces more and more extreme weather conditions such as heat stress, draught and a lack of biodiversity. 
What if you're very tiny and almost not visible to the human eye? What would be your survival strategy in this landscape, when it is extremely hot, cold, dry, wet, salty or sweet? At the edge of a swamp, the Onkruidenier makes space for the Multispecies Living Room. We will get to know all the more-than-humans that survive in these extreme circumstances. Can the Science Park transform into more than a place for digitalization and data centers? Can the Science Park of the future also embody a wet urban landscape, with mud and swamps? And might it already be possible to notice some signals for this vibrant future habitat?
During the project Multispecies Living Room, the Onkruidenier investigates a speculative ecology for the Science Park. During the first event that it conducts together with Waag's Urban Ecology Lab, we focus on the place. Where did we land? We research the history and ecology of the triangle dune (sand), swamp (plant and peat) and water (sweet and salt). With a series of exercises, we will listen to the smallest micro-organisms in the landscape, after which we will activate the saulty origins of the triangular area.
Artist collective de Onkruidenier was founded in 2013 and the team consists of Jonmar van Vlijmen, Rosanne van Wijk and Ronald Boer. The collective investigates historical, cultural and potential transformations of nature and its potential to evolve humans. They do fieldwork – often in conjunction with audiences – collecting plants, the stories and histories associated with them. As ecosystem futurists, they speculate on aquatic culture to arrive at new interpretations of the relationship between humans and (urban) nature, both above and below sea level. An important role is played here by questioning systems that are usually taken for granted. In the development of their work, interactions with the public and experts such as farmers, residents and scientists create new stories.

Building as Being - Esmee Geerken
Some of the rafelrandjes of Amsterdam Science Park are 'empty' lots that are awaiting their destination, depending on the market and other fluctuating unknowns. In the meanwhile, these building sites form their own, peculiar, ecological niches; providing a habitat for various species but also a space to retreat from the rat race of academia.
In her project, Esmee Geerken explores how we can celebrate these building sites, approaching building as a way of being. How can we build otherwise, through interactions between unexpected, and often unheard, agents? How to build a more-than-human-playground, where animals, scientists, or non-scientists, can play, and seek shelter from science, and celebrate the mysterious and the unknown? 
In the past months, Esmee involved various experts; ASP institutes, scientists, students, artists, and more-than-human entities, to think along with her about what could be built on a specific, slightly hidden spot near the entrance of ASP. Or perhaps rather: what kind of shelter could 'grow' out of the interactions of what is already there, lingering or forgotten? Which voices long to be heard – can we listen to displaced and 'original' sediments, shells, the kingfisher, world-turtles, highways, trees, rabbits and the howling wolves? 
In a short presentation, Esmee will present her research around this building sites, and then take you to the site to do some collective fieldwork, and listening to what is longed for. 
Esmee Geerken is an artist and earth scientists. In her work, she combines these disciplines for her artistic research and design practice, in which she questions the experience of our material environment. Esmee graduated at the Gerrit Rietveld Academie and completed her PhD in geochemics at the Nederlands Instituut voor Onderzoek der Zee (NIOZ). As a research fellow at Waag, she will research the symbiosis between animals and minerals, wit hthe goal of creating new materials through biomineralization. 
About T-Factor
This programme is part of the international project T-Factor. How can we create urban initiatives in a nature-inclusive way and for a variety of life forms, such as humans, plants, animals and microbes? For the upcoming two years, Waag researches this and more questions within T-Factor, on temporarily initiatives at Amsterdam Science Park.