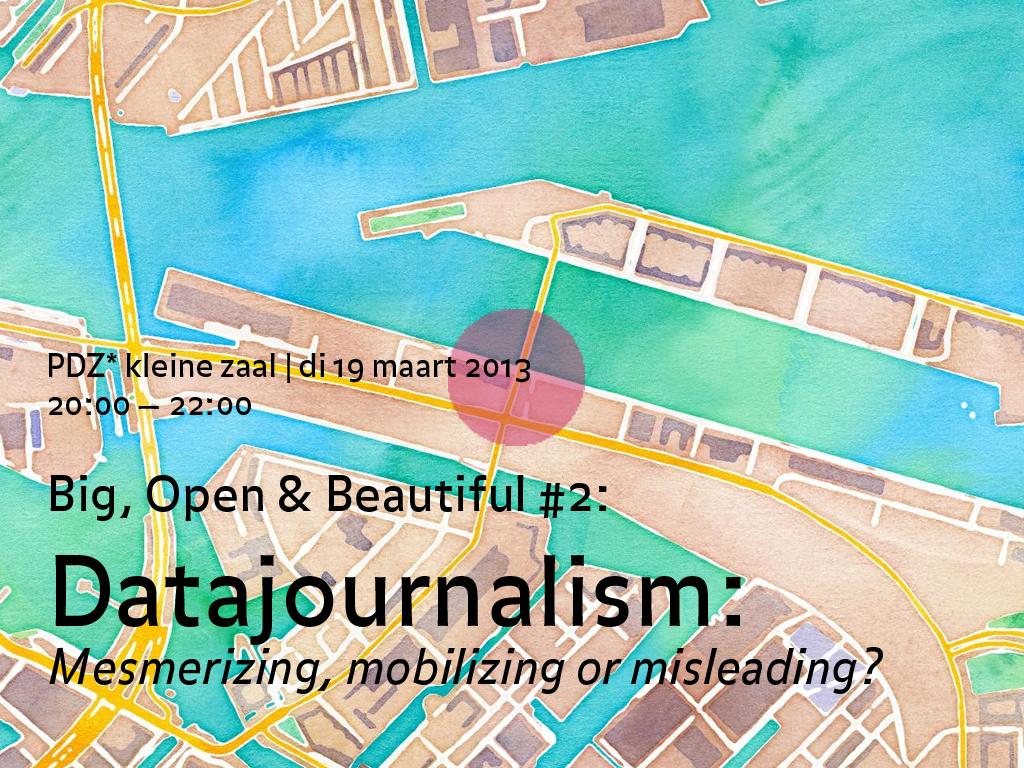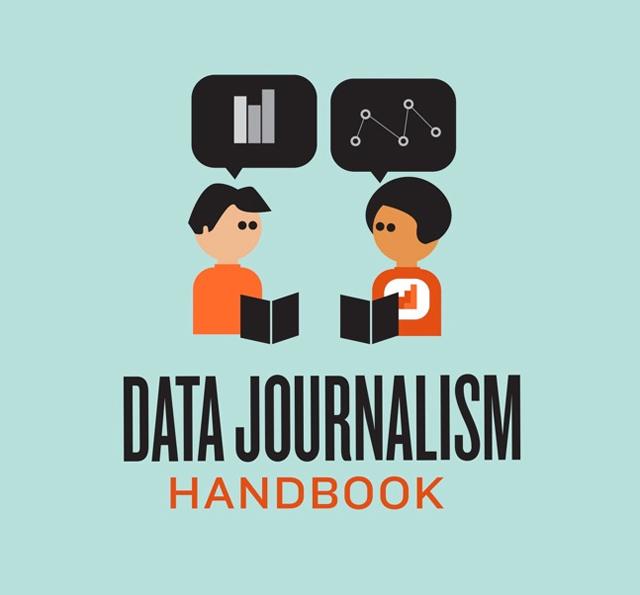 2013-03-19T20:00:00+01:00
2013-03-19T22:00:00+01:00
Big, Open & Beautiful #2
Data Journalism: Mesmerizing, mobilizing or misleading?


Project X, information flows on Twitter and Facebook or systems such as the Public Transport Chip Card: examples of societal developments where lots of data is generated. What do political lobbyists, journalists and citizens do with this increasingly growing quantity of available data? What stories do they filter out of the data and how do they do this?
During the second edition of Big, Open & Beautiful we look at how data analysis is used to explain and translate social trends. We focus on facts, fiction and manipulation. And power, because when you understand data and have the skills to translate the information, you can create stories and construct many realities. In addition, people interpret data often as factual information. The question is whether citizens that inform themselves via data journalism really get the chance to form their own opinion.


On the basis of current examples we try to unravel how journalists, political lobbyists and citizens deal with this relatively new stream of information. With various experts we will look at the reliability of data sources and visualizations and zoom in on all the relevant aspects. We will give the stage to Project X researcher Thomas Boeschoten, social media expert Farida Vis, nu.nl editor Wouter Bax and blogger and data journalist Stephan Okhuijsen.
Thomas Boeschoten
Thomas studies at the University of Utrecht and, as a member of the Commission Haren led by Job Cohen, he investigated the Project X riots. He knows all about analyzing Twitter streams (eg Dutch politics and the Occupy movement) and he analyzed over 500.000 Tweets that were sent during the riots.
Farida Vis
Farida Vis is a Research Fellow in Social Sciences at the Information School of the University of Sheffield. Next to this, she is a data journalist and she writes for a.o. The Guardian. Farida investigated how the 2011 UK riots spread via Twitter. She is a shared recipient of the 2012 Data Journalism Award for best visualisation, which showed the spread of rumours on Twitter during the riots. She is one of the authors of the Data Journalism Handbook.
Wouter Bax
Wouter is a chief-editor at nu.nl. He describes the newssite as a 'cool fact bringer, colorless, objective and complete'. How does he see the role of data in the journalistic world?
Stephan Okhuijsen
Stephan blogs for amongst others Sargasso.nl and he is interested in politics and privacy. How does data journalism work for this self-proclaimed 'data martyr and information devourer'?
Where?
Pakhuis de Zwijger
Piet Heinkade 179
1019 HC Amsterdam
When?
Tuesday 19 March 2013
From 20.00 to 22.00 hrs
About Big, Open & Beautiful
Big, Open & Beautiful is a new series of Waag and Pakhuis de Zwijger on open data, big data and the possibilities of visualizing data. This edition, Netwerk Democratie will be contentpartner. You can attend the sessions for free. 
Big, Open & Beautiful #2 is made possible by Creative Industries Fund NL, the EU ICT Policy Support Programme, and the Stimuleringsfonds voor de Pers.