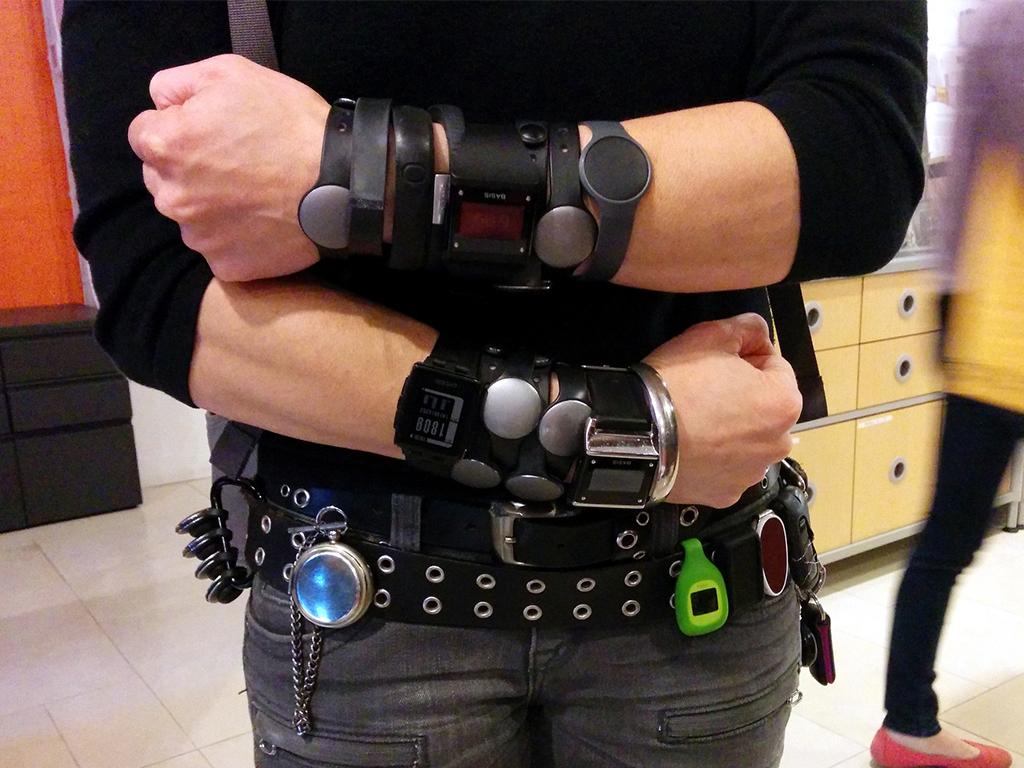 2016-03-23T20:00:00+01:00
2016-03-23T20:00:00+01:00
Big, Open & Beautiful #9: Hack the Body
Big, Open & Beautiful is a series of interesting talks put together by Waag and Pakhuis de Zwijger about open data, big data, and data visualization. During the next edition, we'll look at the potential pitfalls of saving and sharing data related to our most intimate domain: our bodies.
Technology's privileged perch
Technology's unceasing encroachment upon our daily lives seems to be speeding up. Our computers have become so familiar that we carry them everywhere, wear them on our wrists, and even put them inside our bodies. This privileged perch in the folds of our humanity allows our devices to squirrel away an increasing amount of knowledge about us. And through this collection of our most intimate data, we change. For the first time, we can see ourselves through the lens of novel technologies as a set of 'objective' raw data. As a result, we alter our behaviour and the way we relate to our bodies, our lives, and the world around us. However advanced and glamorous this may seem, vital questions remain: What does this increased and shared intimacy between technology and our body mean? What do we gain by capturing, saving, and sharing everything? And perhaps more importantly, what do we lose?
This edition of Big Open and Beautiful: Hack the Body brings together artistic projects that share the same underlying idea: using new sensor and information technology to explore innovative concepts within biometric measurement, neuro-feedback, and data generation. Experts will also reflect on related themes during this exciting event.
This event will be English spoken.
Speakers for this event include Chris Salter, Marco Donnarumma, Jan van Erp, Marjolijn Heerings, Karen Lancel, and Hermen Maat.
Chris Salter is an artist, University Research Chair in New Media, Technology and the Senses at Concordia University and Co-Director of the Hexagram network for Research-Creation in Media Arts, Design, Technology and Digital Culture, in Montreal. Salter's performances, installations, research and publications have been presented at numerous festivals and conferences around the world. He is the author of Entangled: Technology and the Transformation of Performance (MIT Press, 2010) and Alien Agency: Experimental Encounters with Art in the Making (MIT Press, 2015). With the Qualified Self project (developed together with Luis Rodil-Fernandez & TeZ) Chris is involved in Baltan Laboratories Hack the Body program.
Marjolijn Heerings studied at the University of Amsterdam, where she obtained an MSc in Psychology and an MSc in Medical Anthropology and Sociology. Before she went to work at the Rathenau Institute she did at the UvA research into the experiences of adults with ADHD. She also worked for mental health in GGZ Geest. As a group leader, she worked in various psychiatric hospitals and, as a junior researcher, she did qualitative research into the implementation of a screening and stepped-care intervention program aimed at the prevention of depression in the elderly.
Marco Donnarumma is an artist and researcher merging sound art and performance art through science and technology. He is known for his wide range of performances, concerts and installations using and abusing human bodies, sound, infrasound, light, algorithms, body sensors and loudspeakers. He obtained a PhD in Arts & Computational Technologies from Goldsmiths, University of London, with a thesis examining, both theoretically and practically, the nature and politics of human-machine corporeality. Marco is the editor of the first audiovisual anthology of Biophysical Music for the Computer Music Journal (MIT Press), and for Biotechnological Performance Practice (eContact! 14.2), a comprehensive journal publication on biotech and the performing arts. Forthcoming essays will appear in the Oxford Handbook of Music and the Body (Oxford Univ. Press), with Atau Tanaka, and in Unconventional Computing for Music (Springer).
Jan van Erp is a professor at the University of Twente (Professor of Tangible User Interaction in the Computer Science Department). He will talk about blurring boundaries between humans and technology, cyborgs, human enhancement, and the scientific experiments he performed with Arnon Grunberg. In these experiments, he and and his colleague, Ysbrand van der Werf, measured what was happening in Grunberg's head and body as he wrote. Where do the ideas, images, dialogues and emotions come from? Can we get a grip on the chemical processes that take place in the creation of art?
Karen Lancel and Hermen Maat are artists researching social-technological systems in the merging realities of our networked society. In Meeting Places and Meeting Rituals, the artists deconstruct and connect automated control technologies (such as surveillance, social media, self-quantifying biometric technologies and brain computer interfaces) to intimate, embodied, sensory and aesthetic perception. Invited as co-researchers in 'artistic social labs', the public experiences digital synesthetic 'trust systems'. Lancel & Maat's work has been presented at numerous shows and festivals internationally such as the Venice Biennale in 2015 and they will show at ISEA 2016 in Hong Kong. With the project E.E.G. KISS Lancel & Maat are involved in Baltan Laboratories Hack the Body program; in collaboration with STEIM (Tijs Ham) and supported by Mondriaan Foundation. E.E.G. KISS emerged from their artistic research further conducted in the context of Lancel's PhD trajectory at Delft University of Technology.