24-4-13 17:00 - 24-4-13 22:00
Waag, Nieuwmarkt 4, Amsterdam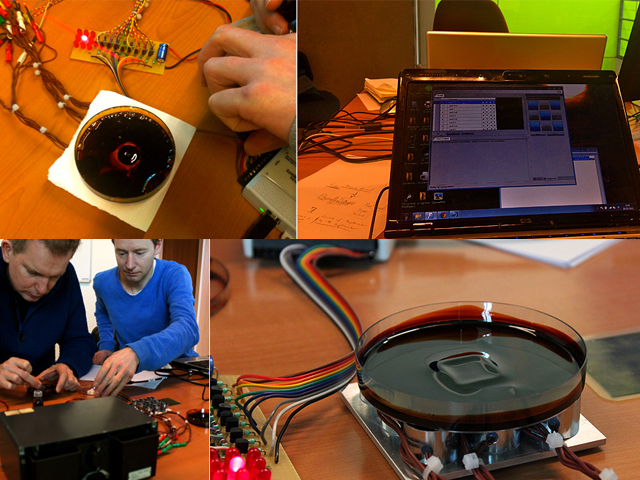 📷 C-LAB (BY)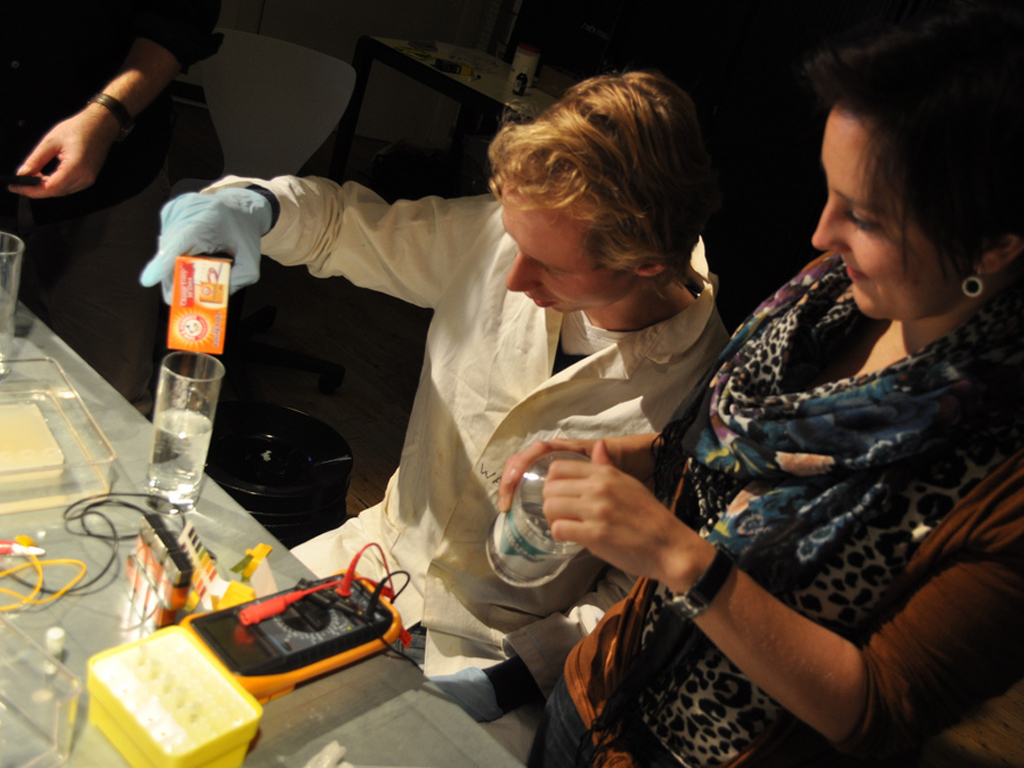 📷 Waag (BY)
Howard Boland and Laura Cinti of the London-based C-LAB are one fo the winners of the latest Designers & Artist 4 Genomics Award. They are currently designing a magnetic and light emitting bacterial imaging system at FOM Institute AMOLF titled the 'Living Mirror'.
About Do It Together Bio
During Do It Together Bio workshops you get to work with do-it-yourself biologists, scientists and artists to experiment on the intersection of art, design and biotechnology. The workshops exist of a mix between hands-on activitites, reflections and presentations of artists and scientists. During the  kunst, design en biotechnologie. De workshops bestaan uit een mix tussen hands-on activiteiten, reflecties en presentaties van kunstenaars en wetenschappers. In recent episodes we built new machines, such as the Bioprinter, techniques and protocols - often cheaper than the regular lab equipment. The people behind the Do It Together Bio workshops are Pieter van Boheemen (certified bio-engineer and DIY biologist) and Lucas Evers (head of Waag's Open Wetlab). Watch the video records of Do It Together Bio here.
About the Living Mirror
Living Mirror is an interactive bio-display combining magnetic bacteria, electronics and photo manipulation. The cells form a 'living mirror' within a liquid media by capturing portrait images of individuals. The work aims to connect us with a different material image and reintroduce 'fleshiness' absent in digital media.
Their latest exhibition 'Art from Synthetic Biology' at the Royal Institute of Great Britain in London is on show from 8th – 12th April featuring C-LAB's latest synthetic biology artworks.  As the first public art exhibition to feature living genetically modified microorganisms in the UK, it represents a milestone within bio art practices.
During Do It Together Bio #5 Howard and Laura will show and tell us about the state of affairs their current project is at and involve us in some hands-on experiments. Join us and experience with them what syn bio is and what you can or cannot do!
Program
18:00 Join us for dinner by bringing your own take away food. We provide plates, cuterly and beverages
19:00 Start of the workshop
20.30 Presentation of Living Mirror prototype
23.00 Closing
When?

Wednesday 24 April 2013
18:00 - 23:00 hrs
Where?

Waag

Nieuwmarkt 4
1012 CR 
Amsterdam
Participation is free of charge
Do It Together Bio is supported by Mondriaan Fonds and SNS Reaal Fonds. Do It Together Bio is part of KiiCS (Knowledge Incubation for Innovation and Creation for Science) that is supported by the EU; 7th Framework Program.