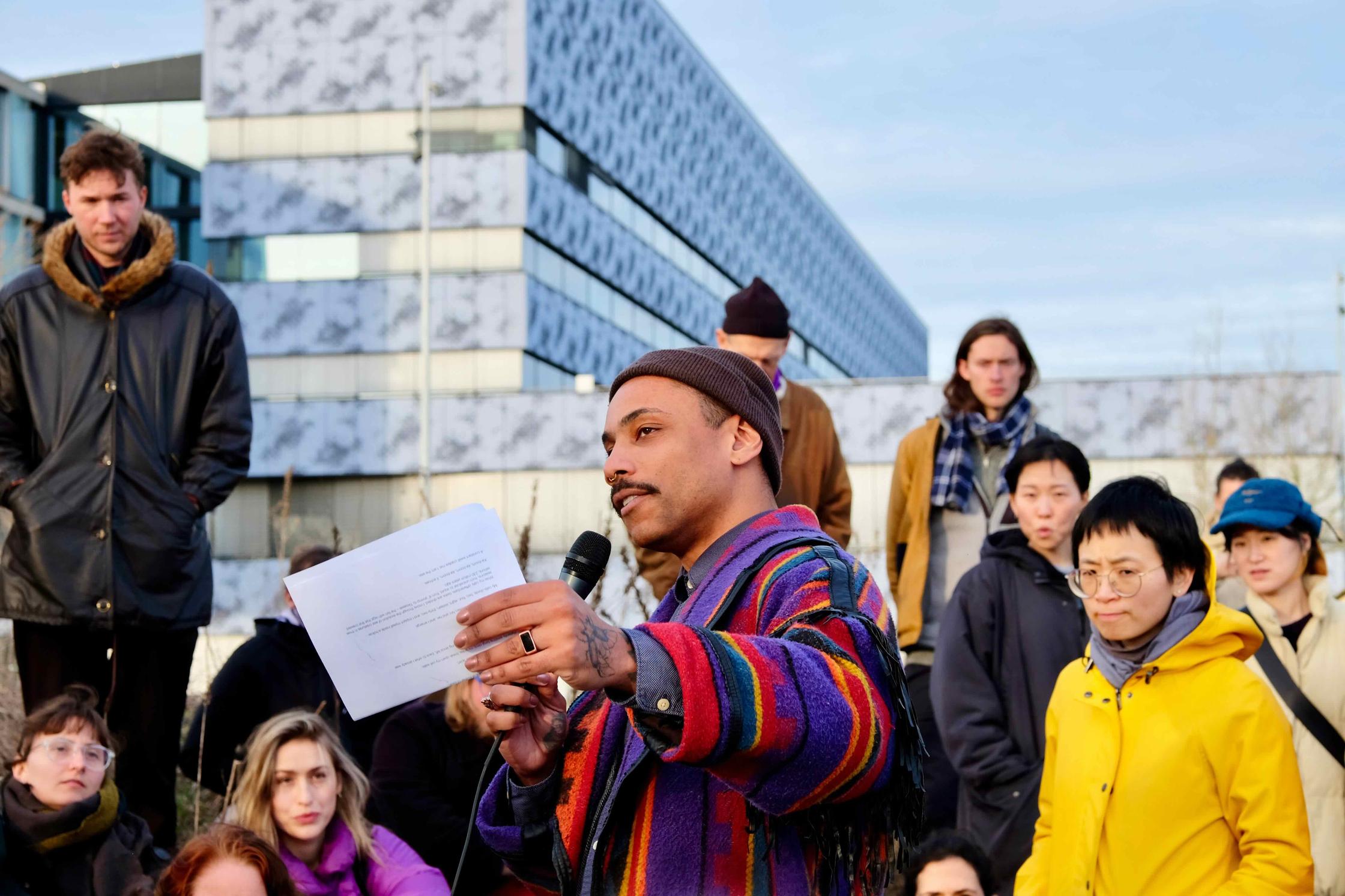 2023-06-21T17:00:00+02:00
2023-06-21T22:00:00+02:00
Midsummer Night Celebration: Met andere ogen
On Wednesday 21 June, it's party time! We celebrate the longest day of the year as well as the beginning of summer. Come to the Midsummer Night Celebration at the Amsterdam Science Park and find inspiration, good food or a new perspective - and maybe even all three.

The Midsummer Night Celebration is part of the landscape festival Met andere ogen ('through different eyes'), in which we work with visitors to build a different relationship with nature. In the run-up to 21 June, several workshops and biodiverse interventions are planned that shift our attention from bricks and structures to the critters and soil. 
Midsummer marks both an end signal and a starting signal: we humans move away and leave our work for what it is. As a result, other life flourishes. From then on, man is no longer a builder but a visitor, discovering the more-than-human city during the summer months.

Before that happens, we will gather on 21 June for a full evening programme. You can also visit the different parts separately.
Get your dose of nature here!
Positive effects of a green environment on mental health
Lecture | 17:00 - 18:30 hrs | SustainaLab, Science Park 301 (Matrix ONE)
These lectures are English-spoken!
The colour green is said to help relieve stress and improve concentration. There are also scientific studies showing that a green environment contributes to better health - both mental and physical. Increasingly, doctors are prescribing forest walks. Yet the positive effects of a green environment are far from always taken into account in the construction of urban areas. Brick still too often wins out over more greenery in the city. Can we make ourselves and our environment healthier by encouraging biodiversity? In this informal lecture, we delve deeper into the relationship between greenery and well-being. 
We kick off the lecture with behavioural scientist and associate professor Jolanda Maas (Vrije Universiteit) and has been researching the healing effects of nature since 2005. During the lecture, Jolanda will discuss the value of green for health. As far as she is concerned, the time is ripe to connect the 'green' domain to the 'white' domain (traditional healthcare).
Researcher and forester Marta Arniani talks about how she developed a 'Wild Spot' with students at the Amsterdam Science Park; a place for students to unplug and relax in nature. 'Get your dose of nature here' is written on the tiles, pointing to the Wild Spot. There is an urgent shortage of places without technology and students and professors experience being constantly surrounded by technology as a hindrance. 
Finally, anthropologist Scott Dalby takes you through the course 'Anthropology of community': a course he taught to students outdoors. After all, how can applied and embodied knowledge improve academic research, education and community well-being? He wants to inspire other lecturers to give outdoor lectures more often.  
Picnic (SOLD OUT) | 18:30 - 20:00 hrs | Gather at Science Park 619 
Sign up for the picnic and meet food sociologist and chef Anna Kooi. Kooi will take you by the hand with some conceptual bites that tell you something about where food comes from: from the soil. In addition, Waag will serve a falafel wrap for a filling dinner! 
Walk | 20:00 - 22:00 hrs | starting point Café Polder, Science Park 201
Finally, there will be the official opening of the walking route along all the biodiverse interventions and artistic constructions in the park. These places have been worked on by artists, researchers and local residents since the beginning of June. They have laid the foundations for the growing installations that will be further shaped by the more-than-human life on the park in the coming months. During this first joint walk, the artists will present their work and each place will be activated in a special way. Walk along and marvel at the (bio)diversity at the Amsterdam Science Park!
Drinks | 22:00 hrs | Café Polder, Science Park 201 
Afterwards, there will be drinks at Café Polder and DJ Chris Julien will spin funky midsummer tunes! 
During the summer months, all the structures and planted ideas will grow. Walkers can pick up walking tickets at café Polder during these months and explore the route on their own.
Met andere ogen: Landschapsfestival invites you to set your senses on the Amsterdam Science Park and discover the city as a living place, together with artists, local residents and scientists. During the landscape festival, we will build a different relationship with nature together. Workshops, installations and biodiverse interventions will shift our attention from bricks and structures to critters and soil during the summer months.
Partners
The landscape festival is designed and implemented in collaboration with Anna's Tuin & Ruigte, Esmee Geerken & Estelle Barriol (Studio ACTE), De Onkruidenier, Spark Village, Tesla minor Uva and Amsterdam University College. 
About T-Factor 
This programme is part of the international project T-Factor. How can we create urban initiatives in an inclusive way and for a variety of life forms, such as people, plants, animals and microbes? Over the next two years, within T-Factor, Waag will investigate these and more questions about interim initiatives at the Amsterdam Science Park.