Self Building Building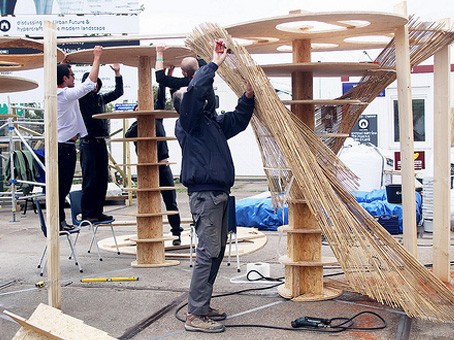 The Self Building Building project responded to residents' needs to design and customize their own living environment. Moreover, it searched for solutions to the stagnation in the building practice. The project aimed to involve both end users and clients in the process of making buildings.
Digital fabrication and interactive technology played an important role. Future residents will be able to translate their wishes into physical building elements, produced using a file-to-factory process, process of design and realization of design which is completely digital. This open design principle renews the interaction between client, architect, financier, owner and user. The project aimed to lead to a new construction paradigm, from design to property, as an alternative for the usual way a building or district is established.
The idea for Self Building Building was created during the PICNIC Festival in 2011. During this three-day festival, the NDSM Wharf saw an exceptional sculpture emerge combining ancient earth building techniques with computer-generated design: HyperMud, built by the Open Design Lab of Waag.
Self Building Building was supported by 'Stichting Beheer NDSM-werf'. The research proposal for the Self Building Building project was made by Karen van der Moolen (Waag), Tomasz Jaskiewicz (iNSA), Lilet Breddels (Archis) and Alexander Zeh (Topika).