Snoezel objects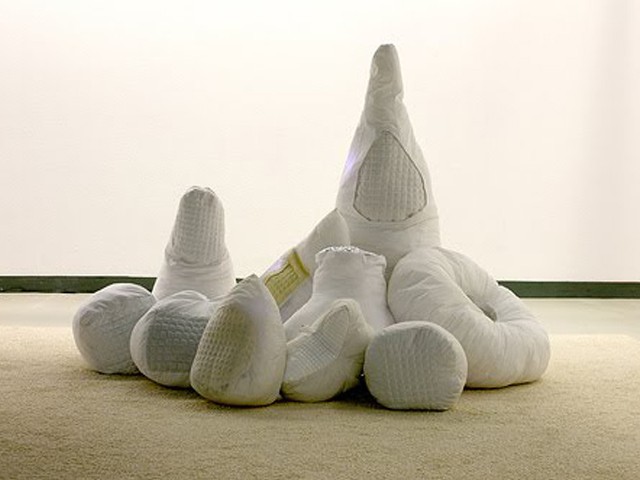 Snoezelen or controlled multisensory stimulation is used for people with mental disabilities, and involves exposing them to a soothing and stimulating environment. Originally developed in the Netherlands in the 1970s, snoezelen rooms have been established in institutions all over the world. The term "snoezelen" is a neologism formed from the Dutch "snuffelen" (to sniff, to snuffle) and "doezelen" (to doze, to snooze). Snoezen rooms are specially designed to deliver stimuli to various senses, using lighting effects, color, sounds, music, scents, etc. The combination of different materials on a wall may be explored using tactile senses, and the floor may be adjusted to stimulate the sense of balance.
Several studies implicated that the quality of life of people with multiple disabilities will benefit  from a regular visit to a snoezelen room.
For many institutions though, a snoezelen room is financially not viable. It also is very time consuming for the accompanying staff and the snoezelen rooms are not always available. Developments in healthcare are presently causing a shortage of staff, while an intensive tailor-made care is needed for multiple disabled people. The combination of these factors make clear that a mobile version of a Snoezel object, a 'Snoozy', that can be used individually outside a snoezel room, would be very welcome.
Waag was asked by health care organisation Cordaan to develop such a mobile snoezel object with as goals:
To offer people with multiple disabilities a significant experience by stimulating the senses in such a way that it suits their individual abilities and moods;
To support staff in their contacts with patients/clients and take away some of the stress of their duties;
To research the non-verbal, affective interaction.
Based on preliminary research, interviews with healtcare staff members and a study of existing snoezel objects Waag developed a number of mock-ups using rapid prototyping at Fablab Amsterdam. These objects are probing the user reactions using sensors and are adjusting stimuli based on this input. They are light-weight, transportable and easy to use in day care centres.