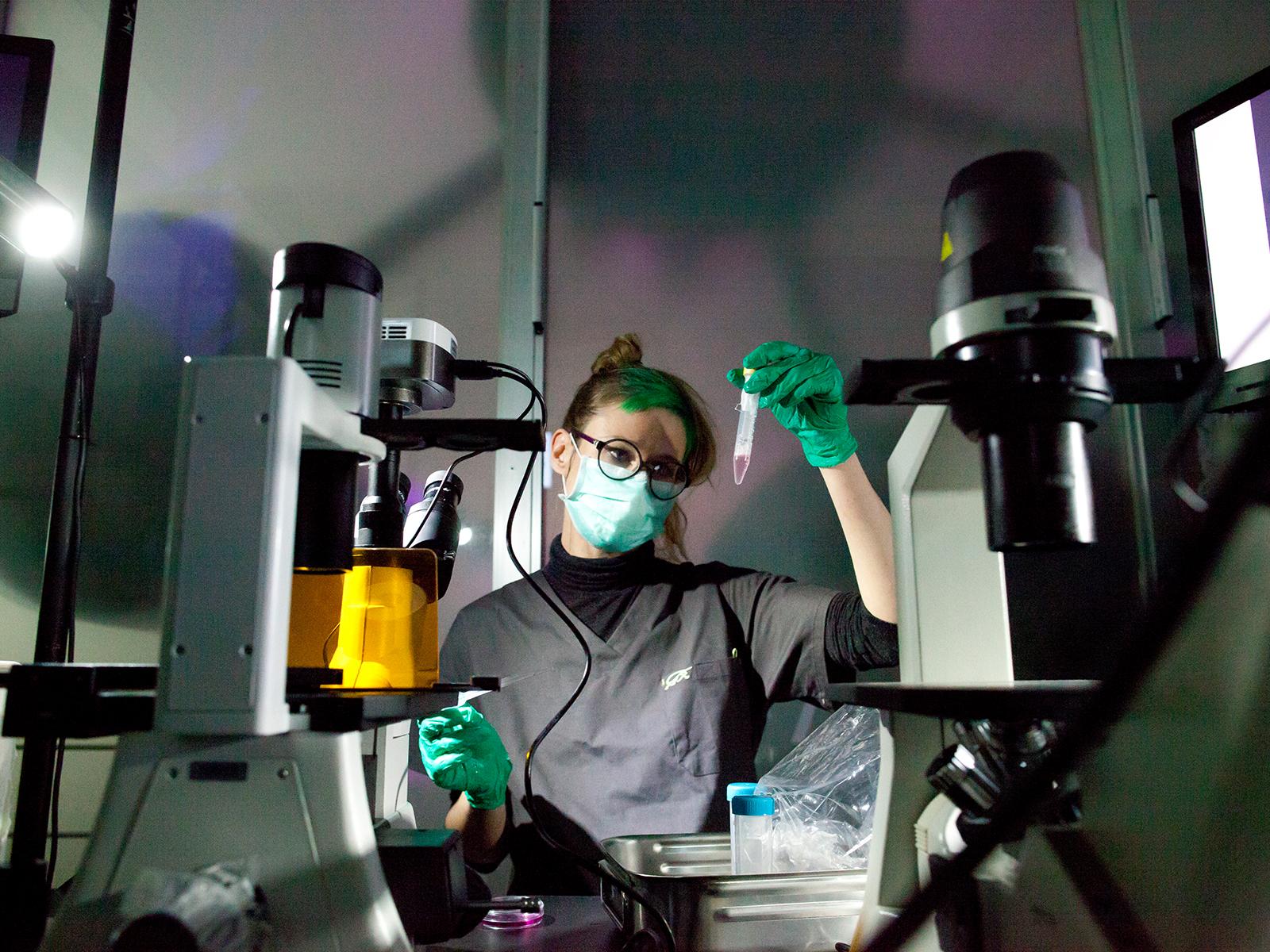 Award of distinction for Špela Petrič
Špela Petrič is one of this year's winners of an Award of Distinction at the Prix Ars Electronica for her project Confronting Vegetal Otherness – Skotopoiesis, Phytoteratology, Strange Encounters, which was partly developed within the framework of the project Trust Me, I'm an Artist.
According to the jury statement, "Petrič poetically stages human-plant kinship and co-performativity from the molecular to the ecological realm."
About the artwork
To investigate the consequences of a biotechnological and computational framing of life, the triptych Confronting Vegetal Otherness grounds the heteronomous human condition through risky relations with organisms traditionally thought to already exist in a state of environmental dependency, without an interiority or essence. Its three parts: Skotopoiesis, Strange Encounters, and Phytoteratology follow the implications of intimate encounters with plants at three different scales. Through the guidance of plants, the artist considers what it means to have and to be a body, and how the vegetal can bring into question representation, identity, and ethics.
+Skotopoiesis* is a 20-hour durational performance, during which the artist faces a field of cress, illuminated from behind by a strong artificial light. The continuous shadow signals the plants to respond with changes in shape and color, their bodies producing a living imprint of her silhoutte. However, the action also reveals an unsettled ethics towards plants and a fear of paralysis signified by the vegetative state.
Strange Encounters is a micro-performance, which unfolds under the microscope when algae and human cancer cells are introduced to each other on equal terms—as machines of biochemical labor. Surprisingly, the human cells absorb the algae, performing the first precarious step that once already led to symbiogenesis.
Phytoteratology concludes the opus addressing the molecular scale. The artist conceives plant-human embryos—phytopolutans. In lieu of seeds, artificial wombs—which contain hormones extracted from her urine—nurture, nourish, and imprint upon the baby plants. The plant-human monsters are thus beings of technological excess that fertilise the soil to breed cyborgian kinship and cultivate the vegetariat as a condition of dependencies and a matter of care.
Špela Petrič (SI)
Špela Petrič (SI) BSc, MA, PhD, is a Slovenian new media artist and former scientific researcher currently based between Ljubljana and Amsterdam, where she is a fellow of Waag. Her practice is a multi-species endeavor, a composite of natural sciences, wet media, and performance. She envisions artistic experiments that enact strange relationalities to reveal the ontological and epistemological underpinnings of our (bio)technological societies and challenge the scope of the adjacent possible. Much of her recent work has focused on plant life. Her work has been shown at many festivals, exhibitions, and educational events. For her work she also received several awards including the White Aphroid for outstanding artistic achievement, the Bioart and Design Award, and an Honorary Mention at Prix Ars Electronica.