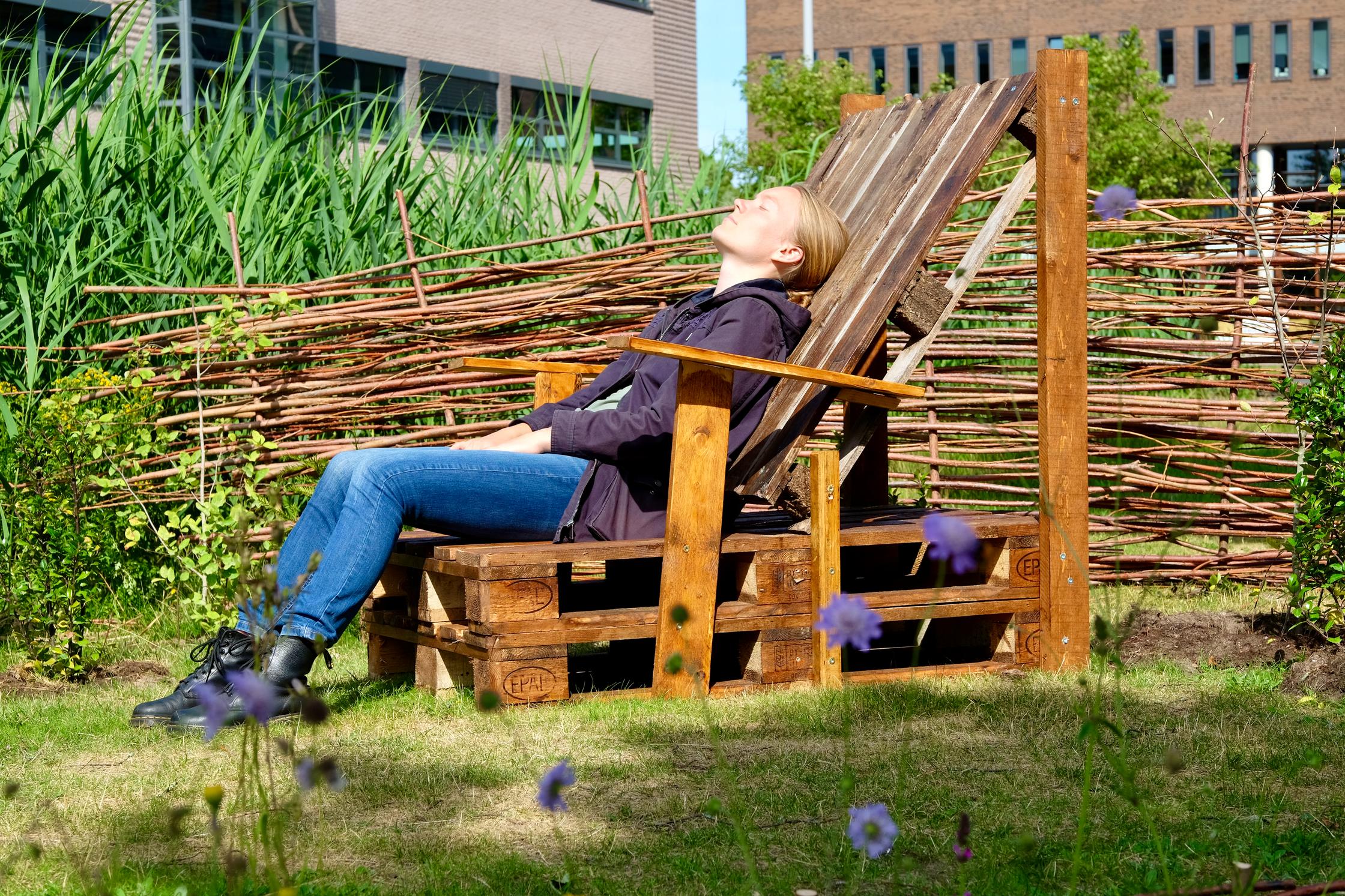 Bird sounds counter stress among students
The Palestine sunbird, blue jay, great tit or just a house sparrow: all birds capable of producing the most complex melodies. When you think of the Amsterdam Science Park, you don't automatically think of birdsong. Rather, you think of huge, modern buildings with students sunk in laptops. Yet there appeared to be more than 75 species of birds flying around the Science Park. How do students experience their sound environment and what impact does conscious listening have on their mental health? A group of students researched this and built a 'sound oasis in the making'*. Waag spoke to them about the surprising results, bird species and ear-openers!
*Researchers Julia Marinissen (ecology), Zino Groen (biomedical sciences) and Maria Loos (ecology) were commissioned by Waag Futurelab to research the acoustic ecology of the Amsterdam Science Park (ASP). This research falls under the Tesla Minor, where students from different disciplines connect science with real-world problems. Using the expertise of ARISE (a biodiversity information platform) and Vogelwerkgroep Amsterdam (birdwatching group), this research led to the realisation of a temporary sound oasis on the ASP.
On the monotonous turf between the audibly ventilating buildings on the Amsterdam Science Park, you can see a small garden surrounded by wooded banks. We are here in the 'sound oasis in the making', what exactly is this? 
Julia: The sound oasis in the making is a place for birds to find food, shelter and nesting places. Seats have also been created for people looking for a moment of reflection. 
Maria: We found that at present, people are often not so aware of their sound environment and what effect it can have on our well-being. Our research shows that the sound environment plays an important role in this. Nature sounds in particular are perceived as very pleasant and calming. The sound oasis aims to improve the sound environment and also to make people listen more consciously.

Julia: The seats are made so that you recline a bit and, in addition, they are quite far apart. That way you are less likely to engage in conversation and there is more space to listen to the surroundings. It provides a moment of reflection for students who need it because of the high pressure. We have also made signs with QR codes, if you scan these you will hear audio recordings of bird sounds made at various places on the ASP. With these recordings, we want to get people thinking about what their own optimal sound environment would be.
Listen to the sound recordings of the Amsterdam Science Park
What kind of data did you collect and how did it work?
Zino: In April 2023, we spent two weeks making recordings at 30 locations in the Amsterdam Science Park. The recordings were run through an algorithm, which allowed us to assign a bird species to most bird sounds. We mapped where on the park these birds are located. We also gave the recording locations a 'greenness score', which allowed us to show that more bird sounds can actually be heard in green areas. 
Julia: Our research shows which locations on the ASP can further develop into a state such as permaculture project Anna's Tuin & Ruigte. This place scores high in terms of diverse vegetation, biodiversity and animal sounds. A place where students enjoy spending time.
Maria: Vogelwerkgroep Amsterdam does bird counts once a year and counts the ASP as one location. We collected data from different locations in the park and compared them. 
You also did listening experiments. 
Maria: Yes, we went out with different groups of people and asked them about their experiences while consciously, and silently, listening to different sound environments in the park.
Julia: What was often mentioned in these experiments was that in urban areas there are a lot more different sounds. Think construction sounds, traffic, people walking by, talking, a clattering mast, a shutter opening and also birds. That amount of noise made many people feel tense. 
Zino: When we got closer to the highway during the listening experiments, it was difficult for many people to still focus on nature sounds. The wind direction also played a role in this. 
Julia: We mainly asked how people perceived the differences between the sounds in the urban vs green environment. People generally feel calmer at green sites than at urban sites.
Zino: For five months now, we have been working on this project. I notice that friends and family to whom we tell about this project, occasionally send an app about what they noticed in their own sound environment. There really seems to be a seed planted in many people becoming more aware of their own sound environment! 
What is the main outcome of your research? 
Zino: We were able to detect 75 different species of birds. Occasionally, a tawny owl even showed up in our data. And a barn owl!
Maria: These owls stuck out in our data, but that's why it's also a bit uncertain whether they were really the ones.
Julia: One of the findings is that there are more different types of bird song in areas where vegetation makes up a large part of the surface. It helps if the vegetation has high 'structural diversity'; a stratification of different plant species. We cannot say for sure with this research that bird songs have a positive effect on students' mental well-being, but we can say that they can contribute to feeling pleasant.  
Listening to birds alone is not going to help you get rid of depression - Julia
Maria: Another outcome is that there are mostly songbirds at ASP. There are also gulls and collar parakeets, but so mainly songbirds. A gull sounds very different from a blue tit. Songbirds are generally more appreciated than gull sounds. 
Julia: Yes, one of our advices to students is: go outside more, that's the best way to get in touch with your sound environment. 
What is your further goal with this project? 
Zino: The ASP is getting built fuller and fuller. You can't do much about that because it is part of the zoning plan (destination plan?). We wonder about the green spaces in that same zoning plan. 
Julia: There are many national studies on the ever-declining mental health of students. We see this as a great opportunity to put the synergy between students and nature on the map.
Zino: If, with our project, we can make a small contribution to relieving stress among students, that would of course already be fantastic. 
Zino: Our great example is permaculture project Anna's Tuin & Ruigte, which also started small at first, but is now on its own feet. Hopefully the sound oasis in the making will expand and there can be even more focus on this issue. 

Julia: We hope for permission to invest in more greenery on the park, and more variety in vegetation. After all, this will ensure more biodiversity on ASP. The sound oasis in the making serves as an example, a template, that can be used for other urban areas as well. With the aim of transforming monoculture into something different! 
Maria: For Waag, it was also a bit risky to just set up something in the ground here. So, we are also kind of an experiment to see how are the people of ASP going to react to this. If they end up being fine with this, maybe we can do more. Guerilla gardening! 
Secretly planting bushes as radical resistance to monoculture
Julia: We feel that when you come up with wild plans, you quickly get a 'no'. We hope the sound oasis in the making can persuade the area manager and the municipality to include more diverse greenery in zoning plans. 
Zino: This project has given me the insight that courage is all you need for change. Take matters into your own hands!
Want to know more? 
Check out the poster with research results 'A bird's-eye view of sounding urban nature'
The sound oasis in the making is one of the biodiversity interventions that are part of Met andere ogen: Landschapsfestival. This festival invites you to come to Amsterdam Science Park to take your senses and discover the city as a living place. Do you want to see Amsterdam Science Park with different eyes? During the slow summer months, pick up the walking map at Café Polder and stroll past all the artistic, biodiverse interventions.
About T-Factor
The Field Atlas is part of the international project T-Factor. How can we create city initiatives in an inclusive way and for a variety of life forms, such as people, plants, animals and microbes? Over the next two years, within T-Factor, Waag will investigate these and more questions about temporary initiatives on the Amsterdam Science Park.