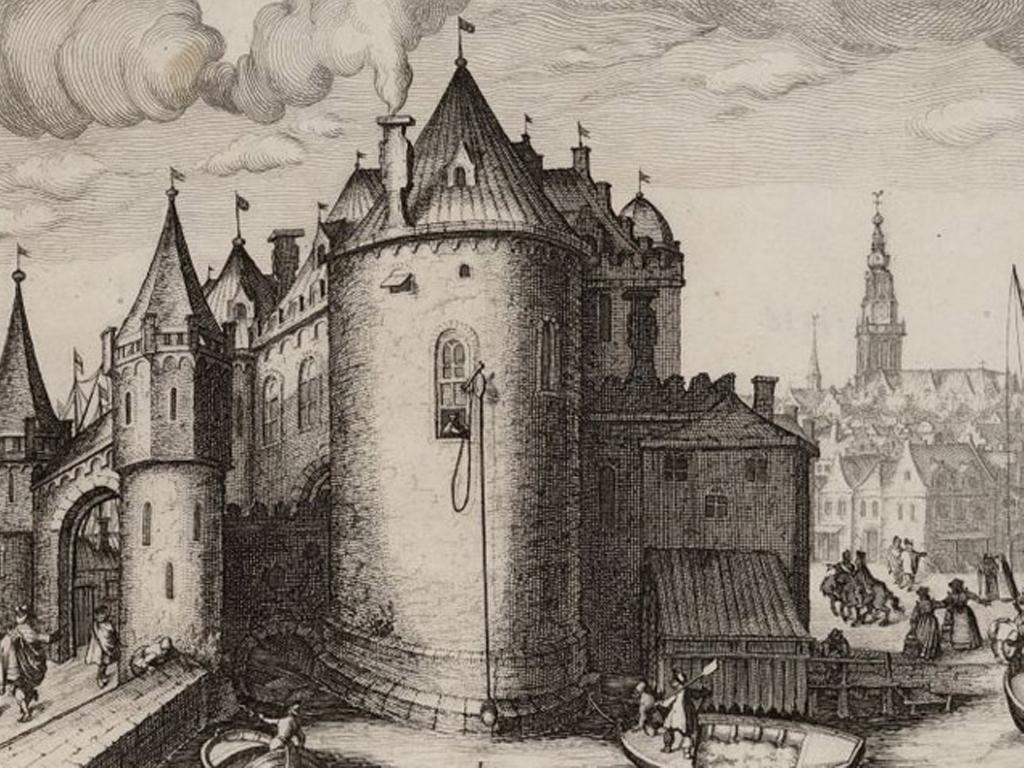 The construction history of the Waag
In 2008-2009 serious damage was caused to the Waag building due to subsidence. A programme was started for foundation repair. In that context, research on the construction history of the building was carried out, which resulted in a detailed report (in Dutch).
De Waag on the Nieuwmarkt, one of the oldest brick buildings in Amsterdam, finds its origin in the 15th-century Sint-Anthoniespoort, the eastern gateway of the late medieval city council of Amsterdam. The fortification consisted of a main gate with four towers and a front gate with two towers. The building served as a city gate until 1592. In 1614, the moat on both sides of the building was partially subdued and covered and a square was added; the Nieuwmarkt.
In 1617, the former city gate was set up as a weigh house and several guilds settled in the towers. All these changes in use led to various renovations and eventually gave the building its current appearance.
The building was fully equipped with a new foundation in the period from May 2013 to October 2014. Both in the run-up and during this restoration work, the Monuments and Archeology department of the municipality of Amsterdam carried out interdisciplinary archaeological and building history research into the building history of this building. This report (in Dutch) focuses on the history of the Sint-Anthoniespoort between circa 1425 and 1617.
De Waag op de Nieuwmarkt. De middeleeuwse oostpoort van Amsterdam (pdf)
Authors: Jerzy Gawronski, Gabri van Tussenbroek, David Derksen, Ranjith Jayasena and Sebastiaan Ostkamp| 2017 | 154 pages