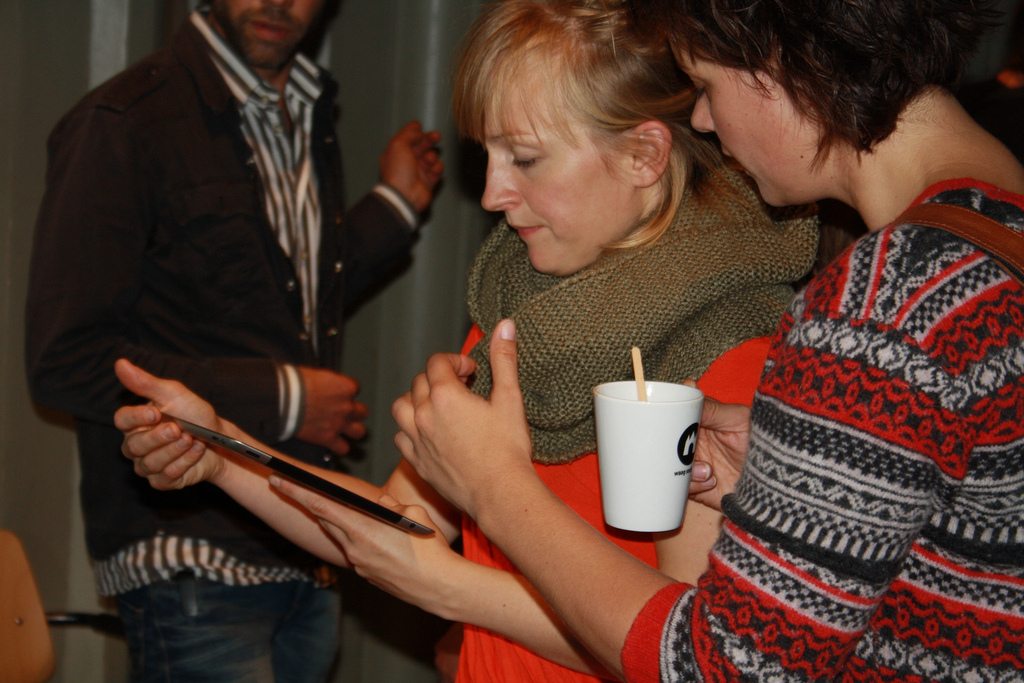 📷 Waag (BY)
Once a year, at the beginning of the new school year, we organize an open day for education. On 3 October 2012 we welcomed everyone in the Waag building to get acquainted with our projects and educational trends.
When entering the Theatrum Anatomicum you could not miss a huge kite hanging on the ceiling with a camera and some duct tape attached to it. Keimpe de Heer (Director Creative Learning Lab) immediately explains why. With kitemapping you can easily make your own aerial photos, similar to Google Maps. An example of Citizen Science, simply put: science conducted by nonprofessional scientists. Recently, our kitemapping workshop was even published in Echo, a local newspaper. 
Not only our employees took the floor. Mike (Graphic Lyceum Utrecht) pitched his idea from PICNIC Young, where he and other students visualized education in 10 years. We also got a crash course in programming with Scratch from Joek van Montfort and Olaf de Groot (Kennisnet) made us thinking about 21st century skills. Propositions of youth came along: "Not ICT, but creativity is the future" and "We learn a lot outside of school. These things should play a bigger role in school", such as with Flipping the Classroom. After the presentations it was time for  Fablab Amsterdam and testing all the in- and extern projects, such as Digitale Nieuwscollage, Superhelden Eiland, Edudoek and Brikki. 
Magazine
All the attendees were the first to get a copy of our new Creative Learning Lab magazine. This includes an interview with Keimpe de Heer and media school Poseidon, a description of our recent projects and research areas, a manual of kitemapping and an article on the 'Spelfabriek'. You can also find a contribution from Scot Osterweil (creative director of the Education Arcade, MIT) and John Moravec (co-initiator of the 'Invisible Learning project).
Download a free copy in pdf (Dutch only).