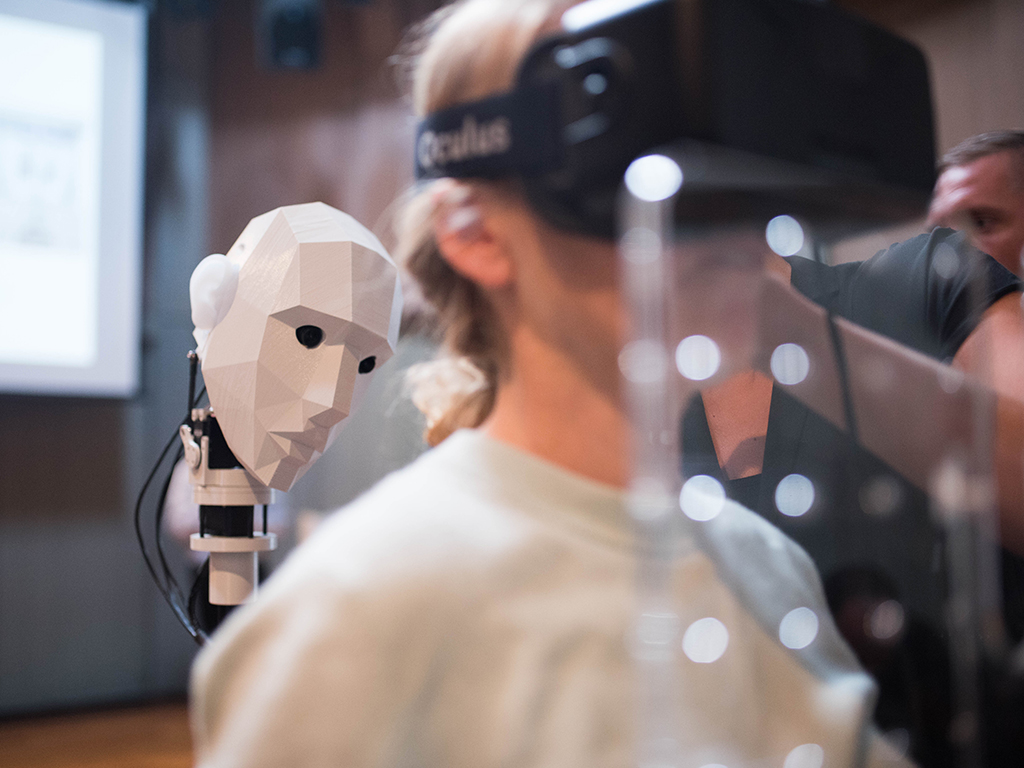 📷 Waag (BY-NC-SA)
On Tuesday the 19th of September, Frank Kolkman performed the first of a series of public experiments called 'Outrospectre' at Waag. 'Outrospectre' is an experimental proposal for a medical device. It aims to simulate out-of-body experiences that could help terminal patients acknowledge their own mortality and reduce their fear of death. Coming weekend, the 23rd and 24th of September, 'Outrospectre' will be presented at the Victoria and Albert Museum in London. At the end of October Frank Kolkman will present his work at the Dutch Design Week in Eindhoven.
Frank Kolkman did part of his research with the Creative Care Lab of Waag as part of the 3Package Deal program of the Amsterdam Fund for the Arts. The work of Frank Kolkman aligns with the Creative Care Lab research agenda around the project MakeHealth, which explores the role of citizens in healthcare innovation. In his work, Kolkman investigates the impact of our ideas regarding technology by asking questions about the 'afterlife' in a time when faith in rational science and technology is gradually replacing our religious belief systems. In Outrospectre Frank Kolkman embraces virtual reality technology to research unanswered questions about mortality and 'end of life'.
About 'Outrospectre'
In the healthcare sector a lot of research is conducted on keeping people alive. While the fear and experience of death is an unexplored area. As suggested by recent (para-)psychological research, the sensation of drifting outside of one's own body could possibly reduce our fear of death. The installation—referencing X-ray machines and CT-scans—questions how we might begin to apply this research in hospitals. Outrospectre could possibly help terminal patients more comfortably acknowledge their own mortality.
Outrospectre will be presented to a wider audience on:
23 - 24 September // Victoria & Albert Museum // London (GB)
12 October // AFK in 'De School' // Amsterdam (NL)
21 - 29 October // Dutch Design Week // Eindhoven (NL)
Outrospectre is generously supported by the AFK (Amsterdam Fund for the Arts) and was developed within the scope of a 3Package Deal in collaboration with: Waag (Creative Care Lab), Makerversity Amsterdam & Museum Vrolik.