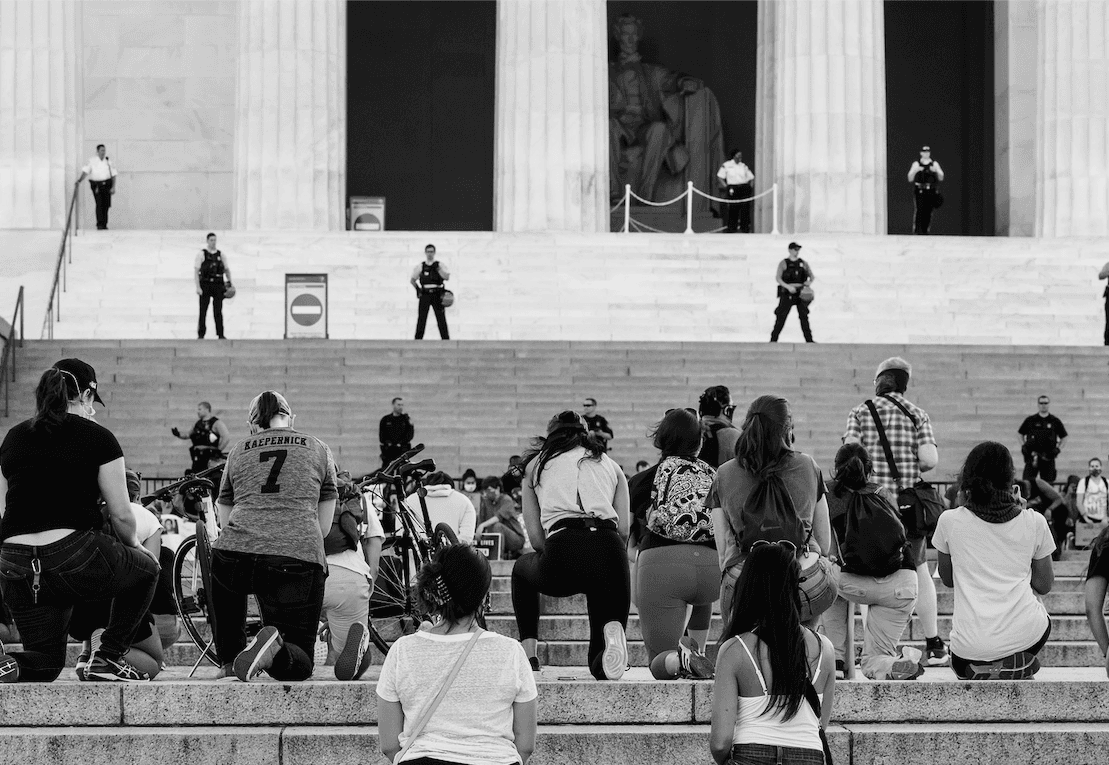 Racism is a problem deeply rooted into various parts and layers of our society. Technology is not neutral. It is a reflection of culture and political beliefs. Just like with other translations of power, within technology prejudice, inequality and racism have a place. This is a systemic problem that we research at Waag. We pose questions about who is pushing which buttons. We ask what the consequences are for the inclusivity of the (digital) public domain.
In light of recent developments and worldwide protests, we should not only question technology, but also ourselves. Why would we remain silent: because we support the battle against systemic and institutional racism in silence? Because we don't have agency to speak up about this subject? Because we feel uncomfortable? Because we don't know what to say? We are at a point where silence is deafening. 
As an organisation, we are aware of our platform and our role in society. Next to this, we want to reflect on ourselves critically. We start the conversation about our own blinders and our blind spots. We wonder if we do enough to talk about these problems both internally and externally and we ask ourself the question if we do enough to amplify a diverse set of voices. Next to this, it would feel uncomfortable to tell our followers, readers and network exactly what to do. We look at what we can do. 
We start the conversation. We are speaking up and have started conversations within our organisation. This problem is about everyone, which means everyone should be talking about it. 
We read up on racism. Sources on structural and institutional racism, both in the United States and in Europe, have been widely shared. We list some of the overviews here. 
> Wit huiswerk (Dutch)
> Anti-racism resources
> Questions for white people
We share options for donating. In the United States, donate to memorial funds and bail out projects, that raise money to be able to bail out protesters. Please also consider to donate to Dutch institutions.
> Overview of where to donate to in the US
> Distribute your donation over more than sixty bail out funds in the US. 
> ACLU is an American NGO founded in 1920, fighting for the freedoms and rights of American citizens ever since.
In the Netherlands, donate to the following institutions through online bank transfer:
> Stichting Nederland wordt Beter (iDeal)
> Black Queer Trans Resistance NL
Name: Black Queer Trans Resistance NL
IBAN: NL56BUNQ2044294621
BIC: BUNQNL2AXXX
> Kick Out Zwarte Piet
Name: Nederland Wordt Beter
Billing number: NL09 TRIO 0197 9666 91 (Triodos Bank)
Please state with your donation: KOZP
> The Black Archives
Name: stichting New Urban Collective
Billing number: NL06 ABNA 0246 4020 83
Please state with your donation: Donatie the Black Archives and your name
We share initiatives and sign petitions:
> Overview of petitions to sign to support protesters in the US
> Overview of petitions, places to donate to, businesses and resources
Down below we have made a (non-exhaustive) list with books and research projects to read up on, and artists to check out. Additions to this list are very welcome and may be sent to gro.gaaw@enna.
About racism and technology
> Algorithms of oppression (book)
> Twitter and Teargas (book)
> Digitize and punish (book)
> Data feminism (book)
> Algorithmic accountability policy toolkit (AI now)
> Discriminating systems (AI now)
> Race after technology (book)
> How white engineers built racist code - and why it's dangerous for black people (article)
> Tool for blurring faces in protest pictures (tool)
Research projects
> Gender shades: How well do IBM, Microsoft, and Face++ AI services guess the gender of different skin colored faces?
> Lees meer over Gender shades
> Voicing erasure
> Racial literacy in tech
> Excavating AI
> ImageNet Roulette
> Training humans
Artists and art initiatives
> Eyebeam
> Stephanie Dinkins
> Ayoka Chenzira
> Jepchumba (Future Lab Africa)