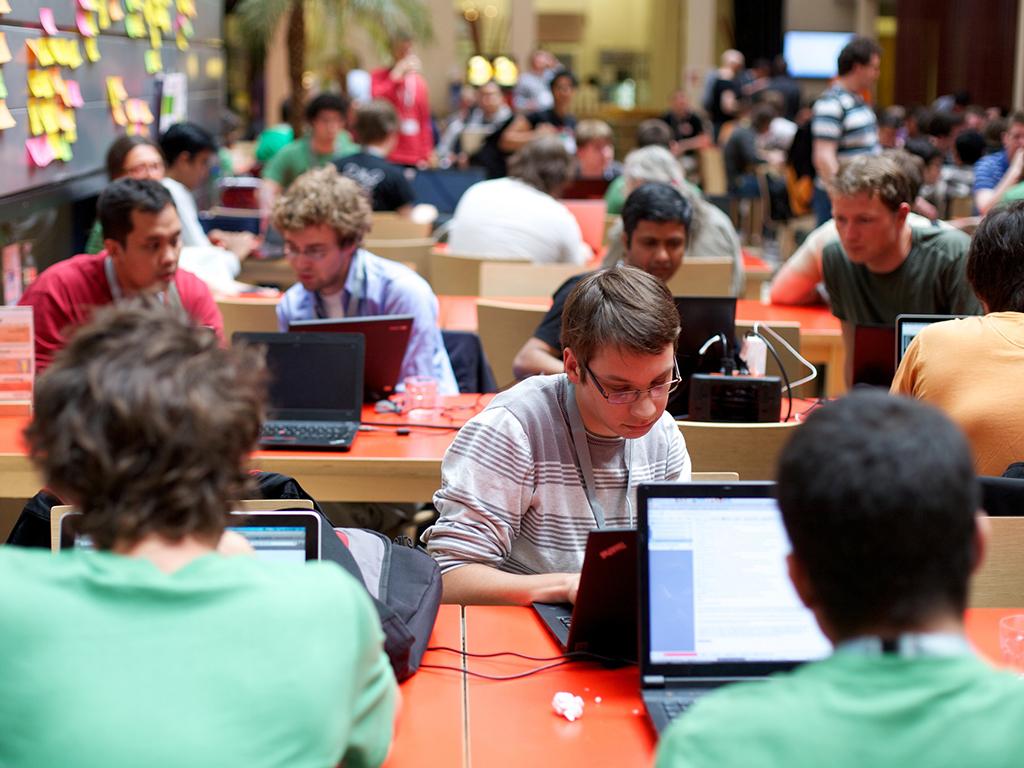 Hackathons, as in 'condensed timeframes were programmers come together to collectively or individually achieve something out of the ordinary' (a more comprehensive definition can be found on Wikipedia) have existed for decades, but became wildly popular after the 2008 Apps for Democracy contest in Washington. That event, that yielded 47 open data apps in 30 days, has inspired a host of contests in over 50 countries (says iStrategyLabs, the creative consultancy that designed the scheme), with hackathons as indispensable components in the mix of events that make up their schedules. Invariably, expectations are high while expenses are low, ideas flow freely and monetary, lasting success is aimed for.
Unfortunately, the eyecatching results of efforts expended by the hackathonistas most of the time quickly fall apart within hours, days or weeks after the prize ceremonies. Results are typically demos or prototypes, never products; often they are based on technology push, instead of societal or market pull; the groups lack designers, entrepreneurs or both; the initial enthusiasm turns out to be less firm than expected... and many more valid reasons that are familiar to organizers and participants alike.
The partners of Apps for Europe have strived to overcome these and equip the teams with knowledge, coaching and contacts to increase the chance of their survival — a life of the project after the flowers have withered. But what if the outcome of a hackathon is not a viable business, does not aim at an IPO, and will not survive the first weeks of user scrutiny? Was the energy lost? Or are there other ways in which the experience has been useful, ways that are somewhere hidden bellow the glitter of winning prizes, starting a company and becoming the next TomTom or Facebook?
After attending and organizing a few dozen hackathons, my answer is a clear YES. There are many reasons for people to join. Most of the participants value the social part — being and working together intensely with likeminded, smart and motivated people. Some are in it for education — being able to tinker with new technologies, new kinds of data, learning tips and tricks from more advanced colleagues. Some participate to meet their new employers or clients — showing off their wizardry skills that have a fairly skewed distribution in the general population. Many hackers sympathise with the social causes in events like Apps for Development, Apps for Democracy, or Apps for Good. A few bring their technologies, in the hope that their familiarity amongst programmers will enhance the uptake after the event. All love to code. And yes, a few are in it for the (often little) money, too.
It is safe to say that in most hackathons, these goals are met without any dependence to what happens to the resulting apps after the event. Attending well-designed hackathons increases work pleasure, networks, experience and skills for people that are used to work alone, without much opportunities for pro-level education, or in jobs that just tap in to part of their capabilities.
To amplify the likelihood of satisfying the participants, well-designed hackathons adhere to several principles. If the events are frequented by potential clients and employers that scout for new contacts; if the programme encourages getting to know many new people with different skills and levels of expertise; if the setting is social, in a low key fashion; if there is room for hackers to show off their technologies; if sharing of code, skills and results is encouraged and facilitated; if there is a prize that is in line with the efforts, and if the 'winners' are just as encouraged as the 'losers' (better: leave out this part entirely) – a larger share of the participants will happy, because their goals will be met.
By acknowledging what the true reasons are for people to join these events, they can be organized in a more effective way. We can leave the 'startup your startup, and become an entrepreneur overnight' rhetoric, that is simply not applicable, attainable, nor inspiring for most of the participants. By giving hackers what they really want, we will get a more able, more inspired number of programmers back, who are so much needed to help solve the problems that we find ourselves in. Give them problems that matter, colleagues that care, have them think outside of the box. Do all this, and yes – every once in a while, some accidental successful new company might ensue.