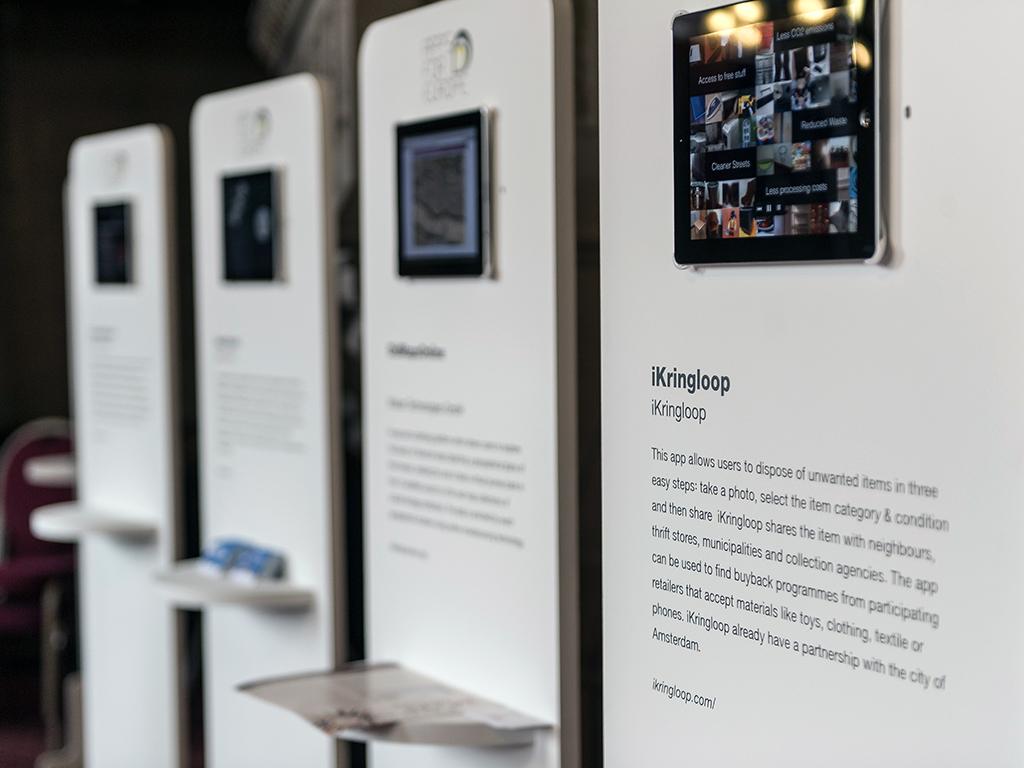 Five selected apps from Apps for Europe
Over the past few years, Apps for Europe has acted as a support network for turning data-based apps into viable businesses. While the project may have come to an end recently, the apps live on.
Recently, the job of reorganizing the Apps for Europe App Store fell to me. Like any inventory, this meant inspecting each individual app before dusting off its icon, sprucing up its download link, and neatly (okay, sometimes not so neatly) tucking it into a relevant category. Throughout the process, I came across a few apps I thought were either useful, well-designed, or built around an interesting concept. Apps I thought I would share with you, dear reader.
#5 Shoudio
While it might not be my favourite design, Shoudio is built around an interesting idea: location-based audio sharing. Users can upload a brief sound snippet and tag it with their location. Their audio clip is then pinned to a map for others to find. Some users upload voice messages while others share their favourite local birdsong or urban noises. Personally, I enjoyed exploring a cluster of nature sounds near Belgium.
#4 Konnektid
The next app I liked was Konnektid, a platform for sharing skills with nearby neighbours. The design is nice, but the idea is nicer. Now, I love the idea of learning new things online. I'm an avid user of video tutorials, step-by-step guides, and other resources (heck, YouTube taught me how to knit and play the ukulele). But, something is always missing when learning on your own—namely other humans. Sometimes video doesn't cut it and you really need someone to show you in person. Konnektid hopes to connect you with people in your neighbourhood with whom you can trade skill sets. You might even make a friend!
#3 Plume Air Report
In the environment category, the Plume Air Report app was one of my favourites. Firstly, I love the look and feel of the app. Secondly, I really like the idea of having a beautiful app that allows you to "know what you breathe in your city and lets you explore and predict air quality in real-time." The app claims to accurately report the air pollution levels (right down to specific pollutants like ozone) in cities around the world. It also suggests activities you might not want to engage in if pollution levels are sky-high (like taking the baby out for a stroll around the block, for instance).
#2 iKringloop
Another app from the environment category to strike my interest was iKringloop, an app that allows users to recycle their old goods through connecting with neighbours, local charities, thrift stores, and municipalities. Essentially, people who have unwanted goods (that they might otherwise throw away) can post their items to a "free stuff" board. Then, other users can request to pick the item up for re-use. Unfortunately, the app has only become popular in the Netherlands so far. But it's a great idea, so I hope the app gains popularity elsewhere.
#1 Toury
In the entertainment category, I thought the Toury app was a nice concept with a whimsical design. Toury is an app that transforms cycling to work (or anywhere else for that matter) into a virtual race. Users are encouraged to compete against themselves, their friends, or form teams with friends and colleagues. As someone who shies away from cycling in Amsterdam during rush hour—but who also has a tiny competitive streak—I think an app like this might spur me to get on a bike and brave Dam square at 6pm. Maybe.