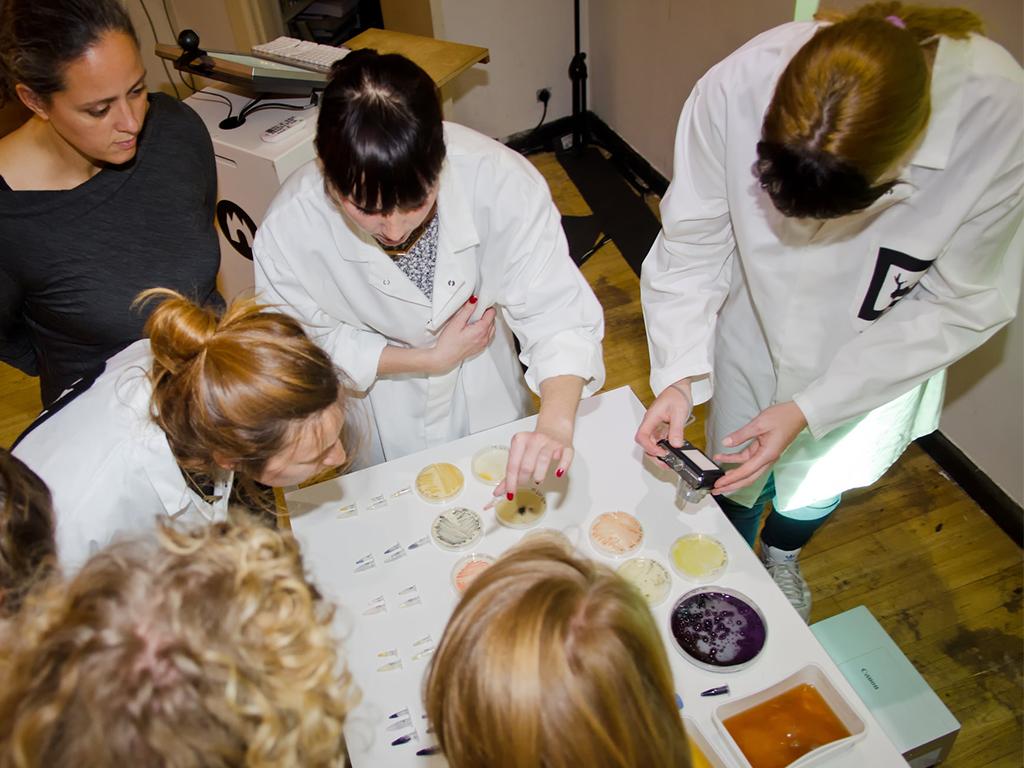 2016-03-22T18:30:00+01:00
2016-03-24T21:30:00+01:00
Do It Together Bio #14: Genetic Modification
On Tuesday 22 March and Thursday 24 March, Waag's Open Wetlab organizes a special workshop on genetic modification at the Waag in Amsterdam.
Genetically modified organisms (GMOs) have been the topic of heated discussions in legislative, agricultural and public debates, but have you ever wondered what it's like to actually make a GMO? Under the watchful eye of our biosafety officer we will follow a simple protocol and transform regular gut bacteria into ones that glow in the dark! You will learn the basic molecular biology techniques that enable such an endeavor and get insight into issues of safety and controversy as well as learn how biotechnology is based on the reverse engineering of natural phenomena.
The workshop is split into two sessions. During the first (Tuesday, 18:30), we will delve into the practical aspects of genetic modifications and transform the regular bacteria into GMOs. When we reconvene two days later (Thursday, 18:30), the actual result will be visible. We will have to decide what to do with these newly created organisms and discuss how the availability of this technology will impact our future.
No special background knowledge is required, the workshop organizers Špela Petrič, Per Staugaard and Pieter van Boheemen will guide you. Waag's Open Wetlab has obtained a special permit to conduct these experiments, as first cultural institute in The Netherlands. So don't worry, we know what we are doing.
A maximum of 18 participants can participate, you can register below.
You must be 18 years old or older to participate.
Entrance fee: 20 euro (for both days), to be paid on entrance, PIN only please.
This Do It Together Bio workshop is supported by Bankgiro Loterij Fonds. A special thanks to Microbial Culture Collection Ex of The Infrastructural Centre (IC) Mycosmo, which is part of the Network of Research Infrastructural Centres of the University of Ljubljana (MRIC UL), for advice and the kind donation of Aliivibrio fischeri.