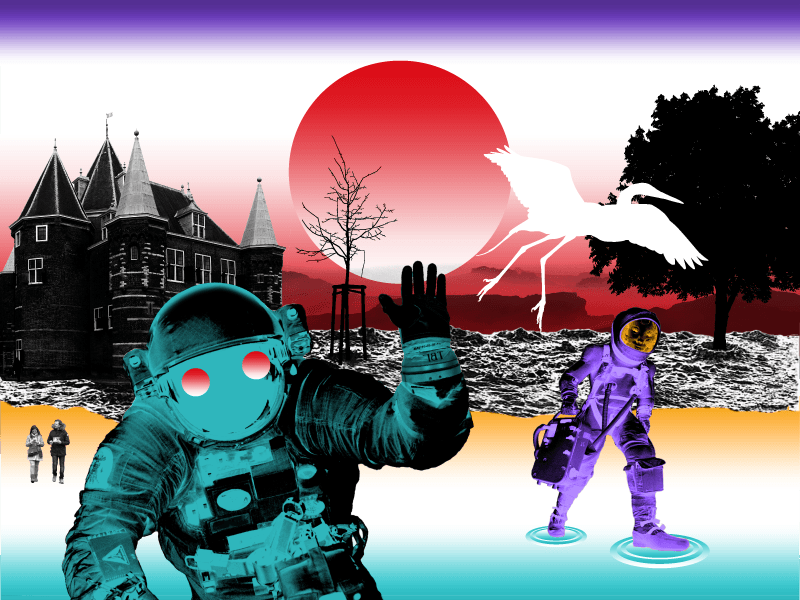 2021-09-25T11:00:00+02:00
2021-09-25T22:00:00+02:00
Expedition: future - Saturday
Hello, this is the future. I'm not here yet! Please leave your wish for me after the tone.
Expedition: future - programme for Saturday 25 September
Acid Clouds: a walk across the fundaments of the internet
Saturday 25 September | 11:00-12:00 hrs | Amsterdam Science Park (outpost planet B) | Dutch spoken | outdoor event (basic corona measures apply)
Every week, our screentime increases. We swipe, stream, download and like our lives, that are increasingly taking place online. All that data needs to be stored. But where? Walk with us across the fundaments of the internet at Amsterdam Science Park, and take a look at data centers from a completely new perspective.
This version of Waag's data walk also includes the opening of the outside exposition Acid Clouds by Niels Schrader and Roel Backaert.
---
Future walk through Amsterdam
Saturday 25 September | from 13:00 hrs | start at Amsterdam Science Park (outpost planet B) | Dutch spoken | outdoor event (basic corona measures apply)
Walking is our new pandemic hobby. Join Waag on the Future walk through Amsterdam, starting at Amsterdam Science Park and ending in the Waag on the Nieuwmarkt. We will speak about the squares, parks and neighbourhoods we encounter, leading to a conversation on cities, landscapes and our future. In what kind of world do you want to live, or not live? What's important to you concerning housing, living togehter, food, technology and the climate? What is your dreamed future? Surprise each other, learn from each other and watch the world through different sets of eyes: break out of your bubble, and explore the ideal future with acquaintances and new friends.
---
Feminist Data Set: workshop and talk
Saturday 25 September | 14:00-15:30 hrs | Waag, Nieuwmarkt 4 in Amsterdam | English spoken | indoor event (CoronaCheck obligated) & online event (talk)
How to react to data-driven bias against the underprivileged? How to use data as bodies of resistance? In this workshop, participants will learn about Artificial Intelligence (AI), computer algorithms, mechanical turks, and how to create a more free and just technological future.
---
Lab&Kitchen
Saturday 25 September | 18:00-22:00 hrs | Cascoland | Dutch spoken | indoor event (CoronaCheck obligated)
What does your ideal future look like? And what can you do now to create this future? During Lab&Kitchen you will engage in conversations with a wide variety of people, while cooking and eating a delicious meal together. You will prepare your dinner together with cooks from Amsterdam New-West, using unique, local and sustainable ingredients. 
75 participants from all corners of society are joining Lab&Kitchen: people with dreams and concerns, experts on technology, agriculture, or nature, students, thinkers, artists that philosophise about the future, and Amsterdam citizens that deeply care about their city. Let's eat! 
---
More of Expedition: future
About Expedition: future
Imagine a place that's a lot like Earth. We'll call it planet B. Planet B is a place of natural beauty — unspoiled by pollution, unmonitored by satellites, untouched by the hand of human endeavour. 
What would you take to that new place from the earth, and what would you leave behind? 
So, does this mean we're going to leave the earth behind? Did you get caught in the billionaire race towards outer space? Or is this a science fiction party? Nope! But the power of imagination needed for our future, for our planet, is central to Expedition: future - a four-day event filled with workshops, walks, debates, food and music, on various locations in the city.
As a Future Lab for technology and society, Waag is researching how we can create an open, fair and inclusive future. For the last six months, we have asked people in all corners of the Netherlands about their dreams for the future. During Expedition: future, all these individual dreams and visions are brought together in order to create a communal navigator: the collective dreamed future of the Netherlands. Join us!
Expedition: future and corona measures
During Expedition: future, three kinds of events will take place: online events, inside events, and outdoor events. For all outdoor and indoor events, the basic measures against the spreading of corona, as stated on the Rijksoverheid website, are valid. The organisation takes these measures into account during all events and kindly asks the public to do the same. 
For the indoor events, on top of the basic general measures, we ask visitors for their valid QR code in the CoronaCheck-app, which needs to be scanned before entrance. The QR code is available after uploading proof of vaccination, proof of recovery or a recent negative test result into the app. A free test can be planned via Testen voor Toegang.