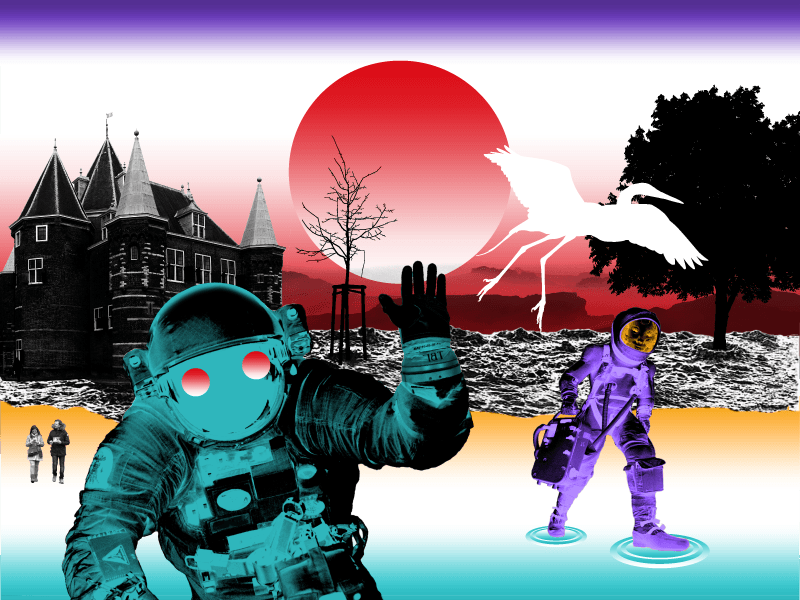 2021-09-26T11:00:00+02:00
2021-09-26T22:00:00+02:00
Expedition: future - Sunday
Hello, this is the future. I'm not here yet! Please leave your wish for me after the tone.
Expedition: future - programme for Sunday 26 September
Future Talks #2: Maakbaarheid?
Sunday 26 September | 11:00-13:00 hrs | Online event (livestream) | Dutch spoken
During the first Future Talk, on activism, creative professionals showed us how they try to get societal issues on the political agenda. They showed us how they involve people in the urge of societal change. In the second session of Future Talks, we'll discuss the possibilities of change. 
We'll focus on the government: how can creative professionals contribute to shaping a sustainable and inclusive future? Join us for the second session of Future Talks, live from Expeditie: toekomst at the Amsterdam Science Park, from the comfort of your home and Sunday breakfast! 
---
Walk: Makers of Amsterdam-Noord
Sunday 26 September | 14:00-17:00 hrs | Starting location: Kunstlicht, Motorkade 9, Amsterdam | Dutch spoken | outdoor event (basic corona measures apply)
Historically, Amsterdam-Noord is a place for maker culture. In 1937, the area was the biggest ship wharf in the world, and lately the area has been known for its small scale, individual makers, and its workspaces for artists and industrial design. Historical industrial locations like Amsterdam-Noord are capable to stimulate new and inclusive forms of maker culture.
As part of Expedition: future, join the walk 'Makers of Amsterdam-Noord' on Sunday 26 September. Starting at the Kunstlicht makerspace, we will walk along various exciting maker initiatives in Noord and end at Made Up North on NDSM, where we'll have drinks. Tip: bring your headphones!
---
Future Collider workshop: a virtual look at the city of the future
Sunday 26 September | 14:00-17:00 hrs | Theatrum Anatomicum, Waag | English spoken | indoor event (CoronaCheck obligated)
Imagine a city in 2070. What would that look like? In the Future Collider workshop we use signage as a medium to connect with the past, present and future of our city. Designer Tomo Kihara takes you on a journey and, together with participants, designs an augmented reality installation for the city of the future.
In this workshop, we mainly focus on thinking about how a future city may or may not serve vulnerable groups that are often marginalized in cities such as refugees, the homeless and people with disabilities.
---
Workshop: The biodegradable time capsule
Sunday 26 September | 19:30-22:00 hrs | Online and Amsterdam Science Park (outpost planet B) ​​​​​​| English spoken | online and indoor event (CoronaCheck obligated for indoor attendance)
What if our visions of the future would decompose before the future itself arrives? Would that open your mind for really different future scenarios? In the second session of our series Future Proof, we explore the concept of alternative futures: the ones that are not meant to come true per se, but are designed to challenge our thinking. We think about the future all the time, but we rarely think about how and why we anticipate. Yet, this has a profound impact on the present. 
In this thought provoking workshop, we challenge you to think about how you think about the future… In collaboration with conceptual artist Jonathon Keats, Loes Damhof and Elles Kazemier, members of the UNESCO Chair Futures Literacy at Hanze University of Applied Sciences, we organise this experiential workshop on reframing, using the 'Biodegradable Time Capsule': a tool that doesn't pretend to capture the times we are in, but collects our futures visions instead. 
---
More of Expedition: future
About Expedition: future
Imagine a place that's a lot like Earth. We'll call it planet B. Planet B is a place of natural beauty — unspoiled by pollution, unmonitored by satellites, untouched by the hand of human endeavour. 
What would you take to that new place from the earth, and what would you leave behind? 
So, does this mean we're going to leave the earth behind? Did you get caught in the billionaire race towards outer space? Or is this a science fiction party? Nope! But the power of imagination needed for our future, for our planet, is central to Expedition: future - a four-day event filled with workshops, walks, debates, food and music, on various locations in the city.
As a Future Lab for technology and society, Waag is researching how we can create an open, fair and inclusive future. For the last six months, we have asked people in all corners of the Netherlands about their dreams for the future. During Expedition: future, all these individual dreams and visions are brought together in order to create a communal navigator: the collective dreamed future of the Netherlands. Join us!
Expedition: future and corona measures
During Expedition: future, three kinds of events will take place: online events, inside events, and outdoor events. For all outdoor and indoor events, the basic measures against the spreading of corona, as stated on the Rijksoverheid website, are valid. The organisation takes these measures into account during all events and kindly asks the public to do the same. 
For the indoor events, on top of the basic general measures, we ask visitors for their valid QR code in the CoronaCheck-app, which needs to be scanned before entrance. The QR code is available after uploading proof of vaccination, proof of recovery or a recent negative test result into the app. A free test can be planned via Testen voor Toegang.