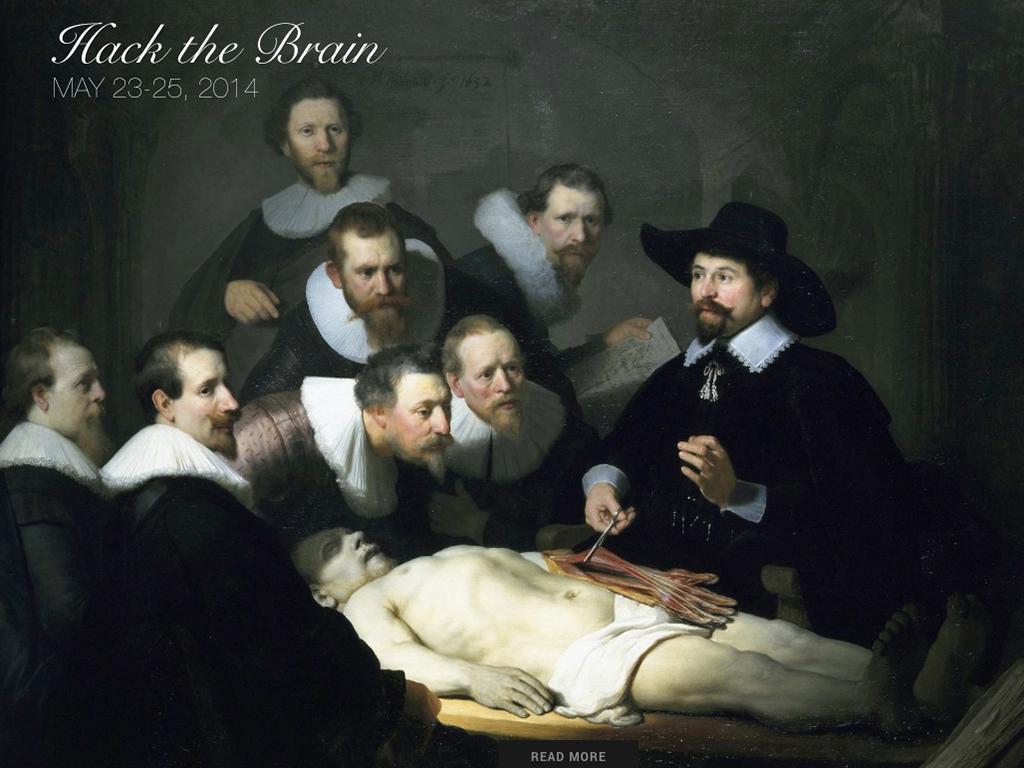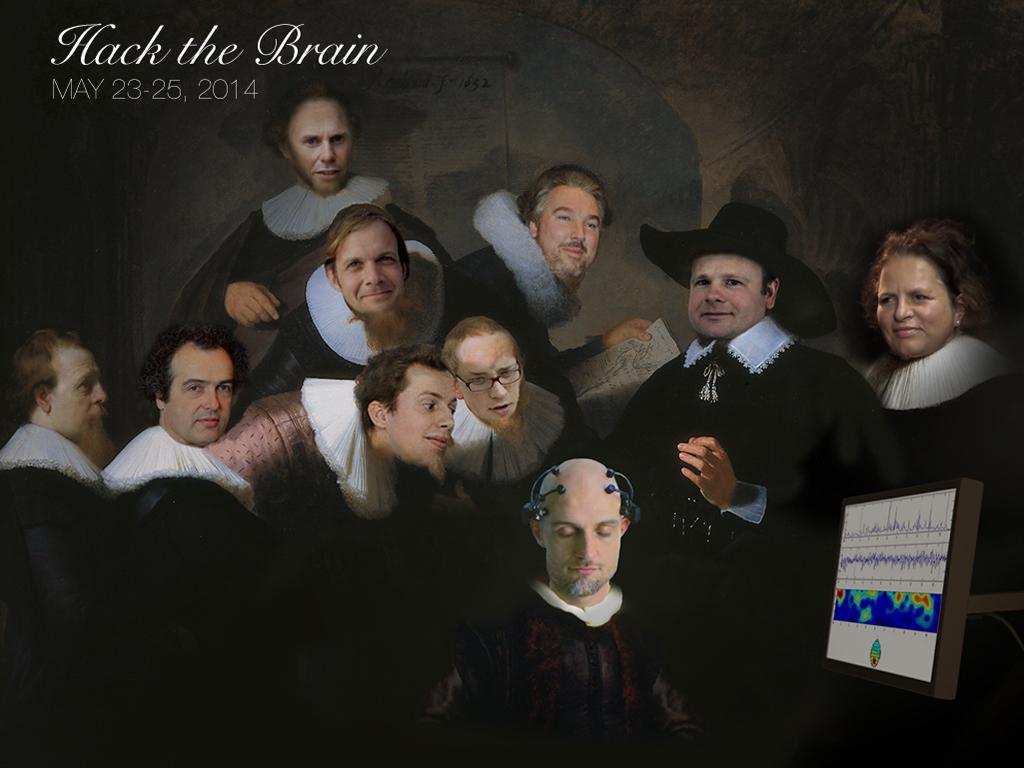 2014-05-22T23:00:00+02:00
2014-05-24T23:00:00+02:00
Hack the Brain 2014
What if we could hack the brain? A weekend of DIY brainhacking and public debate
Hack the brain is the first European event where several disciplines join to explore the opportunities of DIY brain hacking.
This decade will see a revolution in our understanding of the brain. Not only academic or commercial breakthroughs, but on a personal level: do it yourself brain hacking is here! New technological possibilities and the wide availability of soft- & hardware bring neuroscience into the public domain – and this offers great opportunities. In the tradition of Rembrandt's Anatomical Lesson five partners join forces to explore DIY brain hacking with you in de Waag in Amsterdam - a yearly event, for the first time in Europe.
We look forward to a full weekend of expert hacking and an evening of public debate with thought leaders, philosophers, artists, neuromarketers, scientists and anyone interested. We share our hopes and expectations. We will explore the mind: what can we put in the brain, what can we extract from it and what happens if we link brains together to form one super brain?
Public debate on Friday 23 May 
The exploration of the mind: wishful thinking and worst nightmares.
Can we replay our dreams in the future? Will you be selling your brain capacity or outsource certain activities? Connect brains to become one super brain, extremely intuitive? Will our thoughts be marketing material in an age where an EEG machine displays what movie someone is watching? 
The debate on Friday features writer Arnon Grunberg, scientist Pim Haselager, philosopher Désanne van Brederode, neuromarketing strategist Victor Lamme & more. The big question: what do philosophers, artists, commercial parties and scientists expect of the future brain? They share their dreams, hopes and fears. During this evening we explore unknown areas, future possibilities and issues that might arise. What do these developments teach us about the performance of our body, our mind and the concepts of identity and truth. We'll finalize the evening with an open mind, bar & after party with cross media designer Jonas Vorwerk. 
20.00 – Welcome by Frank Kresin 
20.05 – Introduction by moderator Martijn van Calmthout (Volkskrant)
20.15 – Arnon Grunberg (video)
20.35 – Pim Haselager
20.55 – Victor Lamme
21.15 – Désanne van Brederode
21.35 – Q & A and discussion
22.15 – Bar open & after party with Jonas Vorwerk
00.30 – Closing
Presentation of the results to the public, Sunday 25 May
On Sunday, the teams will present the outcome of the bootcamp and a professional jury will award the best brain hack with 4 brain sensing headbands. Free entrance.
A unique bootcamp, 23-25 May
From Friday to Sunday we test the boundaries: what happens if we think different? The multidisciplinary approach of Hack the Brain will bring Rembrandt's 'The Anatomy Lesson' to life in this digital era. Expect anything: extreme neural marketing, the simulated brain, brain dating, malware in your thoughts, emotional fingerprinting, outsourcing your job to your "computer brain", ethical issues, wisdom of the crowds through a linked brain, super intuition. We will work in teams on some serious hacking. We share tools, technology, and expert knowledge. 
During the hackathon, state of the art neurophysiologic data acquisition hardware and data processing software will be available. In addition to the Fablab facilities of the Waag of course. And you can bring your own equipment too. Keynote speakers will be Peter Werkhoven (TNO), Pieter van Boheemen (Waag) en Martijn Arts (Total Active Media). Experts who are there for your support: Jan van Erp (TNO), Jason Farquhar (Donders Institute), Pieter van Boheemen (Waag). There is a professional jury:
Peter Desain, Donders Institute, chair
Jason Farquhar, Donders Institute
Jan van Erp, TNO
Martijn Arts, Total Active Media
Pieter van Boheemen, Waag
Marc Wesselink, Start-up Bootcamp
The Weekend Programme: 
Public Debate: Friday, 23 May, from 20.00 hrs till 22.00 hrs. Bar open & after party with Jonas Vorwerk from 22.00 hrs till 00.30 hrs
Bootcamp: Friday, 23 May, 2014 (All day) to Sunday, 25 May, 2014 (All day)
Public Pitches of the Hack the brain projects and reflection by a panel of experts: Sunday 25 May, 14.30 hrs till 16.00 hrs
Who?
Founding partners:
Waag & Total Active Media
Partners:
Donders Institute, Radboud University Nijmegen
TNO
Sponsors:
Neurensics 
ClickNL
Wirelab
VicarVision
JonasVorwerk
Creative Industries Fund
Municipality Amsterdam
#HackTheBrain