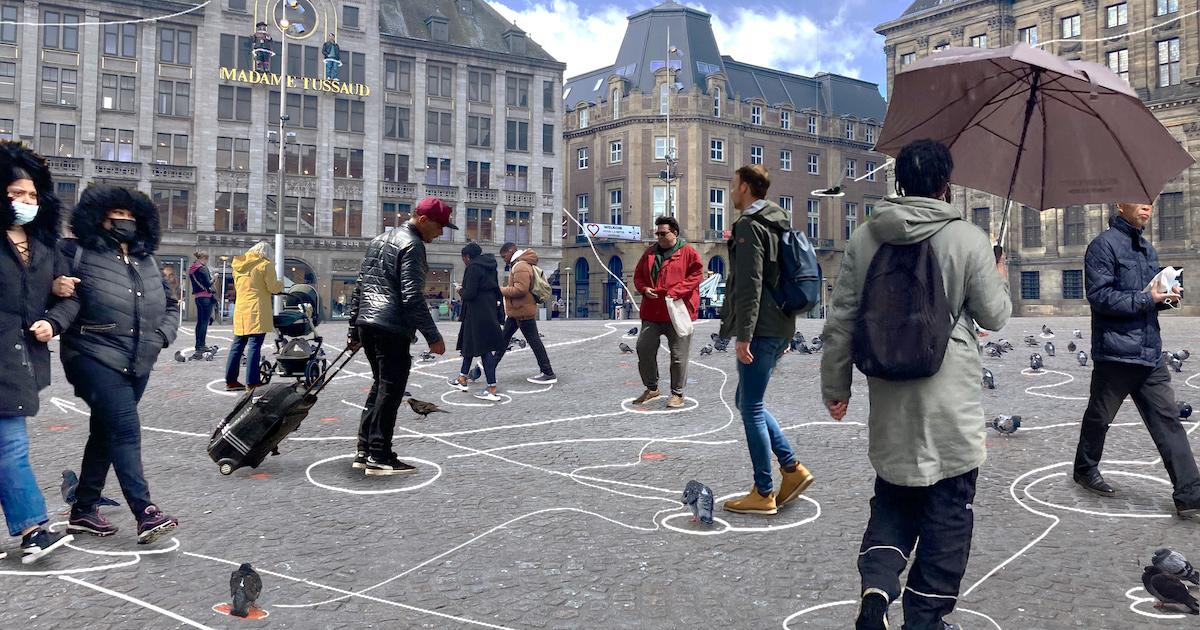 2022-05-14T14:00:00+02:00
2022-05-15T18:30:00+02:00
Performance: Parallel Life by Edit Kaldor (60-90 mins.)
Have you ever wondered what it would be like to be someone else? To wake up in their skin, to see the world through their eyes? What it would be like to have lived their childhood, to have experienced sorrows and joys as they have, to dream as they do?
Imagine what it's like to be someone else and accidentally run into yourself on the street.
Parallel Life is an interactive live performance that is played for and by individual spectators through their mobile phones in public space. It is a theatrical trip where narrative layers are projected onto the daily reality of city life, and mixed with covert performance elements.
The performance is constructed especially for each individual audience member on the basis of their input. Through conversation with what might be a bot or a person, a profile is compiled for each participant. These profiles are then swapped and each spectator follows the rest of the performance 'in the skin' of someone else, someone quite different from them. Someone who might be at just arm's length away and possible to bump into at any moment.
Practical information
The performance uses the Telegram app on the mobile phone and it takes place on location, on the streets of Amsterdam's city center. Make sure to bring a fully charged phone with mobile internet access and headphones. Before starting, each visitor needs to download the Telegram app from the App Store. An individual starting location will be sent to on the morning of the performance.
When buying a ticket you agree to provide your email address and phone number. We use these only for the purposes of the performance. Your personal data will not be shared with anyone and will be deleted after the performance.
The performance will be held both in English and in Dutch. Please note that during the ticket buying process, there are two different pages for all Dutch- and all English spoken performances. The schedule down below also shows which language will be spoken at what time. 
Programme
Parallel Life will take place during two weekends (14-15 and 21-22 May), and will be played twice per day - both in English and Dutch. Each performance takes about 70-90 minutes. Check the schedule down below to make sure you go to the performance in your preferred language. 
Saturday 14 May 2022
14:00 hrs - English
17:00 hrs - Dutch
Sunday 15 May 2022
14:00 hrs - Dutch
17:00 hrs - English
Saturday 21 May 2022
14:00 hrs - English
17:00 hrs - Dutch
Sunday 22 May 2022
14:00 hrs - Dutch
17:00 hrs - English
Credits
Concept and direction: Edit Kaldor
Made in collaboration with CyberRäuber (Berlin), Jurrien van Rheenen, Marion Tränkle, Rosa van Kollem, Kobbe Koopman, Ivo Bol, Pascal van Hulst, Tom Hofland, Bart van de Woestijne, Lise Brenner en Diede van Oome
With thanks to Machina Ex
Produced by Stichting Kata, with support by Prince Bernhard Culture Fund, Kickstart Culture Fund, Amsterdam Fund for the Arts, the City of Amsterdam, Norwegian Artistic Research Fellowship Programme