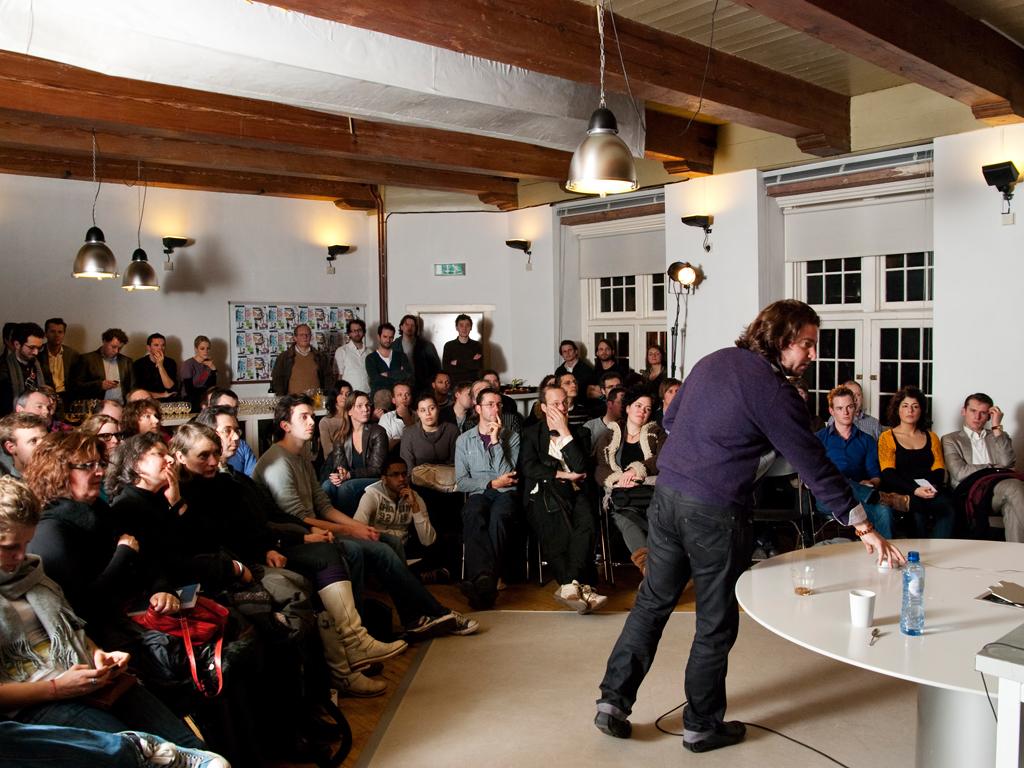 2012-06-22T15:00:00+02:00
2012-06-22T18:30:00+02:00
PhDO 6: how-to?
Our successful PhDO meetings over the past year have shown us that the ecology of new research practices is expanding. Among the PhDO practitioners and observers there is an urge to have a dialogue about perspectives on why and how to PhDO. You are kindly invited to join PhDO.6 on Friday, June 22: "How to PhDO?" This PhDO edition is composed of 2 parts: a presentation about Embedded Research and a discussion.
Part 1: Embedded Research
Researcher and journalist Natalie Dixon, Tjeerd Hoek (vice-president Frog) and Associate Professor New Media Studies Jan Simons will reflect on their experiences so far and expectations of their project in the Embedded Research programme of Amsterdam University. With the increasing use of computational and interactive formats, the way media affect us – or how we find media affective – becomes ever more important. Especially if we want to understand, design and actively participate in our world (Coleman, 2012). This forms a core part of the work that frog - an international design company- does. For this project, the embedded researcher Natalie Dixon will be working in collaboration with the frog Amsterdam team to seek potential methodologies to govern designing for emotion.
Part 2: "Why, who, how to PhDO"
A discussion with speakers and participants about research in the creative sector. Moderator Frank Kresin, research director at Waag, will lead the discussion.
Program schedule
15:30 doors open
16:00 welcome & introduction by Frank Kresin
16:05 Associate Professor New Media Studies Jan Simons
16.15 Tjeerd Hoek (vice-president Frog)
16:25 Researcher & journalist Natalie Dixon
16:35 "Why, who, how to PhDO"; a discussion about expectations, chances and questions in relation to practice based research.
17:15 Drinks
More information about the speakers
Natalie Dixon is a digital media researcher and journalist based in Amsterdam. Her current research focus is the affective bandwidth of mobile-mediated communication. Her research interests include affective computing, HCI, biomapping, emotion, the impact of mobile phones on social behaviour, analytical design and information visualization.
Frog works with the world's leading companies, helping them to design, engineer, and bring to market meaningful products and services. With an interdisciplinary team of more than 1,000 designers, strategists, and software engineers, frog delivers connected experiences that span multiple technologies, platforms, and media. Frog works across a broad spectrum of industries, including consumer electronics, telecommunications, healthcare, energy, automotive, media, entertainment, education, finance, retail, and fashion. Clients include Disney, GE, HP, Intel, Microsoft, MTV, Qualcomm, Siemens, and many other Fortune 500 brands. Founded in 1969, Frog is headquartered in San Francisco, with locations in Amsterdam, Austin, Boston, Bangalore, Johannesburg, Kiev, Milan, Munich, New York, Seattle, Shanghai, and Vinnitsa. Frog is a company of the Aricent Group, a global innovation and technology services firm.
Jan Simons is associate Professor New Media at the dept. of Media Studies UvA.
About PhDO
PhDO consists of networking events: both for individuals in the creative sector, and for people working in research and development. The network aims to develop realistic insights in the process of preparing, applying, setting up & carrying out research in the Creative Sector. At the same time, it will provide a podium to present research results to a relevant audience. If you are interested, please take part in the network on LinkedIn and check the Events section. PhDO is an initiative of Waag and Arne Hendriks. Founding partners are NWO and IIP Create.
When?
Friday June 22nd, 16.00 till 19.00 hrs
Where?
Waag
Nieuwmarkt 4
1012 CR Amsterdam
PhDO is an initiative of Waag and Arne Hendriks. Founding partners are NWO and IIP Create.