Do-It-Together Science Bus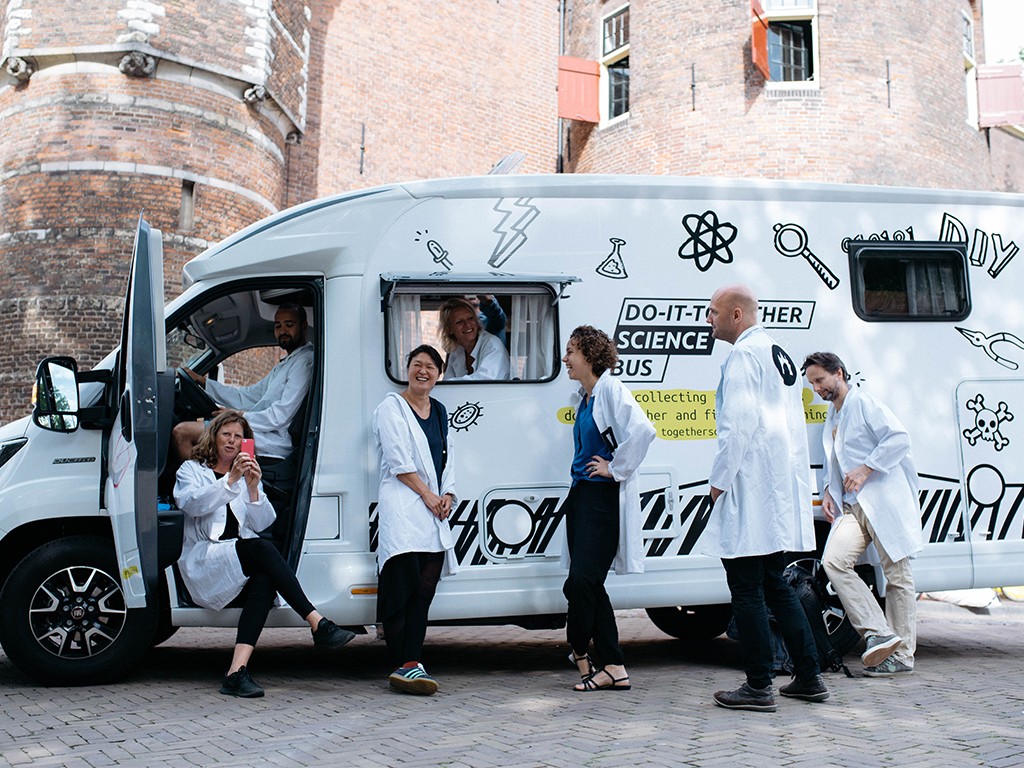 In 2017, the Do-It-Together Science Bus toured through Europa for four months. The bus was part of the European 'Doing it Together Science' project. Within this project, research institutions worked together with science galleries, museums and art institutions to engage as many people as possible with citizen science.
The Science Bus toured through Europe bringing workshops and tools to investigate the world around you. How clean is the air in your street, and can you measure this yourself? Do you know what lives in your yogurt? And how can you charge your phone when there is no socket around? We wanted to find the answers on these questions (and more!), together with the local audiences.
The Science Bus hosted DIY workshops all around Europe to engage curious minds and encourage people to share their life hacks. The Science Bus stopped at festivals, campsites and marketplaces. In the workshops our captains investigated these folk remedies with you. They brought along handy instructions and Do-It-Yourself (research) tools for you to build simple scientific instruments. Science for everyone!
Why is this important?
We live in a passive, consumption-oriented society. We do not know exactly what we eat, what our products are made off, what is right or wrong and what our options are. The Science Bus hit the road to raise questions, encouraged critical thinking and investigated our daily environment together. With this, thousands of people experienced that making things yourself and gathering knowledge is not only easy but also fun!
A4 Instruction leaflets
Download the DIY instructions below as a pdf under 'Publications'. Print these double-sided (always the most sustainable choice!) on plain paper. Now fold the paper twice, leading to a small booklet with the title in front. Ready!
This project has received funding from the European Union's 'H2020-EU.5. - Science with and for society programme' under grant agreement no. 709443.