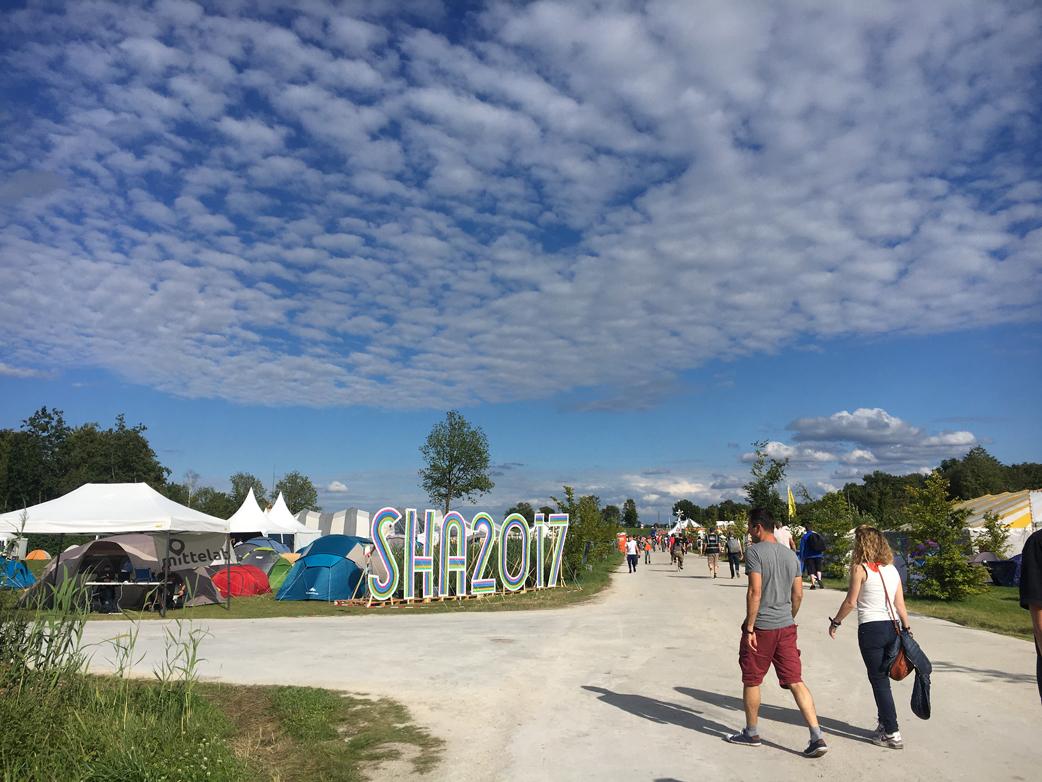 10 reasons why SHA2017 was the best camp of this year
It is held every four years, each time under a different name: a unique Dutch hacker camp. This year's edition it was called SHA (Still Hacking Anyway) and took place in Zeewolde, Flevoland. Waag was there in our 'TSJA2017: Technopolitics Village'.
SHA2017 is a non profit outdoor Hacker camp organized for and by volunteers from the international hacker community. Knowledge sharing, technological advancement, experimentation, connecting with other hackers and of course hacking are at the the core of this event. We listed 10 highlights of this amazing event:
1. Badge
Every SHA visitor got a badge: not the boring name/organization card, but a mini-computer that offers endless hours of entertainment. Through wifi and bluetooth connection visitors received notifications on the weather, the program and many more. Most of all the badge is an open platform to experiment on. In the 5 days 265 apps were developed for on the badge from apps like 'water your fish', a joke platform to a fully operational SHA dating app. It didn't take long before the first ransomware appeared on the badges. No problem, in exchange for a Club Mate you could find a hacker that would liberate your badge. 
2. Hackers on wheels 
A enormous diversity of vehicles were made and hacked on SHA: from a (fast!) driving skelter until beer crate-quad or tents on wheels. During workshops at our TSJA village visitors could build their own self driving car with a fabschoolino. But also much larger vehicles were being hacked, such as Tesla's or even firefighter trucks. Within 1,5 hours the communication vehicle of the firefighters was hacked. Good to know for them, so they could improve their systems right after SHA. 
3. De SHA-community and angels
SHA is completely organised by volunteers, the so-called 'angels'. Some of these volunteers have been working for years in the network and infrastructure, others get their hands dirty during the festival. This resulted in a unique community that made the festival possible, in which everyone was welcomed and felt responsible. We have never been at a festival that was still this clean after 5 days! QR-codes on garbage bins asked visitors to communicate if the bins were starting to fill up. SHA2017 has a 'leave no trace' policy, which is why these great volunteers are still working hard on taking the festival down.
4. Symphony of Fire
A chemist, electrician and musician in one show, at SHA is was possible! All these disciplines came together in an impressive show by the guys from: 'Symphony of Fire'. Electricity and fire played on the sounds of ACDCs 'Thunderstruck'. Take a look at part of the show here.
5. Food hacking
Hacking isn't just sitting behind a computer. That was proven in the Food Hacking Base. Here, experiments with food took place and the old crafts were rediscovered. In many other villages on the festival a variety of great food and drinks were offered. At the Italian embassy everyone was welcome for a great meal or some grappa. At the 'Milliways - The restaurant at the End of the Universe' you could pour yourself a home-brown bear drafted from an old server.
6. Healthy devices and super fast network
The complete infrastructure of electricity, WiFi and the phone network was build up by SHA volunteers. This resulted in the (temporary) fastest internet connection of the country. With all these hackers a bug was easily catched. That is why the SHA organisation was serious about the following warning: "With people from all over the world meeting, we have a wonderful exchange of ideas, and of other things you might not think of. Just as in daily life, it's worth to pay attention to hygiene and protection. For your devices, and for yourself!" Good to help you remember this was the public WiFi name: ''SHA_insecure''
7. De-centralized parties
Like many hackers agree, the internet has become to centralized and this need to change. A good start were the decentralized parties in the long nights of SHA. No tricky algorithms to seduce you to go to the main stage. The SHA-festival terrain existed of numerous villages with each their own maintent. The evenings and nights became a quest for the best music, tastiest drinks and craziest people. Additionally everyone was welcomed in spontaneous village processions accompanied by hypnotic music, flags, lights and dancing people.
8. Make, make, make
A completely led-lighted bra until a LoL hammer made of 3D printed material and crystalized sugar, a lot was made on SHA. At the Belgium Embassy everyone was welcome in the hardware hacking for a course in soldering or to learn from hardware experts. Additionally a lot was hacked, like the official SHA coins that turned out to be very easy to 3D print. Or the led-screen behind the main bar until it was happy-hour all the time.
9. Smoke and laser competition
That all hackers took their most impressive equipment was no surprise, the competition between smoke machines and lasers on the other hand, was. From the smallest tents huge machines were controlled. This resulted in not only a beautiful show but also a thick layer of smoke to decorate the complete SHA-festival. Have a look at an impressive timelapse of the festival here.
10. SHA-decoration
The complete SHA-camp looked amazing. Every tent seemed decorated with a discoball or crazy led-lights and you could recognize the volunteer carts by the flamingos and unicorns on the roof. View a timelapse of the complete festival here. 
Can't get enough of SHA? Have a look at the video channel on which you can find all the talks that took place. We are looking forward to another edition of SHA that will take place in 2021. In the meantime keep an eye out on upcoming EMF camp in the UK in 2018 and CCC Camp in Germany.