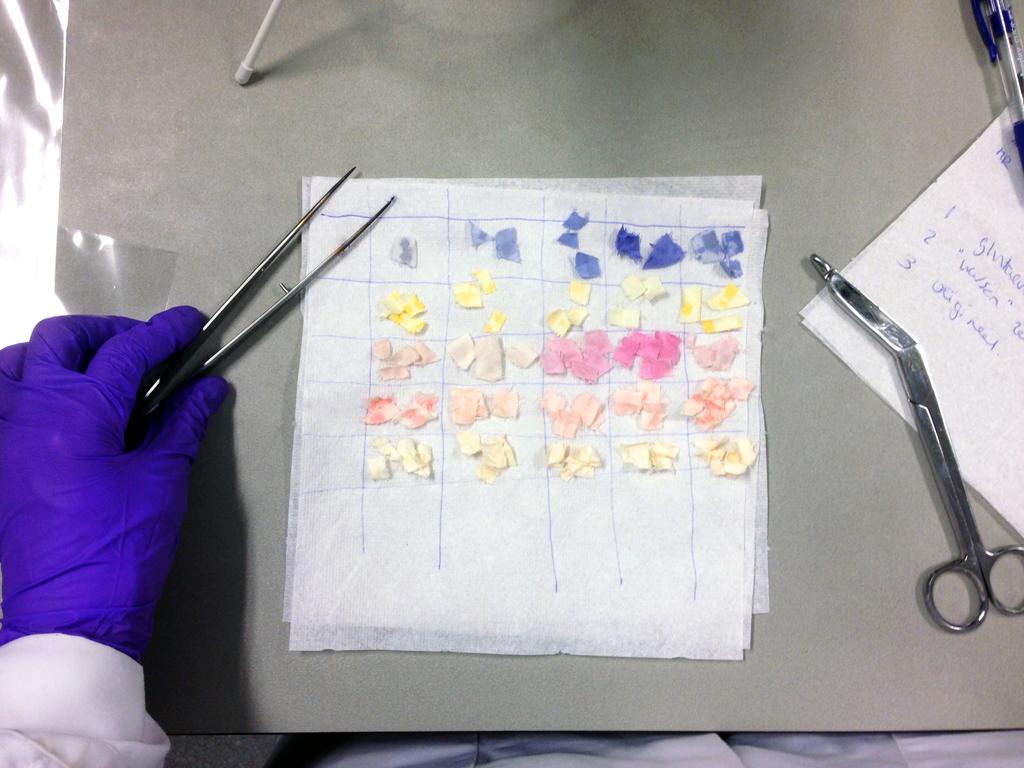 Could this be the game changer in textile dyeing?
This is a guest blog by Karlijne Opmeer, who participated in our TextileLab and Open Wetlab.
I was close to finishing my bachelor Fashion & Design at the Amsterdam Fashion Institute (AMFI). But for me, working in an industry that is based on constant change and therefore seems unsustainable in its deep core, was not something to be particular proud of. Already from a young age my creativity was stimulated by making ends meet. Rather then problems I saw opportunities, a problem solving approach that pushed my creativity; thinking outside of the box in order to come up with alternatives.
Focusing on a future in fashion and design, I think that this is exactly what is needed. After numerous years of thinking within the box being tied to its habits and traditions, it is now time for a new generation of professionals to stand up, a generation that is not afraid to take risks and explore alternatives in order to redefine the standards of this industry. Within fashion education it has become common to graduate with a six- to eight-piece collection. But I do not believe this still the ticket to success; more important is it to deliver professionals that are up to challenge the issues this industry is facing.
Up to 8,000 different chemicals are used in order to turn raw materials into clothes, including a range of dyeing and finishing processes, so no need to question the urgency of this matter; a serious game changer is needed. At Waag, I was firstly introduced to bacteria dyeing and its characteristics. Amazed by this invisible world I started examining bacterial growth, it's pigmentation qualities and the impact this could have on today's textile dyeing industry. I discovered that bacterial pigments have numerous benefits, they can be grown instead of produced and their rapid reproduction rate makes them an interesting resource to work with. Not to underestimate its aesthetic beauty; the bacteria could function as a co-designer leading to beautiful unique print inspiration.
With my two left lab hands, I started to join the Open Wetlab evenings at Waag and exchanged my atelier and sewing machine for a metal table with a few incubators. Here I was supported by the knowledge of the people around, I joined the microbiology 101 course by Federico Muffatto to gain insight about laboratory procedures and found a partner in Arthur Bezuijen, a chemical analyst that is always up for a challenge. With experienced minds around and by trial and error, I got to know the basics of microbiology. I started to test different strains, their growing conditions and their adhesion to textile.
Taking the research to the next step and taking industrial variables into account I found it important to see if it would be possible to create a homogenously dyed piece of textile. Frank Coenjaerts, from UMC, Utrecht who himself is a big fan of interdisciplinary projects, gave me the opportunity to further develop and deepen my research at UMC Utrecht, in collaboration with his colleague Marco Viveen where I could also test pathogenic strains. I was passionately curious; got excited from the knowledge I had gained within this new field and results I booked. Some of the samples I developed were tested on both physical and mechanical properties by the Athens Division of MIRTEC and first tests showed promising results. However, it is premature to draw final conclusions, as more research has to be done before the quality of this bacterial dye will reach commercial standards.
Going through this graduation process I came to understand that the new way for professionals is to think in possibilities rather than limitations, share information and focus on cross-disciplinary collaborations to develop new perspective on material and matter. I hope more students (and professionals) will follow their gut instinct and dare to stay true to themselves and question the status quo while researching new and alternatives routes in order to redefine the standards of this industry, and meeting places like the TextileLab now proof to be fertile meeting places for different disciplines, offer place for experiment and provide guidance where needed. If you too are dyeing for a change, bring your wild ideas and visit them!