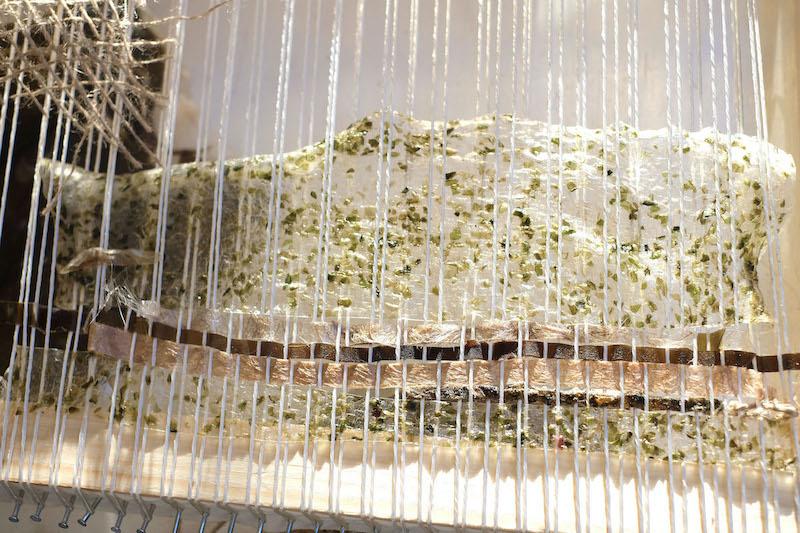 Fabricademy participants share their journey
It is already possible to apply for Fabricademy 2020! The 6-month transdisciplinary course is starting this fall at 21 nodes around the world, including Waag's Textile Lab Amsterdam. More information.
---
The Fabricademy participants' journeys at Waag's TextileLab Amsterdam are worth documenting every year. Through strange times as these, in which our TextileLab had to close down physically, our participants of Fabricademy 2019-2020 have been having a different experience than their peers in Fabricademy. Still, starting in Autumn 2019, the participants at Waag's TextileLab have followed courses along with 21 other nodes around the world, varying from Peru to South Korea and from Germany to Brazil. 
Fabricademy is a transdisciplinary course that focuses on the development of new technologies applied in the textile industry, in its broad range of applications, from the fashion industry to the upcoming wearable market. Read more about Fabricademy. 
As the classes given in Fabricademy are open source, it is possible to check out what the participants learned through the Fabricademy class website. Take for example the class on biochromes by Cecilia Raspanti: the dyeing of textiles and fibers is one of the most environmentally disastrous processes in the fashion industry, which is why colouring alternatives are explored - ranging from plant based to insect based to bacteria based biochromes.
After three months of classes, the participants work on their own projects for three months. They report on their journey as part of the possibility for international review, held every week. Check out the pages by the Waag Fabricademy participants. If you would like to participate in Fabricademy 2020, applications are now open! More information can be found here.
As Fabricademy 2019-2020 is nearing its end, Margherita Soldati conducted interviews with the participants at TextileLab Amsterdam and collected pictures of their work, which can be viewed in this album.
Carolina Vasco Costa Delgado
Carolina Vasco Costa Delgado is a PhD Student in Design and researcher collaborator at CIAUD - Centre for Architecture, Urban Planning and Design Research, of the School of Architecture at the University of Lisbon.
Currently, she is graduating Fabricademy with a project called Nature-Based System for Food Packaging. This is a material-driven study on Seaweed Bioplastics, in order to develop a packaging system that allows to buy food in bulk, while ensuring a long life use, reusability, waterproofness and the option of it becoming a home compostable. The material researched by Carolina is Alginate from the brown algae of invasive alien species (invasive macro algae), ensuring sustainable exploitation of resources for reusable food packaging.
For her design, she was inspired by the spider's net. She explains that spiders were here thousand of years before humans. They spread even before the dinosaurs and evolved by developing different types of silks that provide strength, flexibility, and scaffold during the construction. Carolina succeeded in finding a substitute of the spider silk by researching seaweed based fibers and bioplastics, using Alginate as coating. For that, she created a 3D loom and a yarn coating machine that would allow her to achieve her design.
> More pictures and videos of Carolina's work
Bela Rofe
Multi-media artist Bela Rofe harnesses textile as a powerful vehicle to remind ourselves of the delicate balance required in nature to sustain life on earth. By creating a large scale, interwoven tapestry of female human hair and algae, Rofe materialises her wish to reconnect humans to the origin of our evolution: the sea. She uses female hair to highlight the powerful role of women, which Bela calls 'Micro Mothers of the Earth', as messengers of interconnectedness and interdependence. 
She explains that there has been an intimate yet unexplored connection between women and the sea for centuries; telling me that 'seaweed collecting' was a fashionable past time hobby for women in the Victorian era, and that today, women are at the forefront of the seaweed farming industry in all corners of the world. 
Bela is weaving a story where women are mermaids and mothers, conveying wisdom through centuries of craftsmanship. She channels her female gaze as a tool to raise awareness about the crucial role women will continue to play in revealing connections between living systems. Bela's work uses techniques and output not often associated with the world of fashion, which she thinks crucial for the industry in encouraging new mediums for educating. Her final work will function as an interchangeable art installation and an exhibition garment.
> More pictures of Bela's work
Loes Bogers
Researcher and lecturer in critical making at the Amsterdam University of Applied Sciences and editor of the recently published Critical Makers Reader: Unlearning Technology, Loes Bogers is involved since several years in understanding how people who consider themselves to be makers relate to the idea of critical making.
Loes believes that what makes us human is making things. In order to make things we look for existing recipes and exiting knowledge to guide us. But this 'recipe culture' is simplifying the richness of an experience given by constant practice. Also, there is also not an ultimate recipe, as everything keeps evolving and expanding through experience and exchange.
This is the personal reason that guided her to explore and develop simple methods for open archiving of so-called 'new naturals'. 

The outcomes are developed to work toward a collaborative, global - but context-aware - material archive, that is not only ecologically, but also historically, culturally and geographically aware. It encourages experienced material designers and 'alchemists' to continue asking the hard critical questions regarding sustainability and promotes an open source attitude to the development of design materials and much more. 
This outcome is a curated selection from best practices found in research labs, material archives and design studios from all over the world. This project is an effort to ask new questions and think up new structures for organizing and building on this knowledge in open and collaborative ways.
Loes hopes to realize an online repository in the future, but warmly welcomes manual contributions for now. Have a look also at the Tactility videos of her Material Samples.
Beatriz Sandini
With a background in business administration, having worked as a buyer and product manager in a big fashion retailer for 5 years and later cofounded her own brand Glitch, Beatriz Sandini is graduating with a  project called Ephemeral Fashion Lab (EFL). EFL is a mixed concept of a fashion brand and a multidisciplinary experimentation lab. 
Beatriz believes that our times demand radical changes towards a more sustainable and nature-synced existence. In every industry, there is the urge for innovation, and every step of the chain needs to be revisited.
The EFL aims to design and manufacture mono-material fashion products, with an open source approach, through upcycling bio-material into compostable fashion. It reimagines the end-to-end process of the fashion industry by the means of digital fabrication, collaborative design and natural bio-based materials. With her work, Beatriz embraces the cycle of nature to create bio compostable fashion merged with innovative technologies.
> More pictures and videos of Beatriz' work
Would you like to enroll in Fabricademy yourself? Applications for Fabricademy 2020 are open! Check out the website for more information and to apply.